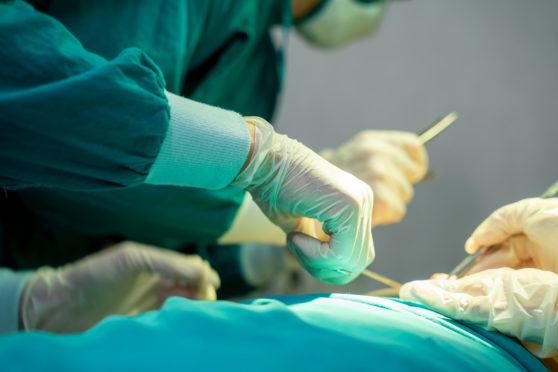 The author of a landmark report laying bare the mesh scandal has called on the Scottish Government to appoint a Patient Safety Commissioner.
Baroness Julia Cumberlege urged Health Secretary Jeane Freeman to enlist a patients' champion to help ensure no others are treated like mesh-injured women. After publishing a report into the health scandal, she said she would "take to the grave the horrific stories of suffering and avoidable injury" endured by victims.
She exposed a litany of failure in her report – called First Do No Harm, a promise in the Hippocratic Oath sworn by student doctors – after hearing how women suffered life-changing injuries following mesh procedures but were, for years, told their cases were an exception. In fact, up to 25% of implants caused problems but no proper record was kept.
The baroness urged Scotland to lead the way and show the rest of the UK how best to protect patients from systemic failures which, she said, had devastated far too many lives.
She hailed Scots mesh survivors and politicians who backed them during almost a decade of campaigning which resulted in Scotland becoming the first country in the world to suspend the use of mesh. That ban was later reversed, however, after an official review of the controversial implants to treat bladder problems and prolapse after childbirth. The implants have since been blamed for injuring thousands of women around the world. Many have been left in wheelchairs.
Baroness Cumberlege said: "Scotland has an opportunity to lead the world once more and take the actions needed to protect patients properly."
The baroness, a former health minister who has led a number of official reviews, said the experiences of campaigners in Scotland played a major role in her 277-page report which laid bare the failures that allowed scandals such as mesh and the devastation inflicted by drugs which caused birth defects, to continue for years.
She said of her nine-point plan for change: "I hope our recommendations provide a template for Scotland, and other countries, to implement them and bring the change they decide are best for them to ensure these tragedies never happen again." Baroness Cumberlege said a Patient Safety Commissioner would be a patient's "first port of call", someone to hold the system to account, monitor trends and demand action.
During two years of research, the baroness and her team twice came to Scotland to meet mesh victims. She said: "My report is focused on England and my recommendations officially apply there. However, the Scottish women and their evidence played a substantial role and my hope is that Scotland will adopt my recommendations and ensure patients are listened to."
Included among her recommendations are calls for an official government apology for women damaged by mesh implants and the two drugs which have been linked to birth defects, sodium valproate and Primodos; a shake-up of the medicines regulatory system; a redress agency funded by government and industry to provide future support for damaged patient; specialists care centres; a register or database for implants and procedures; and a General Medical Council register to include a list of financial and non-pecuniary interests for doctors as well as those with clinical interest and specialisms.
She has also called for task forces to be set up to implement them.
Campaigners have welcomed the report, and former Health Secretary Alex Neil, who in 2014 was first to take the decision to suspend the use of mesh, said: "Scotland needs its own Patient Commissioner, someone completely independent who can be a voice who must be listened to, someone with powers to take swift action and compel compliance, someone with a much wider role than just safety.
"Scotland needs its own medicines and devices regulatory body because for many years and in light of the many medical scandals such as mesh, the UK's current bodies such as the Medicines and Healthcare products Regulatory Agency (MHRA) are clearly not fit for purpose. Scotland did lead the way on mesh and I'm extremely proud of that, and it was because I listened to what those patients were telling me."
Just days before the Cumberlege Report was published, the MHRA, the UK watchdog, was asked to remove mesh guidance from its website. It described the implants, which have seen thousands of women suffering life-changing injuries, as having caused a "few" women complications. The baroness said: "We immediately contacted the MHRA and the guidance was removed.
"The MHRA really does need a overhaul. They must think about how they can put patients at the centre of all that they do, and they must listen to what patients are telling them."
Women injured by mesh say they have just one concern about the Cumberlege Report – that without an outright ban on the devices, the implants will return, including the most difficult to remove which have caused the worst injuries.
David Short, head of litigation at law firm Balfour Manson, who has represented mesh-injured women, said: "The review team have not missed a trick and their findings that the health care system is disjointed, unresponsive and defensive reflects the reality."
MHRA said: "We take this report and its findings extremely seriously. We recognise that patient safety must be continually protected."
---
From the report
Baroness Cumberlege was scathing in her criticism of how doctors and the medical establishment responded to patients left with lifelong injuries by mesh implants
I have conducted many reviews and inquiries over the years, but I have never encountered anything like this; the intensity of suffering experienced by so many families, and the fact that they have endured it for decades.

Much of this suffering was entirely avoidable, caused and compounded by failings in the health system itself… It has been a shocking and truly heart-rending experience.

We owe it to the victims of these failings, and to thousands of future patients, to do better.
---
The minister: I will keep my word over ban
Scottish Health Secretary Jeane Freeman has responded to the Cumberlege Report by issuing a further apology to mesh victims.
Yesterday, she repeated her promise not to bring back mesh despite fears that in the absence of an outright ban in the report, surgeons will recommence implant procedures.
She said she would "unequivocally" keep her word, and added: "I have been clear from the start that there is no prospect of the halt in the use of transvaginal mesh being lifted. I have already offered a sincere apology on behalf of the Scottish Government and the NHS in Scotland to the women who have been affected, and in light of the Cumberlege Report I am happy to do so again."
We revealed last year that an advisory group feared mesh procedures could restart in Scotland if the suspension was lifted following Baroness Cumberlege's insistence some implants can be used in the "last resort" .
The Health Secretary said officials were currently examining the contents of the report and would look at recommendations including calls for a Patient Safety Commissioner and the development of a medicines regulator.
She said: "It is, however, important to recognise that our commitment to patient safety has been and remains key to delivering healthcare in Scotland.
"This commitment is demonstrated through the work of the Scottish Patient Safety Programme. We are also continuing to develop a person-centred approach to openness and learning in Health and Social Care.
"The regulation of medicines and medical devices is still reserved to Westminster. However, for a long time we have pushed for reform of the assessment of medical device safety, and we welcome the recommendations that this area of reserved competence should be reviewed."
---
The surgeons: We should have listened much sooner
The organisation representing surgeons carrying out mesh procedures made no immediate response to the Cumberlege Report after it was published on Wednesday.
However, three days later, after being approached by The Sunday Post, Edward Morris, president of the Royal College of Obstetricians and Gynaecologists, apologised.
He said the report "highlights the harrowing stories of women to whom we should have listened to sooner," adding: "For this I apologise on behalf of the RCOG and personally. RCOG has a long and valued history of listening to women's voices, so to those whose stories have not been heeded, we could and should have done better.
"I am grateful to the women who have had the courage to come forward and share their most painful and distressing accounts."
The president pledged that RCOG would act on the detailed recommendations of the report.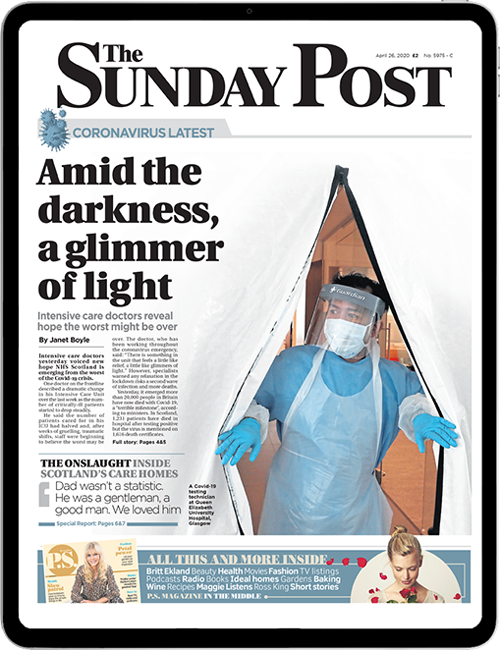 Enjoy the convenience of having The Sunday Post delivered as a digital ePaper straight to your smartphone, tablet or computer.
Subscribe for only £5.49 a month and enjoy all the benefits of the printed paper as a digital replica.
Subscribe