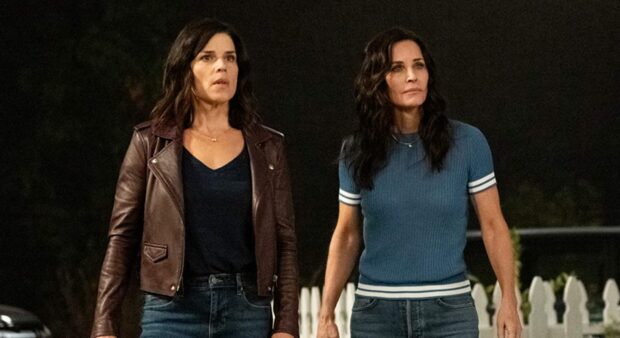 Over the past two years I've got used to doing interviews on video calls. I became a Zoomer, although some will argue I was actually years ahead of the game there.
It's still great fun but I missed going on what we call junkets: going out to meet folk and sitting down to have a face-to-face blether.
Last week they finally let me out the house here in LA to go and meet a couple of up-and-coming stars…it was only Neve Campbell and Courteney Cox!
No chance of starting off small, then. The production company couldn't set up an interview with the guy playing Fourth Construction Worker in the background of an indie movie to get me warmed up. It was straight in with two screen legends.
Or should that be Scream legends? The pair are back as Sidney Prescott and Gale Weathers in the horror franchise that first became a box-office smash in 1996.
Scream is a sort of reboot and it is, according to Cox, scarier than the series has ever been before.
We, of course, claim Campbell as Scottish; her dad is, after all, from Glasgow…not that you can hear it in her accent.
She can do a bit of her family's original dialect, though!
"Ma granny says I'm as cute as a wee cheeky birdie!" she announced in broad Glaswegian, to Cox's delight.
"That was my first line of dialogue in my first acting role when I was six years old. My dad had this Scottish acting troupe who did pantos. I did pantos when I was a kid growing up.
"Because the Scots in Canada are more Scottish than the Scots!"
Cox was taken by this and she recalled back in her early days in showbusiness when she worked for a music company called FBI who represented Simple Minds.
"I went to a concert with those guys and Jim Kerr's dad said 'ShewetekithomnooJim'. Now I'm from Alabama so that didn't make a lot of sense but I think he was saying 'Shall we take it home now, Jim?'."
In Glasgow usually you're being offered a drink, a square go or both so Cox got off lucky, I'd say!
In the movie, her character is a TV reporter whose questions get her into trouble…so in that spirit I thought I'd ask if working with co-star David Arquette was difficult. The pair became a Hollywood couple after meeting on the set of the first Scream movie but split 12 years ago.
But Cox said she felt lucky to be back on set with Arquette and the pair are "so comfortable" working with each other.
"Divorces can be so challenging," said Campbell. "But these guys have just been magic together and have such a beautiful energy. It works. No issues."
And, even though she was delighted to do the recent Friends reunion, Cox didn't sound keen on getting the band back together for a reboot.
"Oh I didn't even think about that," said Cox. "No one asks any more. I think they got their fill. I mean, we can't do another one, we'll be too old."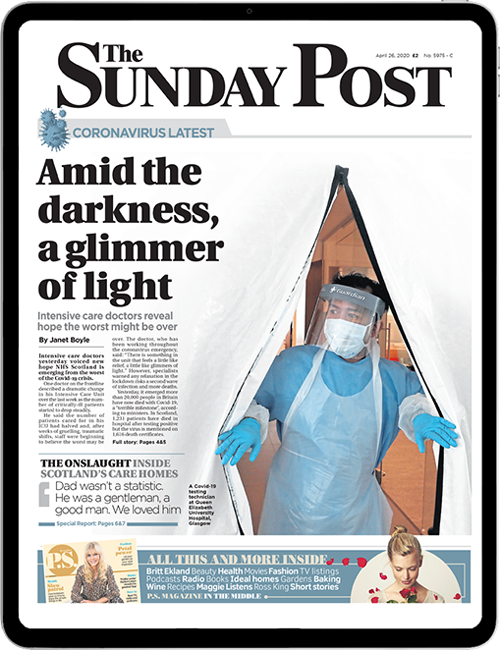 Enjoy the convenience of having The Sunday Post delivered as a digital ePaper straight to your smartphone, tablet or computer.
Subscribe for only £5.49 a month and enjoy all the benefits of the printed paper as a digital replica.
Subscribe