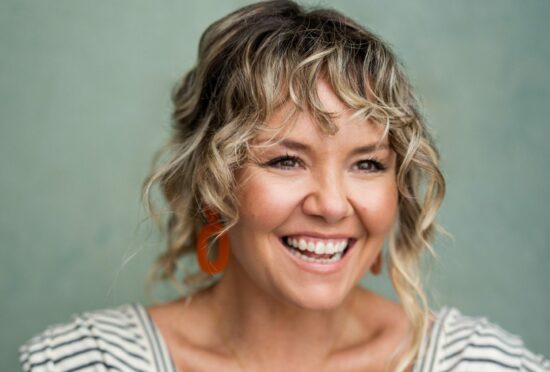 While her most famous character, Janine Butcher in EastEnders, has remained devilishly evil over the years, Charlie Brooks has gone through what she describes as a "massive mental shift" in recent times.
Ahead of a visit to Edinburgh as part of a National Theatre tour, the actress is embracing the many changes that have come her way recently. Describing herself as coming of age when she turned 40 nearly two years ago, Brooks has become adept at spinning plates – and in turn developed a rediscovered confidence – as she grows her own businesses while continuing to act, be a mum and even returning to education.
"The last few years have been the most important of my life for many reasons," she says. "Getting to know myself, believing in myself, feeling comfortable in myself and being unafraid of going after what I want. It's been an extraordinary few years.
"I used to love to go out and party but I stopped drinking and that's been big. By doing that you get to know yourself much better as you can't escape into anything and you show up for yourself, and rediscover things about yourself and what you love.
"I'm much more creative. Instead of going to a bar on Friday night I'm usually doing something with iampro, an online platform for aspiring actors, which is an idea my brother and I came up with.
"I was so driven and determined when I was younger and although I still had that drive, somewhere along the way I lost the confidence to believe in myself so much. All that worry and fear – which I still have every now and again – is such a waste of time."
Asked if she wishes she had made changes in her life earlier, she says she probably does, then adds: "But I wouldn't change anything because I've had the most fantastic life and a great time. It's just a different stage and different things excite me now."
Born in Hertfordshire in 1981, Brooks moved to Barmouth in Wales with her family when she was young and became interested in acting from an early age.
"I was really lucky because I had supportive parents," she explains. "I went to a kids' drama school and got an agent at 13, but I'm very aware not many people have the luxury of their parents being able to afford that or to even know where to send them."
This was one of the reasons she set up iampro, because she feared good talent could be falling through the cracks for geographical or financial reasons.
"Coming from a small town in North Wales, there were so many kids and adults who have forgotten dreams and who can't get to a big city or afford to go to drama school. The number of people who do go to drama school is very small and the price to go is very high. The showcase at the end of third year is how most people get agents but what about all the brilliant raw talent who don't fit that mould?
"So we're trying to nurture and create a pathway for them to have access to agents and casting directors as an alternative route into the industry because it feels a little outdated.
"We were knocking ideas around and I thought about what I would like to have at the side of the stage, which would be a warm-up exercise or a meditation. I didn't go to drama school from 18 years old on, so I'd like to have in my pocket a breakdown of Stanislavsky or a Shakespeare made easy – wouldn't that be brilliant to have that without sifting through YouTube, to be working with high-end coaches?
"There is so much on offer and we've had people like Sharon Horgan, Daisy May Cooper, Nicholas Pinnock and Suranne Jones coming on to give masterclasses.
"For the younger people on the course, I like them to consider us as the mum or aunt or guardian who can nudge and nurture them in the right direction but we also have a number of older people on the platform who had to bury their dreams for whatever reason and are now rediscovering them – some as a hobby, others to build confidence, and those who are getting back in as a working actor, which is amazing. I'm all for that at 40, which was a coming of age really and saying, 'Life's short, what can I do, I want to have some fun'.
"We got some investment and began to build the platform. It took us a while to know what it is, and to be malleable to people's wants, but now it's turned into something where as soon as I finish the play, I'll be doing the classes every night."
The play is The Ocean At The End Of The Lane, based on Neil Gaiman's 2013 bestselling fantasy book. The story follows a man who returns to his childhood home, where he finds himself standing beside the pond of a farmhouse where he used to play. He's transported back to his 12th birthday, when his friend Lettie claimed it wasn't a pond but an ocean where everything is possible. Plunged into a magical world, their survival depends on their ability to reckon with ancient forces that threaten to destroy all around them. "I had no idea just what the scale of this show would be," admits the mum of one. "It doesn't sit in the category of a play and it's definitely not musical theatre; it's somewhere in between and people don't know what to expect but they're usually blown away by the end.
"It encompasses so many elements of theatre and what can be brought off the page blows the mind. The creatives they have involved – illusionists, puppetry, movement – is amazing and the lighting design leans into a cinematic feel."
This is Brooks' first time on stage since 2019. Some of her previous productions include A Streetcar Named Desire, Dixon Of Dock Green and How The Other Half Loves.
"It's fantastic being back," she says. "It was nice to be in EastEnders for 18 months and then for the first job afterwards to be the National Theatre on stage and this job specifically, it's been wonderful. I've seen so many shows from the National over the years and it's always been my dream to work with them.
"It's been full-on and we don't get much time to see anywhere but the audiences have been great."
She's looking forward to being at the Festival Theatre next week – her first time performing in the Scottish capital. "I've never done Edinburgh but I was there last summer for the festival and it's such a beautiful city."
Brooks plays the mysterious Ursula in the play. "She comes in as a lodger and depending on how you receive the play – and people receive it very differently – she could be a creature from another universe who's been bound on the edges for a trillion years. She comes in to help look after the kids and her intention is to make everyone happy and she comes bearing gifts for the dad and children.
"Through the child's trauma and the question of what is reality and what is imagination, that is how you can decide what she is and where she's from. She may or may not be an alien in disguise!"
The tour will continue with dates in Aberdeen and Glasgow in August but Brooks will be gone by then, leaving the tour at the start of June due to her many other commitments, which includes a return to studies.
Having begun her professional career in the mid-'90s with roles in CBBC shows The Demon Headmaster and Out Of Tune, before the role of Janine Butcher came along in 1999, Brooks never had the opportunity to continue her studies in further education but is now taking the time to put that right.
"I never went to university, and I think that led to my inability to trust my own opinions in the past and not ever feel clever enough, so I decided to do something about it and I'm doing an Open University course.
"It's an access course in arts and languages, which means lots of reading on the arts and poetry and learning how to look at all that, and I find it quite fascinating. I'm at the beginning stages; I'm learning how to learn. I'm doing my best and it's exciting times."
20 years of stormy storylines
A character that viewers love to hate, Janine Butcher has been one of the greatest villains in soap history.
First introduced to Albert Square in 1989, the troubled kid was played by Rebecca Michael and then Alexia Demetriou, but Charlie Brooks made the role her own when she took the part in 1999.
In nearly 1,100 episodes, Brooks' version of Butcher was married five times – killing a couple of her husbands along the way, including much-loved Barry Evans – and feuded with iconic characters like Peggy Windsor, Pat Butcher and Kat Slater.
Her most recent run in the show saw her marry Danny Dyer's character, Mick Slater, and an explosive Christmas storyline saw him become lost at sea and presumed dead thanks to Janine's actions.
Brooks says: "I loved EastEnders and had such a good time. I felt really happy there. I made some great friends, and I loved the storylines, but this felt like the right timing.
"Janine's got to have evolved somehow, that was important to me. Understanding her whys and the complexities of the character and who she is now is always interesting: if she's learned lessons, or what madness she's up to. She's always fun to play and that keeps the role attractive."
---
The Ocean At The End Of The Lane, Festival Theatre, Edinburgh, April 18-22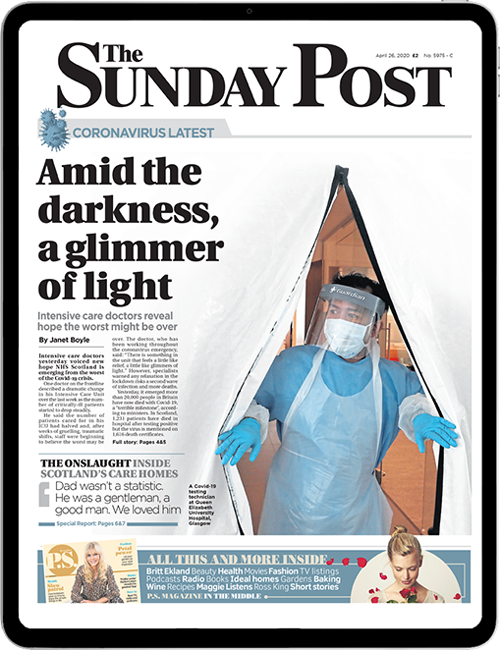 Enjoy the convenience of having The Sunday Post delivered as a digital ePaper straight to your smartphone, tablet or computer.
Subscribe for only £5.49 a month and enjoy all the benefits of the printed paper as a digital replica.
Subscribe