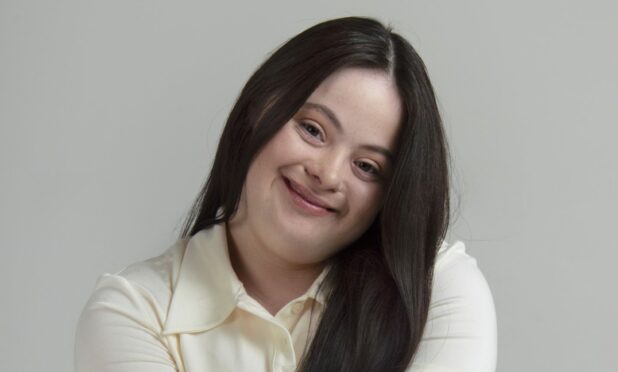 Ellie Goldstein has a habit of defying people's expectations. She's done so since the day she was born.
When her mum, Yvonne, was finally allowed to cradle her daughter after she was born on December 18, 2001, doctors explained that Ellie had Down's syndrome. They warned she would never walk, talk or lead anything close to a normal life.
Today, the 21-year-old model isn't just proving her doubters wrong, she's making history. In 2020, she became the first supermodel with Down's syndrome to represent Gucci in a major international campaign and, in May, became the first to grace the cover of British Vogue.
"I proved them all wrong," beams Ellie over a Zoom call from the family home in Ilford, Essex, where she lives with her mum and dad Mark.
"When I saw myself on the cover of Vogue, I couldn't believe it. I thought, is that really me?" she says of fulfilling her ultimate dream earlier this year. "It was amazing. I felt so emotional, it was ridiculous."
Representation
Ellie started modelling after a friend of her mum's suggested signing up to an agency. She impressed Zebedee Management, a talent agency "created to increase the representation of people who have until now been excluded in the media" and her first photoshoot, for Superdrug, was six months later when Ellie was 17.
Since then, the pioneering model has worked with some of the world's biggest beauty and fashion brands, including Gucci, Adidas, Asos, Primark and Kurt Geiger, and has been photographed for magazines including Vogue, Elle and Glamour.
At home, sitting beside her mum, Ellie admits to feeling a little tired but perks up when we touch on topics like modelling, her Vogue cover, attending the Barbie movie premiere in London and being a role model for others.
"I love fashion," she says of her career so far. "The dresses, the glamour, getting my hair and make-up done. All of it!"
"Ellie has wanted to be a model, walk the catwalk and be famous ever since she was little," adds Yvonne, 59. "She's always had an outgoing personality but to have achieved everything she has in such a short space of time is incredible."
That now includes Ellie's new memoir, Against All Odds, an uplifting read that features contributions from her mum, older sister Amy and others who have championed her along the way. The book is the first entry in activist and writer Katie Piper's UnSeen series, which aims to "shed light on untold stories of hope".
It begins with Ellie stating: "The first thing you should know about me is that I am happy." It's a fact she says many people often question when they see her disability first. You need only spend a short time in Ellie's joyful company to realise that's not the case.
Yet, as her book title suggests, the odds were initially stacked against her. Many, including some of her doctors and primary school teachers, wrote Ellie off, choosing to define her by her disability.
Yvonne recalls being confused, then angry, about the way doctors dismissed her newborn baby girl.
"A nurse actually asked me if I wanted to leave Ellie in the hospital like another mum had. It's hard to believe that actually happened," she says. "Doctors also said she would struggle to feed. They all dismissed her but as soon as we tried, she latched on to the bottle immediately and wouldn't let go. I saw how determined she was even then. I would love for those doctors to know how well she's done."
One in every thousand babies in the UK is born with Down's syndrome. Half of those are born with a congenital heart defect, which makes it five times more likely that they won't live past the first year of their life.
At six months old, Ellie pulled through open-heart surgery for the condition. "Ellie was a fighter. She was my strength, too," says Yvonne, who adds that she isn't surprised by her daughter's career choice.
Positive energy
"From the age of two or three, Ellie has always been outgoing, bubbly, confident and is upbeat and full of energy most of time. She was born to be in the spotlight."
Whether on photoshoots or TV appearances, Ellie's boundless enthusiasm, positive energy and effervescent personality are infectious. It's easy to see why she's winning over the world's fashion and beauty industries, which have both been historically slow to feature disabled people on their covers or in major ad campaigns.
Ellie and her mum see increased diversity and opportunities for people with disabilities in TV, the media and the fashion and beauty industries as a slow but welcome change. "It's a lot better," says Ellie.
"The fashion industry is changing," adds Yvonne. "When Gucci used Ellie in their beauty campaign it was eye-opening and showed the world anyone can achieve and model if they want to. There's a long way to go but it's not such a shock now if you see someone on TV or in a magazine with a disability."
Ellie herself admits she loves being the centre of attention and enjoys the glamorous side of being an international supermodel. "I'm cheeky, I'm a diva, I'm a drama queen, I'm everything," she laughs. "And I always try to be happy and joyful."
There's more to it though.
Gracing magazine covers and fronting advertising campaigns means Ellie can represent disabled people and promote inclusivity worldwide.
"I hope I can inspire people like me and be a role model to them if they see what I've been able to achieve," says Ellie of her work and memoir. "To be a role model to anyone is amazing and magical."
In April, Ellie was asked by Mattel to promote its first Barbie doll with Down's syndrome and later strutted the pink carpet at the premiere of Greta Gerwig's box office smash, Barbie. "It's good to finally see a doll that looks like me and represents Down's syndrome," adds Ellie. "That's important for all kids to see."
Aims for the future
Having already ticked the career boxes for globetrotting model and now author, Ellie has a new goal in mind. She is in her final year studying performing arts and hopes to work in TV, following the footsteps of Line Of Duty's Tommy Jessop, or on the stage. "I'd love to go to America to model, and also to act on the stage or work in TV, especially EastEnders," she grins.
Ellie teases her photoshoots on her Instagram account, which, like the young woman herself, is a source of brightness and positivity. She has made it her mission not only to live life to the full but help make the world a more inclusive place, as she continues to prove doubters wrong.
"I hope Ellie reminds people not to put people with a disability down or underestimate them," adds Yvonne, who travels with her daughter on fashion and publicity shoots and helps with her personal care.
"Ellie hasn't changed. None of this has fazed her. She deals with whatever's thrown at her, as she's always done. She's very professional on set and, as long as she carries on enjoying it, we'll keep supporting her."
Ellie, who would also excel at life coaching, offers some advice for anyone who reads her book and empathises with her story. "Be yourself, never give up and follow your hopes and dreams," she says.
"Be happy and get out there and rock the world!"
---
---
Ellie Goldstein's words of wisdom
Everyone who has Down's syndrome is different and, as with all people, have their own personalities (mine's pretty cheeky), things they like (dancing, for me) and things they don't like (peanut butter on toast – yuk!).

Some people can live independently and have a job, while others need more care and support. I'm somewhere in between. I have a job, but I also have care from my mum and family to make sure I'm looked after.

I've never felt different, but I know that in some ways I am. Down's syndrome is a disability, but I'll never let it stop me. No matter what I end up doing, I'm going to carry on being myself and following my dreams.

I hope I keep being a role model for others and show people who want to get into the fashion industry that anything is possible. I hope that designers and brands will keep being inclusive and inviting different people to model for them. I never saw someone with Down's on telly or in magazines when I was younger, and it makes a difference when you see someone who looks like you. I love that I can do that for young people. There's still more to do, but we're moving in the right direction.

I hope that, no matter who you are, my story will leave you feeling a little happier, more confident.

Don't let the odds against you determine your future. I had loads of odds stacked against me, but that just means I get to stand here today and say, 'Look what I did… against all odds'.

From Against All Odds by Ellie Goldstein.
---
Against All Odds by Ellie Goldstein, published by SPCK Publishing, is out now.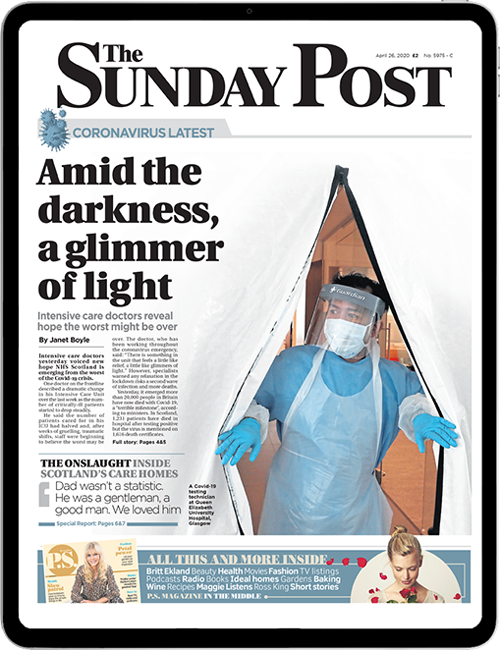 Enjoy the convenience of having The Sunday Post delivered as a digital ePaper straight to your smartphone, tablet or computer.
Subscribe for only £5.49 a month and enjoy all the benefits of the printed paper as a digital replica.
Subscribe