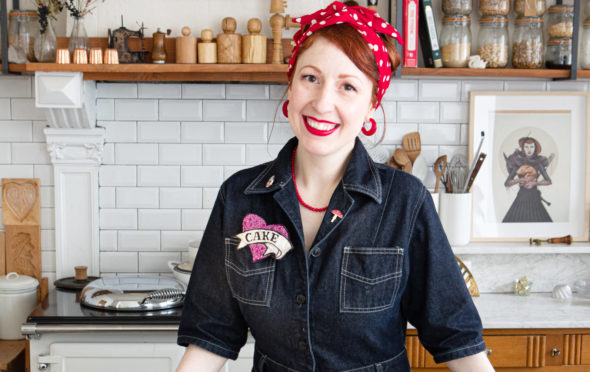 It was, as she remembers it, as big as her head and took two days to finish.
The blueberry muffin bought in a Highland shop more than 20 years ago was about to transform the life of Regula Ysewijn.
As she bit into the delicacy from a bakery in Ullapool, Regula, then 13 and on a family holiday from Belgium, felt like she'd come home.
Today, Regula is an award-winning food and drink author, one of the foremost authorities on the history of British baking, and a judge on the Flemish version of The Great British Bake Off in her homeland.
And she can trace all of it back to that overcast day in the north of Scotland.
"I always talk about looking through bakery windows when I visited Britain, because my parents didn't have a sweet tooth, so I was hardly ever allowed to go in and buy something," Regula explained.
"But on this day, the doors were wide open and I walked in and saw this huge muffin, which my mum allowed me to buy.
"It was almost the size of my head and it had just been baked, so it was still warm inside. I was intrigued by how dense, fluffy and moist it was, and loved seeing the blue spots the blueberries left behind.
"It took me two days to eat it, savouring every bite. I realised I loved cake and when I got home I decided I was going to start baking.
"I wanted to try to recreate the muffin's fluffiness, but we had no cookbooks at home, so I had to experiment and figure things out for myself, and that's what I've continued to do."
Regula has just released a new book, Oats In The North, Wheat From The South, an evocative and meticulously researched love letter to the history and heritage of regional British baking culture, delivered in 100 classic recipes.
Sweet treats from Scotland feature throughout, and shortbread is yet another connection to Regula's childhood. "Shortbread is special to me, because when I was little, Marks & Spencer was still open in Belgium, before it left the continent, and shortbread was the only connection to British bakes sold there.
"It was regarded as very British in Belgium, and we would always have a box of Walker's shortbread fingers – it had to be the fingers – at home. Every Friday evening I would be allowed a couple of fingers as a treat. I'm so happy I had this in my childhood."
Regula's obsession with all things British can be traced back to a skipping rope game she played when she was little. The accompanying lyrics were about England and it triggered a fascination that has never left her.
From the age of five, she asked her mum and dad if they could visit the UK and, realising this wasn't a passing fad, they gave in when she was nine and booked a summer holiday to the south of England.
"As the ferry came in, the sun was rising and I saw the white cliffs of Dover on the horizon, and it felt like I was home," she smiled.
"After that first trip, we made all our family holidays here. We would make each trip a theme, like our first time in Scotland being about Braveheart.
"I immersed myself in British culture, reading history books like they were novels and I had a portrait of Elizabeth I hanging above my bed the way most people my age would have had a poster of Madonna.
"I learned English from reading Jane Austen novels and never missed an episode of EastEnders.
"Every town we went to on holiday, I wanted to see the bakery and how each differed from the other.
"In Belgium, they are the same throughout, very influenced by France and it has lost its own baking culture, but I could see all the regional variations in Britain."
Regula is in no doubt how important the influence of The Great British Bake Off has been in reigniting people's interests in baking.
"It's been huge in how people look at it," she continued. "Baking is something that's inside all of us.
"The creation of bread or cake is almost religious, creating and giving birth to something you're sharing with people.
"It's so entwined with who we are, so I'm not surprised Bake Off lit a little fire which warmed up people's attitudes to embracing a baking culture again.
"When we started the show in Belgium we were told it would never last because it is not a baking country. But it was hugely popular, and we're now in our third year. I play the role of Mary Berry.
"More baking products are sold in the country now, and when the coronavirus lockdown began, one of the first things to sell out was flour."
Oats In The North, Wheat From The South has already been praised by Jamie Oliver and is on track to be as popular as her previous book, Pride And Pudding, which was lauded by Radio Four and shortlisted for several awards.
Regula, who has also written a recipe book for the National Trust, hopes an outsider's view will make British people realise how many culinary delights we have on these shores when it comes to sweet treats.
"Already I've had British people telling me they didn't realise how their baking culture had been influenced by the different climates throughout the country, or the imports to certain ports, and how recipes evolve and change through history," she said.
Now Regula, who is working on a Downton Abbey cookery book, hopes Oats In The North… will make people look at, and appreciate, their regional bakes.
"I would love if it brought some of the bakes back or helps them be more respected, like the Aberdeen buttery (rowie), which I think is taken for granted and maybe the locals don't really think about it.
"Food culture has been an enormous part of British history for me, just as much value as visiting a castle or an art gallery."
---
Shortbread fingers recipe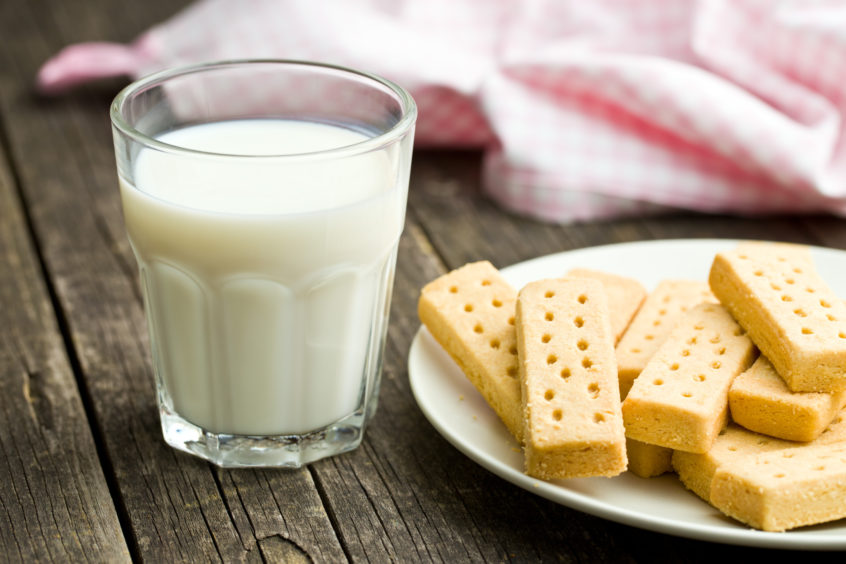 To make 16 fingers:
You'll need
200g plain flour
50g cornflour (cornstarch), semolina or rice flour, or a combination
75g superfine caster sugar, plus extra for sprinkling
Pinch of sea salt
175g butter at room temperature
Flour, for dusting
Method
Prepare a 20cm square cake tin by applying a thin layer of butter into the corners, then a strip of baking paper covering two sides and protruding above the tin, and then dust the lined tin with flour.
Add the dry ingredients to a large bowl and combine well. Rub in the butter until the mixture is the consistency of breadcrumbs. Knead the mixture until it comes together into a smooth dough. Do not overknead or the biscuits will be less short and brittle.
Wrap the dough in plastic wrap and chill in the fridge while preheating the oven to 160C (320F).
Pat the dough flat, place it in the lined tin and push it out to cover the base. Place a second sheet of baking paper over a baking tray and flip the tin over to turn the dough out on to the tray, with the smooth side on top. Slide the dough back into the lined tin, with the smooth side up. Use a knife to gently score lines to cut the shortbread into 16 fingers.
Bake the shortbread in the middle of the oven for 35-40 minutes.
The shortbread shouldn't gain too much colour – a golden blush around the edges is enough. Remove the shortbread from the oven, cut it into fingers and sprinkle it with the caster sugar. Allow to cool for 10 minutes and then use a spatula to carefully transfer the shortbread to a wire rack to cool completely.
Oats In The North, Wheat From The South by Regula Ysewijn, out now from Murdoch Books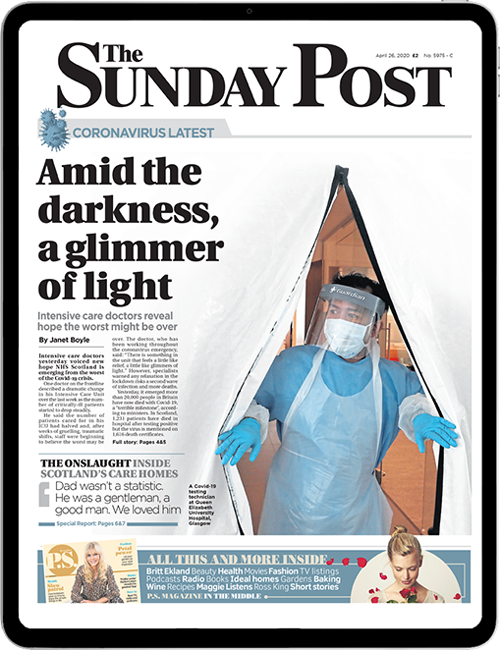 Enjoy the convenience of having The Sunday Post delivered as a digital ePaper straight to your smartphone, tablet or computer.
Subscribe for only £5.49 a month and enjoy all the benefits of the printed paper as a digital replica.
Subscribe