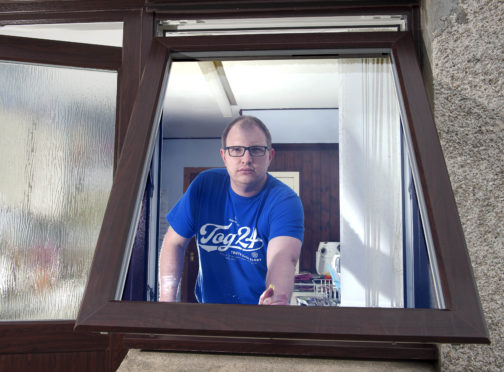 When Keith Burnett saw a fitter attempting to cut and mitre his new window sills on top of a paint tin, he wasn't exactly filled with confidence for a professional job.
The dad of two has been engaged in a dispute with home improvement giant Everest for more than two years after becoming unhappy with the standard of the work done by the double glazing installers.
Work began to fit new windows and doors at his end-terrace house in Macduff, Aberdeenshire, in February 2017.
Project manager Keith, 35, and his wife Layla, 34, paid £6,771 for the job. They made a deposit of £2,031 and paid the rest up by finance.
But the couple were not pleased with the work, despite Everest returning a number of times to try to address their concerns.
"The final straw came when I saw a worker trying to cut some new window sills in the street while using a paint can as a makeshift joiner's bench," Keith said. "It was schoolboy stuff and I just had to take a picture of it," Keith said.
"As soon as I saw this happening, I suspected the job could be problematic."
Keith said when he was researching new windows he could have got them a lot cheaper than he did from Everest.
"I went with Everest because they are a well-known and established brand," Keith said. "They had also done a very good job for one of our friends.
"We don't have a big house and it seemed like a straightforward task to put some new windows in but it turned into a stressful nightmare."
Following a number of return visits from Everest, Keith complained to the company, alleging there was damage to carpets, wooden window frames and walls.
"It caused us so much upset and upheaval," Keith said. "Our house was a mess and we couldn't get any decorating work done.
"We also have two very young children so all of this was extremely inconvenient.
"Having to take time off from work to deal with visits from workmen was also very disruptive."
In August last year, the couple wrote to Raw Deal for help.
We contacted Everest on their behalf and in November, further repairs were carried out at the property. Keith also tried to claim compensation from the company.
However, the couple were still unhappy with the resulting remedial work so Raw Deal contacted Everest again.
This time, a senior manager phoned Keith and a visit is being arranged for another inspection, and to discuss a new plan of action.
Nikki Johnson, director of shared services at Everest, said: "I can confirm that Everest strives to achieve the highest installation standard and we are disappointed to note that on this occasion we may have fallen short of our customer's expectation.
"We would very much appreciate the opportunity to attend the customer's property to carry out a full inspection and agree, if needed, a remedial plan of works."
Keith said he was thankful to Raw Deal for our ongoing help and support – but added that he still intends to press Everest for compensation and would also like his 10-year warranty reset so that it will begin from the date that the job is completed to his satisfaction.