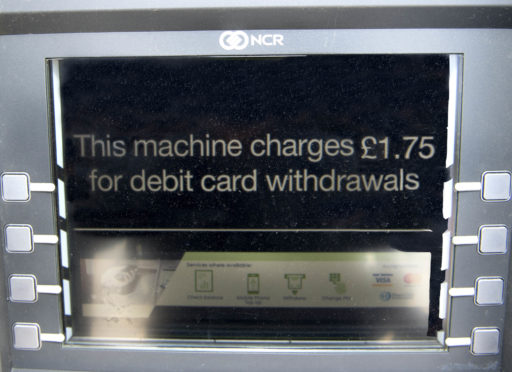 While Scots face an increasing number of fee-charging cash machines, the US bosses of the country's biggest non-bank ATM operator are making a mint.
Nearly one in five of Scotland's 6,000 free-to-use cash points are expected to introduce charges to customers in the next six months.
That will see customers charged up to £2 to take out as little as £10 from their account.
But the five-strong senior management team at Texas-based Cardtronics – which operates the Cashzone brand in the UK – were last year paid £15.3 million.
Data from US business sources show that the company's chief executive Edward H West pulled in £9.4m.
Four other of the firm's top-flight executives – including its Europe boss Marc Terry – were paid around £5.9m between them, mainly in bonuses and share awards.
Glasgow North East MP Paul Sweeney, who is calling on the Government to regulate cash machine charges following complaints from constituents, criticised the bumper pay packets.
"This shows that justifications for these cashpoint charges are bogus," Mr Sweeney said. "They insist that free machines are no longer profitable or viable but clearly there is still plenty of fat and profitability.
"These companies and banks should have a responsibility to keep a free public service alive."
The ATM Industry Association has warned that the rate of cashpoint closures north of the Border has shot up in the past year.
The group says the problem revolves around a 10 per cent, or 2p, cut in the interchange fee that the bank pays cash machine operators every time money is withdrawn.
Banks who have made cuts to their services say that it is the result of customers preferring to use online, mobile or telephone banking while usage of branches has fallen.
Rural areas are being hit the hardest, where withdrawal fees can cost £1.75 or more because less people use the machines.
However, Mr Sweeney said city suburbs are also feeling the effect of bank branch closures and the removal of free ATM machines.
He said: "It is time the Government intervened to set these interchange fee rates, and not leave it to the banks to do it.
"The cashpoint closures and charges by private operators are punitive."
Cardtronics is the world's biggest ATM operator and has more than 16,000 machines in the UK. Almost 2000 of these are in Scotland, of which 792 are pay-to-use.
The company declined to comment on the remuneration levels of its leadership team but said that because of the fees they receive from the banks are being cut some of their free services were now "unsustainable".
A Cardtronics spokesperson said: "On January 1, LINK, the UK ATM scheme, introduced the second in a series of cuts to the fee that banks pay ATM operators for cash withdrawals made by their customers.
"Independent operators such as ourselves often fill the gap left as a result of the banks closing branches and removing their own ATMs but these cuts have made some of our ATMs unsustainable as a free service.
"The decision on whether to introduce a fee is taken on a case-by-case basis and reflects the economic viability of the individual machine.
"Introducing a charge is not one we have taken lightly, but until we can find a sustainable way of maintaining the service, we have no choice on some of our machines."
Community organisations say that the ATM charges in the pipeline for Scotland will have the biggest impact on those who can least afford it.
Peter Kelly, director of The Poverty Alliance said: "Unfortunately, too often people living on low incomes have to pay more for basic goods and services, whether it's paying for energy, getting insurance or accessing credit.
"If people on low incomes only have a fee charging cash machine to access their money, then it will make the challenge of managing an already inadequate income even tougher."
Carl Packman from Fair By Design, a national campaign that aims to end the poverty premium, believed more work needs to be carried out to identify areas of particular need where access to a free to use cash machine is vital.
He said: "We hope this is something Cardtronics, a company with million dollar bonus pools, takes very seriously for the least well-off communities."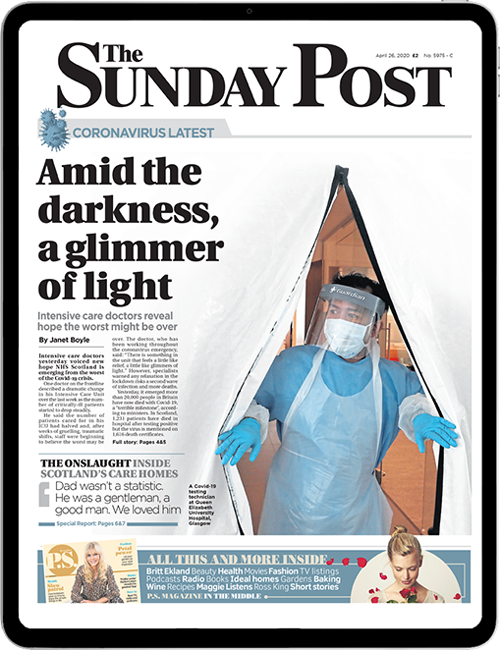 Enjoy the convenience of having The Sunday Post delivered as a digital ePaper straight to your smartphone, tablet or computer.
Subscribe for only £5.49 a month and enjoy all the benefits of the printed paper as a digital replica.
Subscribe