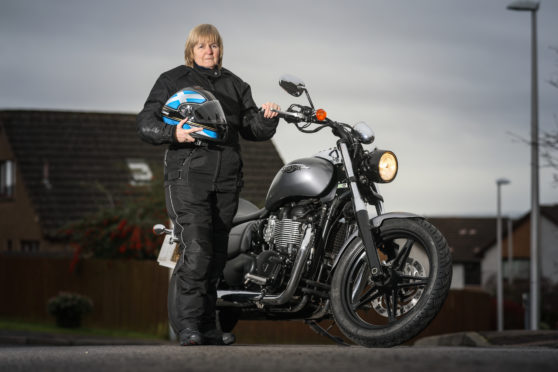 A mum of two's plan to tour Scotland by motorcycle is back on track after Raw Deal helped resolve a lengthy dispute over her faulty £4,000 bike.
Last summer, Joan Williams, 59, a carer from Arbroath, decided to rekindle an old passion for motorbikes.
It had been four years since her husband had died and the mum had been saving up for a new set of wheels.
"I got my first motorbike when I was 18 and loved to go for a wee spin whenever I could," said Joan.
"When we were younger my husband and I used to travel all over Fife and the north on our bikes at weekends.
"I must have had about six bikes in my time but eventually gave it up when our family came along.
"However, my brother James also loves bikes and he had been encouraging me to take up the hobby again. It took me four years to save up £4,000 for a new motorcycle. I squirrelled away money I had got for my Christmas and for my birthdays."
In June last year, Joan bought a BMW G310 R model from John Clark Motorrad in Dundee.
"It was an ex-demonstration model and I was told it would be ready in 10 days," said Joan. "I was looking forward to going on trips all over the country with James, who had recently got his motorbike licence."
In August, Joan's BMW was recalled for a service and for some work to be done on the brakes.
"It took them two weeks to do this but when I got the bike back I started having further problems with it," she said.
In November, Joan had to call a roadside recovery service after the bike wouldn't start.
"I was given a jump start and I took the machine on a 20-mile drive to recharge it," she said.
However, the same issue returned within a few days. This time the motorcycle was taken to BMW in Dundee to be looked at. Joan said she declined the use of a courtesy vehicle, as she believed she would soon have her own one back.
"I was later told that the bike had been starting up no problem but then I was informed that the electrical harness was being replaced and also the oil was being changed because it was too thick," said Joan.
The dispute rolled on for weeks and, in the meantime, Joan borrowed her brother's Triumph to get around.
"It had taken the dealership almost two months to try and get the problem fixed and by this time I had lost confidence in the BMW," said Joan.
"I wanted my money back because I didn't think the bike would work again properly. There was no way I could take the risk of going on a trip and it breaking down in the middle of nowhere.
"I wasn't happy and the longer things dragged on I felt like I was getting the runaround.
"I had been paying road tax and insurance on my BMW but I hadn't been able to use it for months."
At the end of her tether, Joan wrote to Raw Deal and we asked John Clark to investigate. The company moved quickly and has resolved the issue with manufacturers BMW.
John Clark said: "BMW Motorrad UK will refund the customer £4,000. BMW Motorrad UK will give the money to John Clark Motorrad Tayside who in turn will refund the customer.
"This issue should be resolved by the end of next week when the customer should receive their money."
Joan said she was going to use the refund to buy a new motorbike.
"I can't wait to get back out on the road again," she said. "I can't thank Raw Deal enough for stepping in and helping to bring this situation to a conclusion."