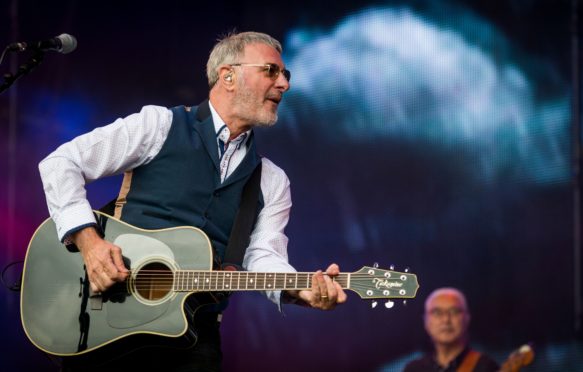 There have been several peaks in the career of Steve Harley.
In the mid-1970s, he was singer/songwriter with pop group Cockney Rebel, whose hits included Judy Teen, Mr Soft and the international chart-topper Make Me Smile (Come Up And See Me).
In 1986, he had a Top 10 hit with Sarah Brightman with the title song of The Phantom Of The Opera, the stage musical they were going to co-star in until he was replaced by Michael Crawford.
And, from 1999 until 2008, Steve hosted BBC Radio 2's The Sounds Of The Seventies.
Steve, 69 on February 27, Steve is still recording and performing.
"You don't retire from this. Why would you?" he says. "I'm travelling, which I love. I'm playing concerts that 99% sell out. And my voice is four times what it was in the 70s. I've changed immensely as a singer, I'm proud to say."
What's more, Steve thinks his latest studio album, Uncovered, is one of his finest.
"This is way up there. I'm prouder of this than I can ever remember being since Cockney Rebel's debut album The Human Menagerie in 1973, when I was 22."
The second of five children to Brighton & Hove Albion footballer Ronald Nice and his wife Joyce, a semi-professional jazz singer, Deptford-born Steve contracted polio in the summer of 1953, causing him to spend four years in hospital between the ages of three and 16.
He underwent two major surgeries in 1963 and 1966. After recovering from the first operation at the age of 12, he was introduced to the poetry of TS Eliot and DH Lawrence, the prose of John Steinbeck, Virginia Woolf and Ernest Hemingway, and the music of Bob Dylan, which inspired him to a career of words and music… as may have a hospital visit by The Rolling Stones.
"They were on their second or third hit, and on a goodwill mission. They strolled through our ward where there were 12 of us all under 16," he recalls. "Charlie Watts and Bill Wyman talked to me.
"You are formed entirely by your childhood experiences. Everyone played an instrument at school," adds Steve, who learned violin and guitar from the age of 10.
But Steve's first job was as a journalist on local papers in Essex and east London… and sometimes he performed gigs by night.
"Mainly in London but I did a few folk club appearances in Colchester and Braintree, but for no money. I only floor-spotted, which these days they call open mic.
"But I never went down well with the folk crowds because I'd already written the whole of The Human Menagerie so I was singing tracks from that."
Steve can't recall why he replaced Nice with the stage surname Harley in late 1972, but The Cockney Rebel was the title of an autobiographical poem he wrote at 15. His band were officially called Steve Harley & Cockney Rebel.
"I had to be the leader. I wouldn't get in as the piano player although I write songs on the piano. I wouldn't get in as the guitarist although I play guitar on stage. So I had to create everything and lead it – that's what I was put on Earth to do. But I didn't start off wanting to be a star.
"It happened fast at the beginning. It was almost overnight success with Cockney Rebel. We only played about five shows before we signed a three-album deal with EMI. That all went to my head a bit. But I did enjoy it immensely. The 70s was fantastic."
The group had six hit singles between 1974 and 1976. They also had several successful albums and sold-out tours.
Getting to No 1 with Make Me Smile remains a thrill to this day for Steve.
"It's a good feeling. It's life-changing. No 2 is not just one place below, it's 100 places below! The difference is huge.
"When we found out we'd gone to No 1, we were at the Sunset Marquee in Hollywood and we pushed each other in the pool!"
It was the height of the glam rock era.
"Marc Bolan was a friend," says Steve of T Rex's frontman who was killed in a car crash in 1977.
"We met at Cliff Richard's birthday party in a restaurant on the King's Road. We stayed good friends for 18 months before he died. I miss him to this day. He'd be 71 now. But of course he hasn't aged."
In 1977, it was announced that Steve was disbanding Cockney Rebel. He began working on his debut solo album and flew to Los Angeles in early 1978 to complete it. But solo success largely eluded him.
"I was the architect of my own undoing to a great extent," he says now. "I went to live in California where I had brunch and champagne and didn't write a damn song for nine months. After a year I came back.
"I took the 80s as a long sabbatical in which I had children."
He married Dorothy, then a stewardess he met on a flight ("that British Caledonian uniform did things, you know!"), in 1981.
They have a son Kerr, now 37 and an account manager in publishing, and daughter Greta, 34 and an office manager for Shazam.
Steve is relieved they didn't try to follow in his footsteps. "They were always made aware how fortunate Dad had been and that very few reach Dad's position in the industry. The bulk of them will be sitting around waiting for the phone to ring."
Since the 80s, Steve has owned a number of racehorses – he has two at the moment – and although none have won any famous races, he insists he's won more money on them than he's lost.
And he adds: "If I owned part of a Derby-winning horse, it would be as exciting as having a No 1 single."
In 1999, Steve began a nine-year run presenting the BBC Radio programme The Sounds Of The Seventies, now hosted by Johnnie Walker who helped break Cockney Rebel back in the 70s.
"I loved doing Sounds Of The Seventies. I used to enjoy the writing, and I wrote every word. I won't do more. It's now two hours long on Sundays with Johnnie Walker, who's an old friend."
Thirteen years ago, Steve got some consolation for losing out on The Phantom Of The Opera.
"The biggest thrill I had on the boards was in 2007 in a Samuel Beckett play at the Arts Theatre. So I starred in the West End after all."
Home for the Harleys since 1988 has been a big Georgian house in Suffolk with an orchard and woodland. But Steve still feels very much at home on stage.
"I've always lived on the periphery of the industry. I'm still an ex journo masquerading as a pop star. It's only when the spotlight hits me that I come alive as a performer, relaying my songs to the public."
Steve is not impressed with most modern pop music.
"I'm puzzled with the way so many young singers yodel. I'll be listening while driving along with my wife and I'll say, 'Look, another one yodelling!' They keep going into this yodel voice. Where did that all start?
"I'm also puzzled that today they don't write middle eights. I notice that on new records I hear on the radio. They don't write middle eights, they don't have guitar solos… I don't think there are any rock bands any more."
In 2021, Steve Harley will hit 70 with a special concert at the SEC Armadillo in Glasgow. So how important to him is his musical legacy?
"I only started to think about that recently because so many people are saying such kind things.
"When you meet people whose first record was one of mine and they say such kind things to me about my work, that's really gratifying.
"I've written some lyrics which I can see on stage affect people and I'm proud of that.
"I'd like to be remembered as a songwriter who got to the centre of them, their lives, their emotions."
For his 2020 tour dates, visit steveharley.com/dates