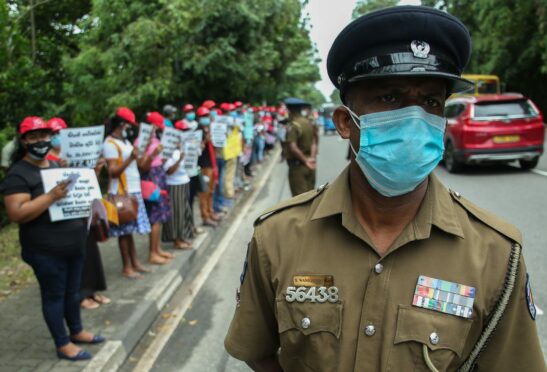 All training sold by Police Scotland to forces around the world must now be investigated and approved by Holyrood, according to MSPs.
The demand for a ­parliamentary inquiry into the services and international clients of the national force comes after Chief Constable Iain Livingston confirmed a ­controversial Sri Lankan training contract would end.
The announcement came after The Sunday Post had revealed the concern of a leading human rights lawyer and UN Rapporteur and the testimony of torture victims who had been raped, beaten and asphyxiated by Sri Lankan police and security forces.
They accused Police Scotland of being naive in continuing to train Sri Lankan officers despite damning UN reports into human rights abuses in the country. Campaigners said the national force was giving credibility to an administration linked to violence, torture and disappearances.
The Scots force had, ­however, defended the training programme, which saw some of Sri Lanka's highest-ranking police officers, including several accused of human rights abuses, attend the Tulliallan police college in Kincardine, Fife.
Critics say there is a lack of transparency around the services provided and the revenue generated by the force's international training operation.
The work with Sri Lanka is thought to have generated more than £700,000 over 10 years and the force only renewed the rolling contract in January, when Chief Superintendent David Duncan said: "Police Scotland's work in Sri Lanka is underpinned by a human rights approach.
"It supports the realisation of the UN Sustainable Development Goals, particularly gender equality, reduced equality, peace and justice, strong institutions and partnerships to achieve goals."
However, on Wednesday, Livingstone told the Scottish Police Authority that the force had decided "not to seek to renew our engagement".
---
The U-turn
In January
Police Scotland's work in Sri Lanka is underpinned by a human rights approach.

It supports the realisation of the United Nations Sustainable Development Goals, particularly gender equality, reduced equality, peace and justice, strong institutions and partnerships to achieve goals.

– Chief Superintendent David Duncan
On Wednesday
We will not seek to renew our engagement

– Chief Constable Iain Livingstone
---
Scottish Conservative shadow social justice secretary Miles Briggs said: "Given the deepening concern, Police Scotland have reached the correct decision to end their involvement with Sri Lanka.
"However, I believe there's still a need for the Scottish Parliament to hold an inquiry into why this contract continued for so long, what effect Police Scotland's involvement had on the behaviour of the police and special forces in Sri Lanka, and what involvement they have in other countries with concerning histories of torture and human rights abuse.
"The harrowing testimony of victims who have sought shelter in Scotland cannot be ignored. We have a responsibility to ensure their evidence is taken and pursued through the international courts if possible.
"In future, I believe it is more appropriate that politicians decide where our national police force collaborate and train in other countries, not Police Scotland."
In recent years the force has been involved in training in Anguilla, Cayman Islands, India, Malawi, Namibia, Pakistan and Zambia.
In Sri Lanka, official ­investigators found evidence young men and women from the minority Tamil community were kidnapped from the streets by police and special forces and tortured, including being hung from their arms or ankles, beaten and abused for days on end.
UN Special Rapporteur Professor Manfred Nowak told The Sunday Post last month Police Scotland should "step away from the contract". Nowak also called for a Holyrood inquiry into the claims against Sri Lankan officers.
He said: "These allegations must be investigated and those responsible prosecuted and brought before the international courts if Sri Lanka does not co-operate."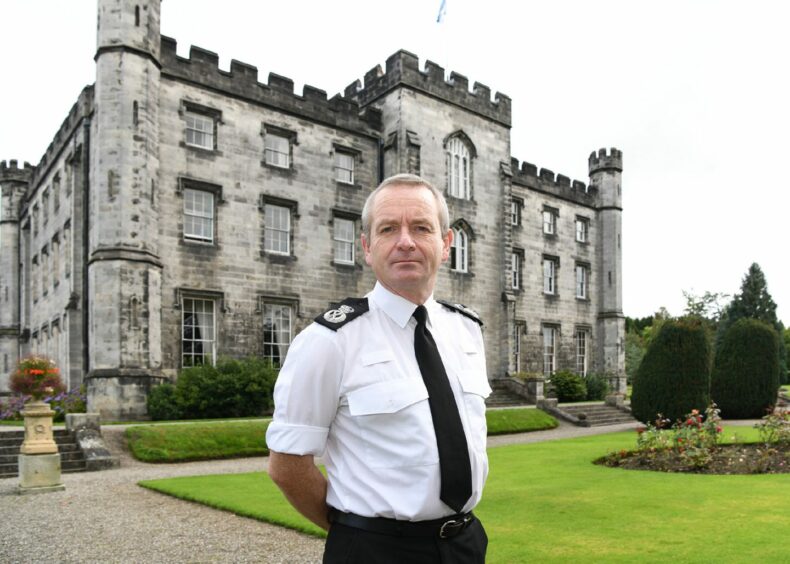 In May the programme was suspended while it was reviewed by the Foreign Office and, on Tuesday, a report from the Foreign and Commonwealth Office named Sri Lanka among 31 countries around the world where it had particular concerns around human rights issues.
Police Scotland insists their training programmes raise the standard of policing around the world and, in July, First Minister Nicola Sturgeon formally opened the force's new International Academy at Tulliallan.
She said: "Police Scotland rightly has a strong international reputation for delivering excellent training overseas and in Scotland, exemplified by its partnerships with organisations and forces around the world."
Last week Assistant Chief Constable Gary Ritchie said: "Police Scotland seeks to make optimum use of its own capability and resources, ensuring they are best directed where they can be most effective and create a positive, lasting contribution.
"We are keen to continue to support Conflict, Stability and Security Funded programmes of work delivered across the world by the Foreign, Commonwealth and Development Office, and focus on efforts to prevent harm at source while stabilising communities beyond our boundaries by innovating and sharing best practice."
---
Critics: Why did it take so long?
Campaigners have welcomed the decision to end the training contract with Sri Lankan police but questioned why Justice Secretary Keith Brown had not acted sooner.
Labour MSP Mercedes Villalba said: "This training was providing political cover and legitimacy to the human rights violations.
"The Justice Secretary, Keith Brown, failed to support calls for the contract to be terminated, so this development comes in spite of, not because of, his actions. There's no point in a Justice Secretary who doesn't stand up for human rights. Yet, we have that.
"The Scottish Government and Police Scotland should be looking at all avenues to ensure that justice is delivered for those who have suffered in Sri Lanka."
Marian Pallister, of peace organisation Pax Christi, said Police Scotland's announcement was a "great relief".
She said: "We believe it is now incumbent on the UK Government to ensure that other police forces and security services withdraw training and other support for Sri Lanka given the human rights abuses that are evident there."
Frances Harrison of the International Truth and Justice Project called on Police Scotland to now interview torture victims living in Scotland in order to bring a case before the international court.
She said: "Torture victims are overwhelmed by this wonderful news. Police Scotland would be trailblazers if they gathered the evidence available to them and brought it to the international court.
"The UK Government spent millions of pounds of tax money training the Sri Lankan police since 2010, including ironically in gender sensitivity.
"In 2015 a UN investigation named several Sri Lankan police units as perpetrating torture and using sexual violence as a part of a policy."
---
MP: What has scheme really achieved?
An MP who has campaigned to raise awareness of human rights abuses in Sri Lanka has called on Police Scotland to explain what their controversial training programme has achieved.
The SNP's Westminster Justice and Immigration spokeswoman, Anne McLaughlin, has for years tried to raise awareness of conditions in Sri Lanka, after living there.
She said: "I've personally met children who were forced to watch as their father was shot dead in front of them, men, women and children who have been raped, and witnessed the heartbreak of families whose loved ones have disappeared.
"The 30-year civil war ended long ago in Sri Lanka. But for many Tamil families, they are still living in fear of kidnap and torture.
"I've spent years trying to raise awareness of the human rights abuses and torture that has continued in Sri Lanka, and I'm convinced if a stance was taken by other countries against what is happening there, then they will have to take notice and change."
The MP for Glasgow North East has repeatedly asked the UK Government to implement sanctions against Sri Lanka.
McLaughlin has now pledged to write to Police Scotland over their training of the Sri Lankan force.
She said: "I will be asking them to assess what impact or improvement their training programme has had on the Sri Lankan police and the way they behave."
The MP spent more than a year working in Sri Lanka before being elected to the Scottish Parliament in 2009 and Westminster in 2019, and has remained firm friends with many of the people she met there.
However, she has remained an outspoken critic of the President Gotabaya Rajapaksa, whose brother Malinda is prime minister and other brothers serve in the Sri Lankan government.
The MP said: "The Sri Lankans are wonderful, friendly people who faced enormous challenges following the civil war. While many things have changed for the better, it is still a fact of life for far too many Tamils that torture and disappearances are still happening. We cannot stand back and stay silent."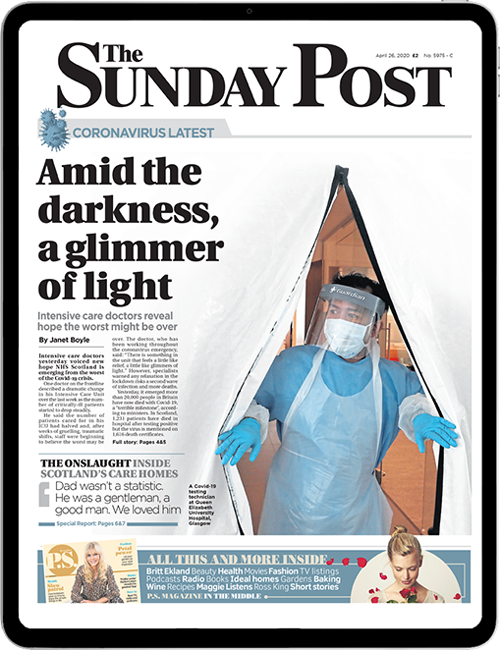 Enjoy the convenience of having The Sunday Post delivered as a digital ePaper straight to your smartphone, tablet or computer.
Subscribe for only £5.49 a month and enjoy all the benefits of the printed paper as a digital replica.
Subscribe