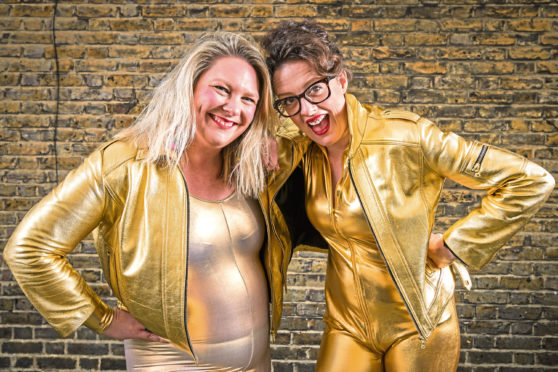 It's incredibly difficult being a good mum – never mind a perfect one.
Attending Parent Teacher Association meetings, ensuring the family look Instagram-ready at all times and making sure children are getting their five fruit and veg a day – organic, of course. It's a lot of pressure.
Sometimes instead of trying to be a yummy mummy the temptation is to be a bit, well…scummy.
Welcome to the Scummy Mummies podcast, a joyous celebration of being a less-than-perfect parent. That includes dads, too.
Less than perfect parents? According to hosts Ellie Gibson and Helen Thorn, that means pretty much all mums and dads.
They argue real parenthood is a stressful and comical muddle involving fish fingers for dinner at an alarming rate, lactating disasters and dodging those pesky PTA meetings.
The success of the podcast is satisfying to stand-up comedian and games journalist Gibson – who admits she struggled to find wider success in comedy until Scummy Mummies came along.
"The idea of me making it as a solo stand-up on Live At The Apollo – that's a long shot," says Gibson. "But me and Helen have a good show that has a defined audience and we've had some great feedback.
"I get these 22-year-old men coming up to me and saying: 'That bit about lactation was hilarious.'
Scummy Mummies is now a hit live show, too, and is on at the Edinburgh Festival until next Sunday.
Scummy Mummies (Apple Podcasts, Acast)
---
The Comedian's Comedian (Apple Podcasts)
Edinburgh is a hotbed of stand-up comedy this month thanks to the Festival, so why not explore the subject more? Stuart Goldsmith interviews the funniest people in the world, and asks them in depth about how they do it on The Comedian's Comedian. So far he's spoken to more than 275 comics.
---
The Black Tapes (Apple Podcasts, Stitcher)
Podcaster Alex Reagan explores the life of paranormal investigator Dr Richard Strand, an "evangelical skeptic" on a mission to debunk all claims of the supernatural. Reagan becomes interested in his collection of unsolved cases – and the terrifying things he finds. Sounds very mysterious, but this docu-drama is entirely fictional which, given the dark twists it takes, is very much a good thing. Don't listen late at night…