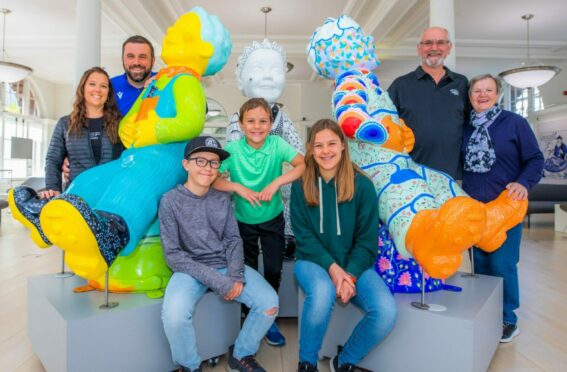 A family of Oor Wullie superfans from Reno, Nevada, are heading home to the United States with a suitcase full of cartoons after a visit to the birthplace of Scotland's favourite mischievous wee laddie.
John Kitchen passed his love of the comic strip, alongside The Broons and classic characters from the Beano and Dandy, down the generations to his grandchildren Gracie, 14, Jackson, 12, and nine-year-old Caden.
The youngsters love reading the adventures and antics so much that they even lapse into the occasional Scottish accent – and a "jings" or two.
They finally fulfilled a dream last week when they visited Dundee for a tour of Sunday Post publisher DC Thomson's Meadowside offices and met some of the staff behind the characters.
They posed with statues from Oor Wullie's Big Bucket Trail, Desperate Dan's cow pie, and the sculptures around the city that pay tribute to the likes of Desperate Dan and Minnie the Minx.
"The kids are really excited and I'm super excited because I've been a fan for the longest," laughed Kitchen.
"They'll be sitting and they'll come out with these Scottish accents and phrases all the time. It's non-stop. As part of this trip we were in England and before that the Netherlands.
"Their mum Sarah had to tell them to remember that people expect them to be American, and if they speak with a Scottish accent they're going to confuse people!"
Kitchen, originally from Durham, is a lifelong Sunday Post reader and had the newspaper delivered to his home every week until moving with wife Glynis to join his son James in Reno 13 years ago.
Since the move he has collected Dandy, Beano, Beezer and Topper annuals to go with the Oor Wullie and Broons annuals his daughter, who also lives in the US, buys him every year.
When his grandchildren came to visit, they started to make their way through his comic collection.
He first contacted The Sunday Post in 2020 after Covid thwarted a planned trip to Scotland to share pictures of Jackson, who had taken to sitting on a bucket and wearing dungarees. The schoolboy even created his own version of The Sunday Post featuring headlines from Auchenshoogle and his own Oor Wullie adventures.
"He wrote and illustrated it himself as a gift for my birthday," said Kitchen. "It is filled with full-sheet cartoon pages with stories of his favourites. He had never seen a copy of the paper or been to Scotland. I was totally stunned. It was all his own work – the jokes, the printing, the cartoons."
A'body's Wullie: Scotland's most mischievous laddie has some superfans in Nevada, USA
Jackson was delighted to finally see where the real thing was made, saying: "This was awesome, I've loved all of it. This was the best day of our entire trip. I love Oor Wullie, everything about him – the way he speaks and the mischief he gets into.
"I like Dennis and Gnasher too, and Calamity James just because he's so unlucky all the time. My favourite catchphrase of Wullie's is 'jings a'michty!'"
As well as visiting DC Thomson's headquarters, the family picked up a few souvenirs in the form of classic comics and annuals.
"When we arrived in Stirling we found a comic store and they had 1999 and 2000 Beanos, all in mint condition and bundled together for £10 for 50 of them," said Kitchen.
"The kids have spent the last two weeks reading these comics and re-reading them along with about 17 annuals and other things we've managed to pick up.
"The Dandy was always my favourite. The newspaper boy used to come with a wheelbarrow on a Sunday when I was growing up. I'd get the Dandy, the Beano, the Beezer and the Topper. I absolutely loved them."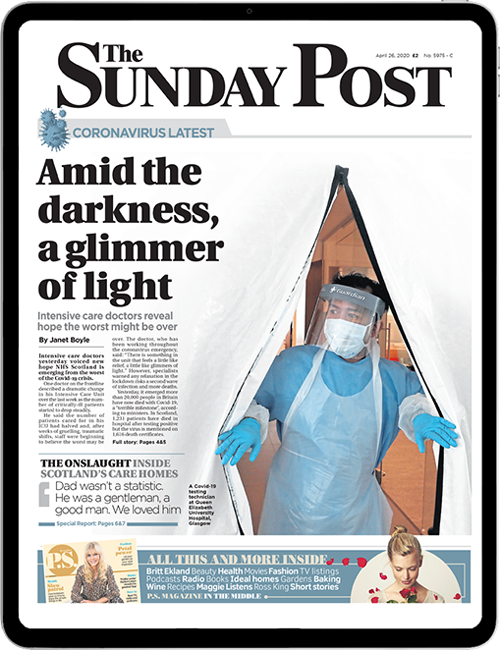 Enjoy the convenience of having The Sunday Post delivered as a digital ePaper straight to your smartphone, tablet or computer.
Subscribe for only £5.49 a month and enjoy all the benefits of the printed paper as a digital replica.
Subscribe