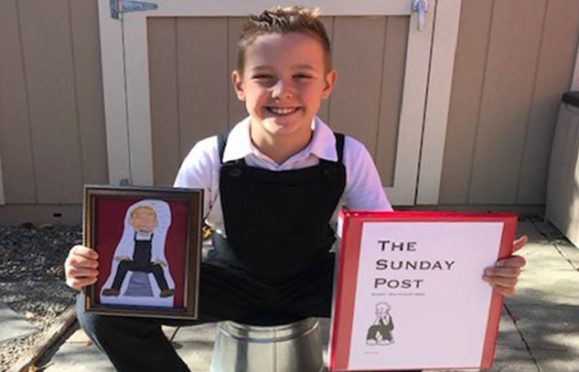 It's a long way from Auchenshoogle, but Oor Wullie is a big hit with a family in Reno, Nevada.
John Kitchen, 68, sent us pictures of his grandchildren Gracie, 12, Jackson, nine, and Caden, six, enjoying his collection of Oor Wullie, The Broons, Beano, Dandy, Beezer and Topper annuals from days gone by.
After reading them, Jackson even asked his grandma to make him a pair of dungarees to wear while sitting on a bucket in homage to Scotland's favourite mischievous wee laddie.
John said: "He really does sit on a bucket to read, watch TV and eat snacks and exclaims things like 'help ma boab', 'braw' and 'ye wee scunner' as though he had spent his life in Scotland.
"We had been due to visit Scotland this year but Covid stopped us.  These three fans are true fans!  And I'm still just as big a fan at 68 years old!"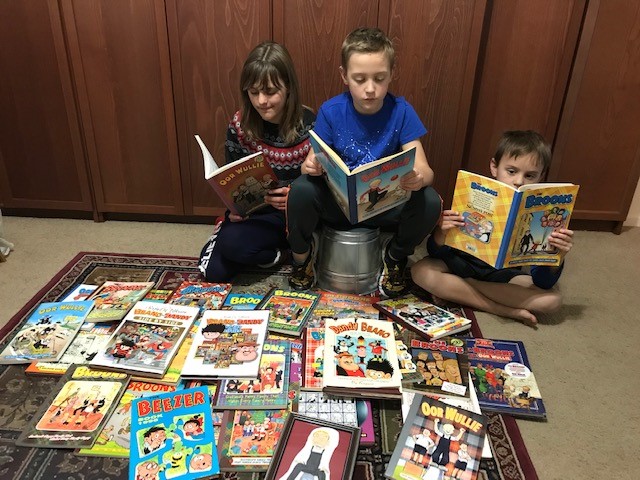 John grew up in County Durham and had The Sunday Post delivered until moving to join his son in Reno eleven years ago with his wife.
Since going to America, he's collected Dandy, Beano, Beezer and Topper annuals to go with the Wullie and Broons annuals his daughter, who also lives in the US, buys him every year.
When his grandchildren came to visit, they started to make their way through his comic collection. Jackson instantly took to Oor Wullie, while Gracie preferred The Broons. Caden, when he was old enough to read, liked the Beano.
"Jackson loves it when Wullie and his friends go on hikes to Stoorie Brae, go fishing and jump over – or fall in – the burn," John said. "He also enjoys the pranks of Dennis the Menace and Roger the Dodger and the antics of Minnie and the Bash Street Kids.
"Gracie likes what she calls the 'ridiculous romances' of Maggie and Daphne when they're after the same boys.
"She also likes when Wullie almost gets away with his 'tricks'. She particularly likes when Paw Broon gets left at home to tidy and clean up and winds up in trouble!"
John and the family had a trip to Scotland booked for this year, but unfortunately the pandemic changed plans.
"They were all very disappointed as their big hope was to walk to the local newsagent to buy a copy of The Sunday Post and also a copy of the Beano, "John said. "In Reno there are no newsagents and all shopping involves going by car as we have no local shops because of zoning regulations.
"They were also hoping to play golf in Scotland as all three took it up in the last two years."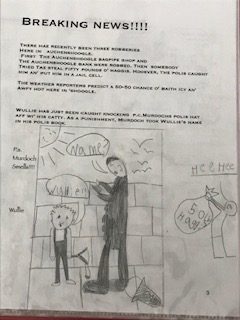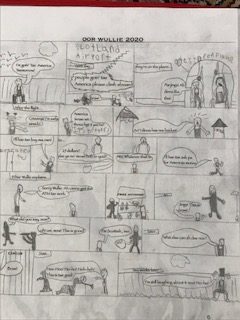 While they weren't able to get their hands on a real version of the paper, Jackson made his grandfather a custom version of his own.
"He wrote and illustrated it himself as a gift for my birthday," John said. "It is filled with full sheet cartoon pages with stories of his favourites. He has never seen a copy of the paper or been to Scotland.
" I was totally stunned.  It was all his own work – the jokes, the printing, the cartoons – everything, including the printing."
---
Where in the world are you reading Oor Wullie & The Broons? Let us know via email online@sundaypost.com or on Facebook and Twitter.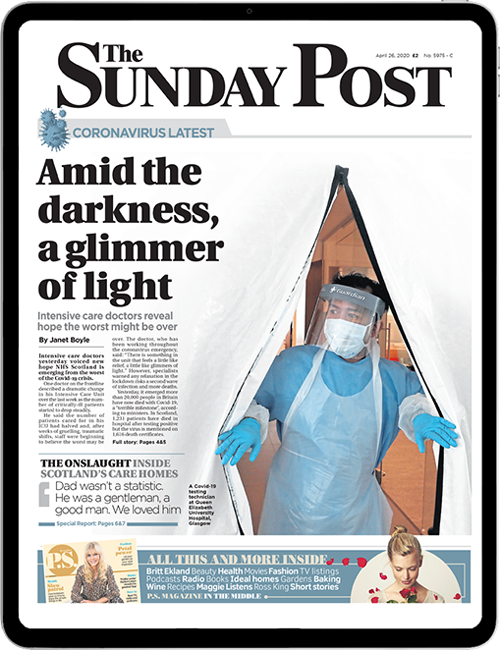 Enjoy the convenience of having The Sunday Post delivered as a digital ePaper straight to your smartphone, tablet or computer.
Subscribe for only £5.49 a month and enjoy all the benefits of the printed paper as a digital replica.
Subscribe