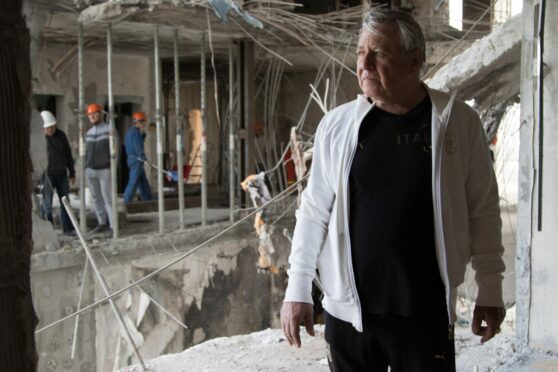 From the crumbling concrete edge of what had once been a balcony, Aleksandr Paradovskiy points across to his own devastated flat in the Tiras residential block.
It is, he admits, a "miracle" he survived. The 73-year-old was in his kitchen when Russian rockets hit the building last Saturday afternoon. The flats neighbouring his own no longer exist. They just a blackened concrete shell where workers in overalls are sweeping out the last bits of debris. One was home to a couple who were killed. They were expecting a baby.
After the rockets hit just after 2pm, Paradovskiy tried to get out of his flat but the front door was jammed, blocked by fallen bricks and debris.
He says: "I went out on to the veranda, there's smashed glass piled up everywhere, and smoke and soot coming up from the car that was on fire below."
There was a man in that car, he adds, who did not survive. He tells The Post: "It was a horror, just horror, I'm in shock." After an hour Paradovskiy was rescued by emergency workers, and taken out of the burning building, somehow unscathed.
His 19-year-old grandson was not so lucky. Also named Aleksandr, but known as Alyoshik, he was taking a nap in the flat he shared with his mother, just across the courtyard from his grandad. He survived, but is in hospital with second-degree burns.
"He crawled out from under the rubble, covered in blood, and got through the partitions to someone else's apartment, then made it downstairs," says Paradovskiy. "They stripped him down to his underwear and took him to the ambulance. His clothes were on fire, his hair was on fire. Now he's in the burns unit, and they do operations on him every day, to graft the skin."
The younger Aleksandr's blood is spattered all the way down the staircase – a trail of dark stains across the floor and walls. Low down, near the skirting board there's a bloody handprint, showing how he struggled to walk as he escaped the building. His little sister, mum, and dad were out at the time, picking up their older daughter from the train station. She'd taken her grandmother to safety in Poland and was just returning home.
Last week, we couldn't get into the flat where Paradovskiy's grandson lives, but workers clearing debris take us into what's now a huge void next to it, only the changes in floor tiles indicating where separate rooms and flats once were. Twisted steel rods protrude from the partially-collapsed ceiling, and the walls on the other side are missing.
Paradovskiy could have lost his whole family. His daughter also has a flat here, and it too is totally destroyed but she and her children had already fled Odesa, finding safety in Spain. Paradovskiy's wife is in Romania. "I made them leave, thank God," he says, clearly shaken by how things could have turned out.
He describes how the rocket "sort of zigzagged through the apartments". The building is still standing though, he said proudly – it was his company which built Tiras, a decade ago. He said it seemed the missiles didn't detonate on impact. "I wouldn't be standing here with you if it had," he added. "Half the building would've been blown away".
One room is visible through a collapsed wall, a bedroom, the sofa bed still intact, the walls painted a light orange. This is the home of Valeria and Yuri Glodan. The young mother, her three-month-old baby Kira, and granny Liudmila were all killed here. There's little left of the family's belongings now, a week since the clear-up began.
In a flat upstairs, workers have only just started the clear-up, and remnants of normal life still litter the rooms. A box of breadcrumbs, a packet of coffee and a some chocolate cookies lie on the kitchen counter, but the intense fire has blackened all the walls, melting the plastic insulation so strands of it hang down from the ceiling. Glass crunches underfoot. The workers don't know who lived here but say that, "thank God", they weren't at home on Saturday.
All around Odesa are checkpoints manned by territorial defence volunteers.
On the first day of the invasion, despite the bombs falling on Ukraine's cities, long queues formed outside recruiting centres as thousands and thousands of people tried to join the volunteers. Instead of the tips about how to avoid being called up, people exchange advice on how to find a way into the over-subscribed volunteer battalions.
Sitting in the canteen of a battalion's base in Odesa, soldier Katerina, 33, said she couldn't believe the number of people who turned up on that first day, queuing in the freezing cold for hours and hours. She was already serving in the territorial defence then, working as a recruiter. "I couldn't even get to the gate, there were such crowds," she said. By the evening, they had to turn people away.
More than a hundred thousand Ukrainians are now serving in the territorial defence – manning checkpoints and maintaining order. Saboteurs and infiltrators have been a problem since long before the invasion – people in the pay of the Russian government on reconnaissance missions, or hiding weapons. Many of these spies have, the army say, been apprehended in Odesa over the past two months, with Russian sim cards and a lack of local knowledge key giveaways at checkpoints.
Discipline, said Katerina, was the most difficult thing at first. "People didn't know how to listen to orders," she said. "But thankfully, we have very good commanders, platoon leaders.
"Naturally, the very first thing is to at least know how to hold a gun. Physical training. And when you take up weapons for the first time, you start to really understand all the responsibilities that come with that."
The old building now housing this brigade used to be an academic research centre. Now, the canteen is decked out in Ukrainian colours, with a huge yellow and blue flag running the entire length of one wall. It was a gift from Romania, Katerina explained, and is covered in messages in black marker pen – Be strong! We believe in you! – and the ubiquitous Slava Ukraina!.
The territorial defence volunteers have seen fighting – most notably around Kyiv in the early days of the invasion – and Odesa is on high alert, threatened by frequent rocket attacks, Black Sea ships, and Russian troops to the east and west.
Just yesterday Odesa was hit by air strikes with the city's airport targeted. Officials said the runway was badly damaged. Explosions were heard in the city at around 6pm, but air raid sirens did not go off. But Katerina insisted that she never worries for her own safety, only for her loved ones. Her mum is serving in another unit in the city, and her young son is still in the city.
"God forbid that something should happen to them," she said quietly. "But no, I have no fear for myself."
Morale is sky-high in the brigades, Katerina added. "We are absolutely ready. Very motivated. There's a kind of wild energy, you know? People's motivation, it comes from the heart. It's really cool."
The Sunday Post was also able to speak to Serhiy, a 46-year-old civil engineer, though like Katerina he refused to give his last name, and wore a mask to protect his identity.
His three children are "in a safe place" in Europe, and he is completely determined to defend his country. He said: "I don't care where I have to go; I have to stop the occupiers."
Serhiy first volunteered back in 2014, when Russia annexed Crimea and the war first began. He noted that while Russia has to force people to serve in the army, here in Ukraine volunteers outnumber places.
He laughed when asked if officers are really allowed to conduct weddings. He said: "Yes, we probably have a wedding every week! Everybody wants to get married, everybody wants kids. So that the future is there, no matter what happens to the parents, you know? This is very important."
He and his comrades, he said, have no "jitters" about what lies ahead. "We are brave, and well-trained, and determined. We are patriots, we love our country." Not only do the volunteers support one another, but receive huge support from the rest of the population – from meals to medical supplies, help floods in.
"There used to be an attitude toward the army that it was somewhere else," he noted, but now "things have changed dramatically", and people from all walks of life have joined up. Despite the prospect of more long months of war, Serhiy was looking ahead. After the victory, he said: "I'll be an engineer again, rebuilding my country. There's going to be a lot to do."
Right now though, he stressed, it's important that Ukrainian soldiers – whether army or territorial defence – never stoop to the level of the Russian troops, who have been accused of committing war crimes on a massive scale.
"They say that war awakens in every person the worst kind of qualities," he said. "But we are Ukrainians, we're a civilized nation, and we must preserve our humanity."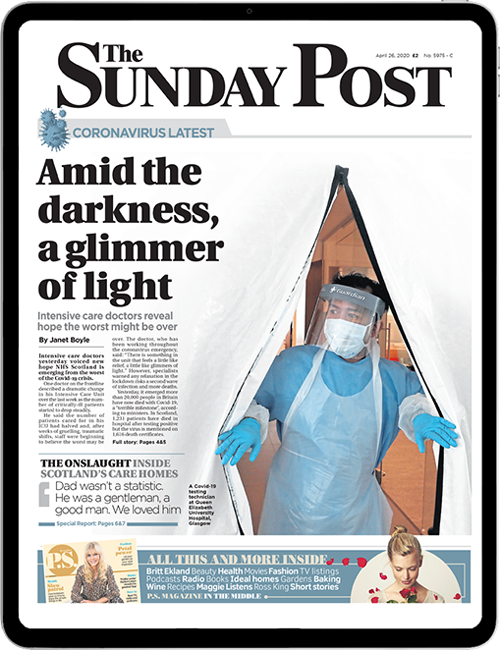 Enjoy the convenience of having The Sunday Post delivered as a digital ePaper straight to your smartphone, tablet or computer.
Subscribe for only £5.49 a month and enjoy all the benefits of the printed paper as a digital replica.
Subscribe