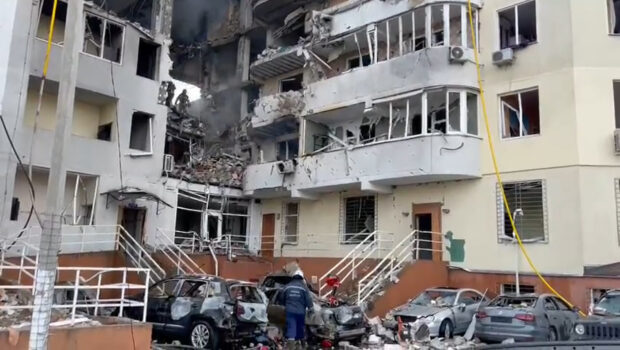 She had been painting eggs when the missiles hit.
The elderly woman, staring with incomprehension at the devastated block of flats where she had lived until an hour before, said: "We heard some kind of explosion in the distance and then a much bigger one. I ran out into the corridor and saw there was already smoke in the entrance."
It is the Easter weekend for the Orthodox church and the people of Odesa were enjoying the holiday yesterday. After all, there had been no air strikes in the Black Sea port for three weeks. The sirens had sounded earlier but they do so regularly and there was no alarm. The missiles hit at 2.30pm.
"It's been so quiet here that we had stopped paying much attention to them," said the woman, as she stood by her husband and watched rescuers carry the bodies from the 16-storey apartment block where at least eight people, including a child, died.
Standing on tram lines next to the block, the tracks flooded with water from the fire engines, staring at their flat on the top floor. Their car, parked just outside the entrance, is crushed: "I don't know if I can even go into my flat now. I don't want to be left without a home. How can we live like this? This is just awful.
"We grabbed our things and started to run downstairs. It was already too late to run to the basement, we just went outside. I looked up and everything was burning."
The missiles caused a fire to break out on the fourth and fifth floors of the Tiras block. Black smoke was still pouring from the building two hours after the attack, which took place at 2.30pm local time. But by 5pm the fire had been extinguished.
Nearby, a woman with injuries to her face was helped into an ambulance by paramedics. Rescue workers had already pulled two people from the rubble, and evacuated a further 86 from the parts of the building that weren't damaged. Debris spilled from a huge hole where the had rocket struck the fourth floor; a piece of red fabric fluttered in the breeze. Below, the tram tracks were littered with debris and shattered glass.
Vladimir Dudnik, 63, was also watching the rescue operation. He lives on the sixth floor but was at work when the rocket struck. "There are absolutely no military sites here," he said, furious. "This is just a residential area. I work for a building company. We built this block ourselves. It's lovely, modern, really nicely designed. Newly built in 2012. A really friendly place to live.
"I'm not scared, you know, I've seen a lot in life. Nothing scares me now. But my grandchildren, I don't want them to see this kind of ­horror. It's just horror."
City authorities had warned of attacks being likely over the Easter weekend, but residents were starting to feel more secure after weeks without any explosions. In the hours before, Odesa's city centre was full of people enjoying the spring weather, drinking coffee and catching up, and buying the famous iced Easter buns from street stalls.
"How can this happen, just before Easter?" Dudnik fumed. "A big celebration for us. And look what happens. Look what 'help' our Russian 'liberators' have sent us."
Officials said the Ukraine military's air defence shot down two missiles, but two more hit a residential building, while another two hit a military facility. It's thought one of the rockets that was brought down landed in a graveyard, injuring a woman. The rockets were launched from Russian TU-95 aircraft in the Caspian Sea, according to the Ukrainian armed forces.
Though sirens sound daily in Odesa, the last attack on the city was on April 3, when rockets struck a fuel depot in the port area. The sirens start late at night in the grand port with the mournful wails soon joined by the bells of every church and cathedral warning of attack.
Before yesterday, the ­danger seemed to have receded since the last strike three weeks ago. "The sky was glowing red," one resident said, describing how she rushed her little boy inside and tried to stop the smoke getting in. "It was terrifying."
Like so many others, ­however, she won't leave and, as it's been relatively quiet since that attack, some who fled in the early days of the war have started to return, hoping the worst is over.
A frustrated Russian army has intensified the shelling of Mikolaiv, 60 miles east, in recent days, but it remains in Ukrainian hands to block Russia's path to Odesa, a strategically important port on the Black Sea. And the warships and landing vessels that lurked on the horizon are now less frequent and the city breathed a sigh of relief when the flagship cruiser Moskva was sunk on April 14.
However, city ­authorities had warned the danger had not passed. Yesterday, in Ukraine's gate to the sea and import hub, they were proved right.
"There's a saying: if you want peace, prepare for war," says mayor Gennadiy Trukhanov. A former soldier, he seems at home in his new role as wartime leader for the city.
Since February 24 he has overseen the huge efforts to fortify Odesa. Sandbags line the streets and the famous statues, checkpoints and barbed wire block the famous Potemkin Stairs.
It's a jarring sight: anti-tank obstacles in front of the grand opera house, or scattered down the wide boulevards. Especially when you realise that in the Second World War it looked exactly the same, as the city braced itself for Nazi invasion.
Trukhanov and his ­military colleagues have a lot to keep on top of. Sabotage, spies and misinformation pose a considerable threat. It's long been known that Russia has an extensive network of informants and supporters working within Ukraine, and that misinformation plays a key role in its military strategy.
Just this week a fake report spread, alleging the beaches around Odesa were being de-mined. Authorities jumped in, warning people not to go anywhere near the shore. But, as Trukhanov explains, misinformation like this has a deeper purpose as a trick to get authorities to disclose details about where, exactly, landmines have been laid. "Such tricks won't get past us," he smiles.
Fears that the city could be encircled remain: to the east lies Crimea, bristling with Russian troops and armaments; to the south, the Russian Black Sea fleet patrolling the horizon; and to the west, the 1,500 or so Russian soldiers stationed in breakaway Transnistria.
Trukhanov downplays the Transnistrian threat, though. "Their equipment is not new, there are too few soldiers," he says breezily while admitting "anything is possible" when the invasion so far has been characterised by the unpredictability and ­irrationality of Putin's army.
In the beginning – two months ago today – he expected fighting in the east. Perhaps even in Mariupol and Kherson. "But no one could imagine that there would be a large-scale invasion of Ukraine from all sides; that it would be missile strikes on all infrastructure. I understand their goals, they want to destroy us as a state, as a people.
"But as to why they do this? No one knows that, probably they don't either."
Outside the mayor's press centre, life has been returning to this cultured little city. In the spring sunshine, jazz musicians give an impromptu concert from a balcony draped in Ukrainian flags, and poets and buskers perform outside a coffee shop.
One musician, Roman Babak, stops to talk, having just finished a set of upbeat songs to an appreciative audience. "You know, life ends and life goes on, the thing is to keep the spirits up," he says earnestly. "You have to have strength of mind, so as not to worry.
"Well, it's wrong to say I don't worry. But the idea is to look after those around you, and be united. And this is what unites us!" he gestures at the singer now standing at the mic.
Elsewhere in the city, you can forget, temporarily, that this is a country at war. Huge, bustling Privoz market is the city's largest, and oldest, open-air market, where you can walk for what feels like miles around an endless array of seafood, fruit, vegetables, wine, honey, pickles and poultry – most of it from the surrounding area.
Round every twist and turn is a table laden with traditional Ukrainian Easter cakes, a big bun covered with icing and sprinkles. They sell fast.
"Easter is a big holiday", says Zhuzhana Bagdanoi, 47, from behind her vegetable stall. "We're really trying to keep going. I really believe in God, and God helps everyone."
Bagdanoi swears she will never leave her country, no matter what happens. "We don't give up on our people," her colleague chips in, as he bags up tomatoes for a customer.
Privoz, which dates back to the 19th Century, is a din of noise, as vendors call to each other, joking and swapping news, and customers haggle over prices. Odesan teenager Valera Varshikova is here with her aunt from Mikolaev, looking for bargains.
"All my friends have stayed in Odesa. I never even thought about leaving. The first week was really scary, but I got used to it. I got more positive about things.
The 16-year-old can only attend school remotely, talking to teachers over the phone. "I really hope things will be okay but who knows? Maybe they will come for Odesa, maybe they're just leaving us till last."
A queue has formed for Olya and Tolya's produce, made at home in their village near the border with Moldova. Fermented apples, sauerkraut, fizzy gherkins – real Ukrainian food. The couple, in their fifties, exude positivity. "Oh, the mood is great in the city," Olya tells The Post. "We'll never give up our Odesa, and we believe in a Ukrainian victory.
"Odesa always has its sense of humour," says Tolya, beaming. "We're great jokers."
Olya says they do have a relative in Russia, but he's stopped phoning. As for Putin's motives? "We think he just went mad."
"The Russians think we're all Nazis," Tolya interjects. "This is what's so painful," Olya adds. "We're good people, friendly, hard-working."
They both love the ­market where they work almost every day. "You can buy anything you need here," Tolya says, as he packs floppy cabbages back into their plastic tub.
Their city "loves to ­welcome guests", they both tell me. "But not enemies", Tolya adds with a wink.
In a darker, quieter ­corner of Privoz, Svetlana Shirkina, 50, is less upbeat. "There are far fewer people around now. It's a holiday, but we're just not in the mood for celebrating."
Shirkina just opened this stall – perhaps a strange decision given the circumstances, but she wanted to keep busy.
"In the morning you look up, straight away read the news, and you just get overwhelmed with it all.
"So it's good to come here to work, People somehow still have a positive attitude, they joke around, they smile. Well, that's Privoz!"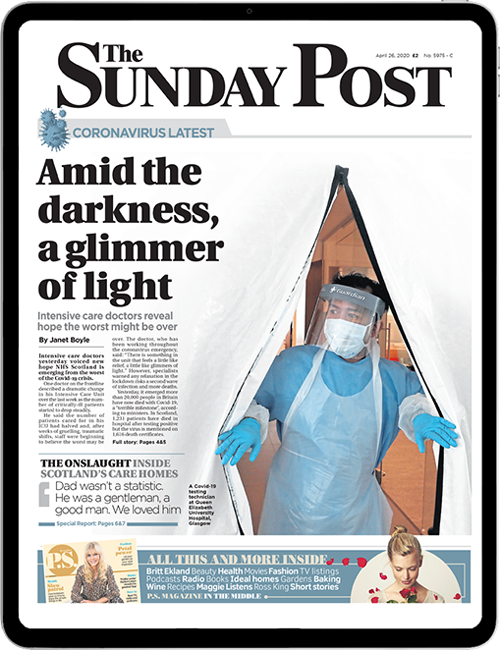 Enjoy the convenience of having The Sunday Post delivered as a digital ePaper straight to your smartphone, tablet or computer.
Subscribe for only £5.49 a month and enjoy all the benefits of the printed paper as a digital replica.
Subscribe