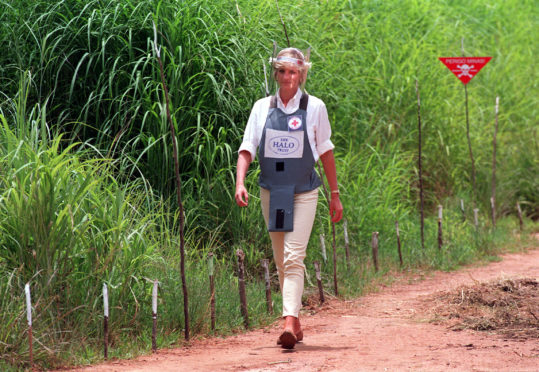 Scots working to clear explosives from one of the world's most heavily landmined countries have won new support from ministers.
The HALO Trust has been operating in Zimbabwe for six years and has already cleared 75,000 mines.
But many thousands remain, bringing a risk of death or loss of limb and causing major restrictions across the African nation.
Moves announced this month will see donations to the HALO Trust doubled by the Department for International Development through its UK Aid Match scheme.
It is hoped the scheme, which will run until December 22, will see enough funds raised to continue efforts to eventually free the country entirely from the threat of mines.
The charity's Breaking Boundaries campaign aims to raise money to clear huge areas of land in Zimbabwe in moves that it is anticipated will save thousands of lives.
More than 1,550 people have been killed by landmines in the country and many more maimed since war ended in the 1980s. The trust helps communities such as the one in the Zimbabwean village of Musanzikwa, which is trapped between two minefields, and the main school and hospital are both impossible to reach without crossing the danger zone.
Based in Dumfries, the HALO trust was founded in Afghanistan in 1988 and now removes mines and devices in 27 countries and states around the world.
In the past 10 years, 18 of the organisation's deminers have been killed in accidents, while another 45 have been seriously injured.
Over the same period, HALO cleared 600,000 landmines and employed 7,400 people.
Chief executive James Cowan, 55, a former officer with The Black Watch, said: "With donations from the British public and the Breaking Boundaries appeal, we hope to clear 105,600 square metres of land in Zimbabwe over 12 months, helping more than 3,000 people get access to safe land, which is vital for producing food and creating jobs.
"Clearing landmines is a painstaking process and often is done by hand.
"The UK Aid Match appeal gives communities access to machinery that has the potential to dramatically speed up the process of clearing mines.
"The UK's support to HALO has freed hundreds of thousands of people from the fear of landmines and helped them rebuild after conflict.
"Now the British public can donate to the Breaking Boundaries appeal knowing that every pound they give will be doubled by the UK Government.
"We will clear twice as many minefields and help twice as many people thanks to this new support."
International Development Secretary Alok Sharma said: "Landmines are indiscriminate weapons of war that maim and kill innocent men, women and children. Their devastation lasts long after conflict has ended.
"The HALO Trust is a Scottish charity that is a world leader in demining, and I am proud that, through UK Aid Match, we will double generous donations from the British public to help rid Zimbabwe of these deadly explosives.
"The UK Government is deeply committed to clearing landmines in Zimbabwe and across the world, so no one has to live in fear of one wrong step."