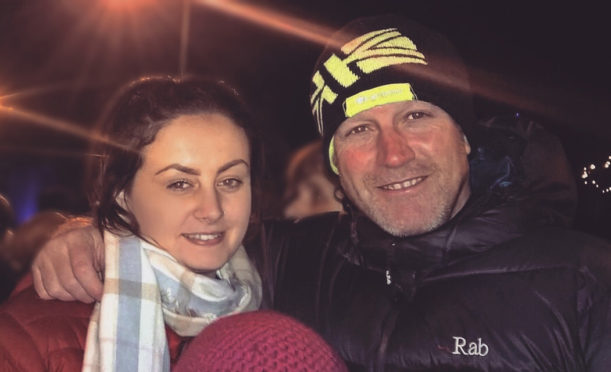 It will be a heartbreaking climb into the clouds of memory, an ascent to a summit that cost her father his life.
Adele Perry, 24, is to retrace her dad Steve's steps as she climbs the Munro where he died exactly one year after the tragedy. It will be her first Munro. It was her father's last.
Her dad Steve, who was 47, died in February with climbing partner Andy Nisbet, 65, after weather closed in on the illustrious mountaineers when they fell on the formidable 3,041ft-high Ben Hope in Sutherland, the most northerly Munro.
Steve survived the fall and managed to make a call for help by mobile phone but later died. The men's bodies were recovered after a two-day operation involving nearly 50 members of mountain rescue teams and two Coastguard helicopters.
Adele believed her father, who lived at Dalcross near Inverness, was roped with Andy when the men fell while establishing a new route on Ben Hope.
She said: "They were near the summit when they fell and my dad made two calls – one to alert the emergency services and the other to say he only had 60 minutes left to live because of the conditions," she said.
"I think the first call was around 3.45pm and the second was a couple of hours later – but I'm not sure. The helicopter spotted their bodies at 2.12am the next morning and it was clear nothing could be done and they were recovered later that day.
"They were into winter climbing routes on Ben Hope and had waited for weeks for the weather to be right to establish this new route.
"We think they were ice climbing because they had ice boots on. I am glad they had done what they had set out to do and finished the route.
"I did not know Andy, but I know he and dad became great friends and my dad told me lots of stories about him – and of them climbing together. They were very close.
"I am not a climber and I have not done a Munro. But I did climb Snowdon (Wales's highest mountain at 3,560ft) with my dad when I was six years old.
"I used to do hillwalking with him when I was younger. He was such an inspiration to me. Dad achieved so much but remained a very humble man. I loved him to bits. I am doing this to keep his memory alive and say thanks to those who risked their lives to save my dad and Andy."
On February 5 – the first anniversary of the tragedy – Adele will climb Ben Hope in memory of her father. She is also raising money for two of the mountain rescue teams that risked their lives to try to save the pair.
"I know it will be hard and emotional and I will be thinking of my dad every step of the way," said Adele who lives at Littleborough in Greater Manchester.
"I'll be climbing Ben Hope where my dad and Andy Nisbet took their last ever climb exactly a year before.
"I am raising money for the Assynt and Dundonnell mountain rescue teams. Both of these teams risked their lives to try to save my dad and Andy. I can never thank them enough.
"I just felt I wanted to give something back and to make my dad proud. I am hoping that some of the rescue team will be joining me on the day." The climbers were well known on Scotland's mountains. In winter 2005/06, Steve became the first person to complete a continuous unsupported winter round of Scotland's Munros entirely on foot.
He was also first to finish two continuous Munro rounds, having also walked Land's End to John O'Groats via every mainland 3,000ft mountain in between, in a seven-and-a-half-month trek in 2003.
"I will be walking up Ben Hope no matter what the weather. It will be especially poignant because it was also the last mountain dad finished his Munro round on," said Adele, an animal care worker. "Rab clothing has also confirmed it wants to sponsor my walk just like it sponsored my dad for his winter series. It has also confirmed it is donating funds to both mountain rescue teams."
Andy, who lived in Boat of Garten, was a former Scottish Mountaineering Club president and received the Scottish Award for Excellence in Mountain Culture in 2014. He was a pioneer of climbing techniques. He was credited with creating 1,000 new winter climbing routes in Scotland and was the second-youngest to summit all 282 Munros, and had a huge reputation among fellow climbers.
One of the mountain rescue team leaders described Andy as "the most experienced winter climber of his generation who set new standards for mountaineering" and hailed his partnership with Steve: "The two men had built up a formidable partnership in mapping new climbing routes."
Yesterday, Adele remembered her dad and his climbing partner, saying: "Dad lived for climbing – it was his life. The only comfort I can take was that he died doing something he loved so much.
"He lived for the moment to get the most out of life – and he had many great moments – because he said you never knew when it would end."
---
To donate to Adele's walk: Dundonnell mountain rescue team justgiving.com/fundraising/adele-perry2
Assynt mountain rescue team: justgiving.com/fundraising/adele-perry1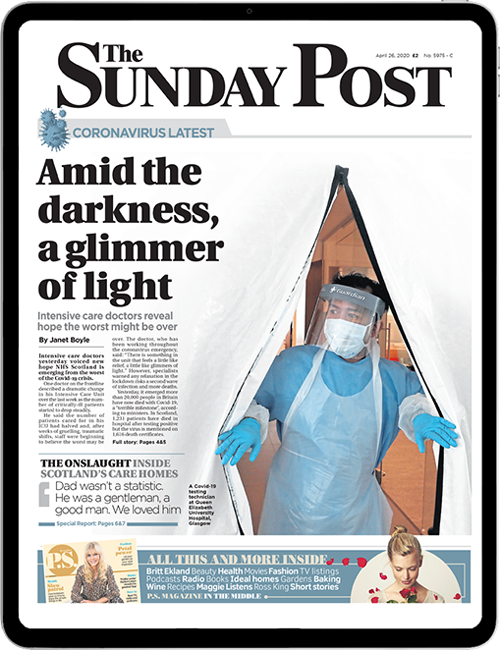 Enjoy the convenience of having The Sunday Post delivered as a digital ePaper straight to your smartphone, tablet or computer.
Subscribe for only £5.49 a month and enjoy all the benefits of the printed paper as a digital replica.
Subscribe