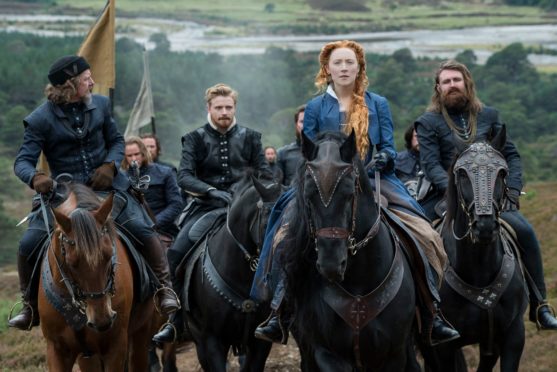 The National Trust for Scotland has protected the country's great historic gems and wild places for 89 years but the coronavirus pandemic has left it fighting for its survival.
To meet a £28 million cash shortfall blamed on lockdown, a £2.5m Save Our Scotland appeal has been launched along with recovery plans that could see more than half of its 700 paid workers made redundant, non-heritage assets sold off, and properties mothballed for up to two years.
Thousands have signed a public petition over job fears while the Scottish Government suggests a lifeline is unlikely while so many staff are at risk.
Here, we speak to the new chief executive and experts on why we must Save Our Scotland.
---
The Chief
On his first day on the job as the new chief executive of the National Trust for Scotland Philip Long admits he has his work cut out for him.
The man who helped develop, launch and then lead Dundee's highly successful £80m V&A museum took over from Simon Skinner at a time that could not have been more challenging for the organisation.
He told The Sunday Post that while he was looking forward to "getting stuck in," the financial crisis caused by the pandemic has placed NTS under unprecedented pressure.
He said: "There is a significant number of positions at risk, more than 400. There is not really any part of the organisation it (the financial crisis) is not touching. You will understand the difficulty and unhappiness that I have coming into an organisation that faces this scale of challenge to its ability to continue and to the many people who will be affected."
The NTS had turned to the Scottish Government for help before Mr Long took the reins. But Culture Secretary Fiona Hyslop said in May that she did not believe it was "at all tenable" for the government to provide the significant amount of funding needed while the NTS was "trying and would want to continue to make their staff redundant to the scale that they're talking about".
However, the new chief executive defended the organisation's position. "The trust has never faced such an existential crisis as it does at the moment," he said. "I am confident it will bounce back but it has very considerable challenges and that is reflected in the seriousness of the actions we have to consider.
"It's a fast-moving situation. We are in ongoing, regular discussions with the Scottish Government about the potential of support and the positions that are put at risk; and they are just that at the moment. They are not yet redundancies.The Cabinet Secretary has been clear that she would like to see a reduction in positions at risk and more properties that can be reopened. I would dearly love to achieve these outcomes as well. She will be naturally concerned that any input that the government might contribute to the trust demonstrates the public benefit of that."
He said Ms Hyslop had formed a team of civil servants, Scottish Enterprise officials and trust managers to identify the "best possible solutions".
"Covid has created a situation where we don't have positions for people to be employed in," he said. "We are working hard to establish what our plans will be. We have already reopened some of our natural heritage properties and we will be opening many more."
Some of the trust's properties such as stately homes would open in August, but others presented more of a challenge. "The reality is the financial impact on the trust of the first few months of closure is that it is not viable for us to reopen some of those properties this year," said Mr Long. "We want to be able to open far more next year, and that will of course need staffing resources. But we need to consider all of these actions now to return to business in a much more stable way next year."
Mr Long, who earlier this year was awarded an OBE for his services to culture and heritage, is urging people to visit NTS sites, book NTS holiday accommodation, take up memberships and throw their weight behind the appeal.
He explained that despite having 400 million visitors last year and the biggest membership of any organisation in Scotland with 365,000 supporters, the trust's work came at great cost. It spends £52m every year to keep its 88 visited properties, 300,000 artefacts and more than 76,000 hectares of countryside in top form.
Mr Long added: "If you care about Scotland's heritage, please do support us."
The Woodland
Rural skills and willow wattle expert Pete Holmes, 47, had been working on the National Trust for Scotland's groundbreaking Creel House project at Glencoe Visitor Centre when lockdown brought everything to a halt.
The reconstruction of a dwelling from around the time of the infamous massacre of 1692, built from materials like wattle, turf and heather, is the only one of its kind in Scotland.
Pete has lost about a fifth of his income this year. The dad of two, who runs Rural Skills Training, said: "I would have been working from late-April into July on the project.
"Every year the Glencoe Visitor Centre gets 400,000 visitors who will see my work and learn about the history of using straight sticks – coppiced materials – from woodland to build the structure of the houses. A big part of this project involves training others to keep these skills alive. And it is a one-off, professionally organised and rooted deeply in authenticity using historical and archaeological evidence. I am really hoping it will still go ahead, but without public support will the trust ever be able to take on others?
"Last year quite a significant chunk of my income came from the trust. I want to keep craft alive but I need to make an income. Having a platform for these old skills is important. It's also an educational service, reminding us about our history and how things have changed."
Skill-sets such as his are supported and showcased by the trust. Pete said: "The NTS promotes old crafts that would otherwise be dying. It is a real concern that it is struggling."
The Costumes
Edinburgh-based Tuula Pardoe is one of three conservators who together make up the award-winning Scottish Conservation Studio.
The trio have worked together since 1992 and set up the studio in 2005. Tuula specialises in costume and textiles, while her colleagues are experts in fine art and artefacts.
She told The Sunday Post: "The National Trust for Scotland's finances were difficult before the pandemic and now they are even worse. NTS has been one of our significant clients for conservation and has been able to support fairly large projects.
"I can now see that that funding is going to be even harder for them to come by. Our income from the NTS varies from one year to the other, but it accounts for maybe a quarter of the studio's income. It will be a concern if people do not support the funding appeal and properties remain closed."
Tuula is currently working with "several items of costume". She said: "I have them in my studio. I have been assessing the condition of these items and making treatment proposals and proposing how they can be mounted once the treatment has been carried out. There is a plan for two 18th Century women's dresses that are due to go on display in one of these properties. That's not going ahead."
She added: "Without conservators looking after how objects in collections are kept they could deteriorate."
In the worst case scenario, she said costumes and textiles with "real historic value" could be lost.
The Buildings
Karen Dundas, from Kinghorn in Fife, lays claim to being the only accredited conservator in Scotland who works exclusively on wall and ceiling paintings. She also trains conservation students and supports those working towards accreditation.
Karen, who learned her craft in Madrid, looks after NTS treasures including prized painted ceilings and friezes regarded as among the finest in the country at Crathes Castle near Banchory in Aberdeenshire.
When lockdown was imposed she was working at the Palladian mansion of Newhailes House in Musselburgh where historic cornicing in the Chinese sitting room had suffered water damage. She has only just returned and completed the work.
The conservator warned any cutbacks or closures by the cash-crippled trust would have a dire impact not only on her profession but on the fabric of the buildings.
Karen said: "The NTS accounts for 30-40% of the work I do. It will have a knock-on effect on those training or working towards accreditation. There will be a skills drain."
Karen, who has been caring for the trust's Scottish Renaissance painted ceilings and walls since 2003, warned: "If they are neglected, or fall into the hands of a private party that does not have them maintained, they will gradually deteriorate and we would lose them. There are only about 100 of these ceilings around the country.
"They are irreplaceable. It would be a massive loss. It is our historic heritage. It brings the past to life."
To donate to the National Trust for Scotland's SOS appeal visit nts.org.uk/donate.