Climbing up a ladder during a gruelling match with seven of the world's best female performers, Scots wrestler Nikki A.S.H. (standing for Almost Super Hero), was ready to do what she does best – seize an opportunity.
The 32-year-old from Glasgow, Nicola Glencross outside of the ring, grabbed a hold of the briefcase that contains a contract for a title match and became Miss Money in the Bank at a WWE pay-per-view last Sunday.
And the career defining moments didn't stop there, as she took a chance and cashed it in against Charlotte Flair on the following night's episode of Monday Night Raw.
Pinning the champ and holding the top title aloft was the culmination of over a decade's hard work, which included taking the plunge of moving to America and recently completely revamping her character.
A proud title-holder
Clutching the title at her home in Florida, she said: "I'm so proud, I've been wearing it round the house, having coffee with it, it's been underneath my pillow… When we're travelling it can let off as many metal detectors as it wants!
"It hasn't sunk in yet. It's a dream and it feels like I don't want anyone to wake me up. I was just staring at it when I got back to my hotel room, thinking of all the memories, all the people that helped, encouraged and inspired me on the journey."
Nikki signed with WWE in 2016, having impressed in her work on the independent wrestling scene in the UK with the likes of Glasgow-based Insane Championship Wrestling.
After a few years in the company's developmental system, she has now made her way to the top of the mountain and joins Ayr's Drew McIntyre in being the only Scots who've been WWE singles champions.
"I'm a believer in that when an opportunity comes, you grab it with both hands and you run as far and as fast as you can with it," she said. "I feel like I'm fighting for Scotland, I'm competing for all of our fans and I feel ready to go.
"Let's fasten the seatbelt even more, I'm so excited going forward and taking on any challenges, and that feels so good to say!"
The challenge of being a champion
Speaking of challenges, wrestling fans have been chomping at the bit for the return of former champ Becky Lynch, who became the face of WWE before the pandemic as she smashed glass ceilings and made history.
The Irish star is expected to be returning imminently after taking time off to have her first child, and Nikki is certainly up for the fight.
"I'm ready for the challenge from Becky and I truly hope it does happen," Nikki said. "Becky and Drew have been amazing role models, inspiring me and creating that blueprint.
"It's shown you can be from Scotland, Ireland, the UK and with the right dedication, work ethic and attitude you can make it. You can become a WWE champion."
Drive and determination: Why Scottish wrestlers are making waves in WWE
There are plenty more Scots in WWE, and it looks likely that Nikki and Drew aren't the last to lift gold in the world of sports entertainment.
A host of talents who made their name wrestling in town halls and smaller venues across Scotland have been picked up for the NXT UK developmental brand and earmarked for big things.
"There's definitely something in our water, for sure," Nikki said. "I love that it's a bunch of people all breaking through at the same time. It's a great message to send to Scottish people and I'm so proud to be a part of that and representing that.
"My friends and family back home in Scotland, we WhatsApp every day and FaceTime is a godsend. I'm so grateful that I have that. I'm going to keep fighting for my family and friends and everyone back home."
Almost a superhero
The 'Almost Super Hero' character is one of Nikki's own creation, with her idea being backed by WWE producers and made into a reality.
It's thought to have caught the eye of chairman Vince McMahon, with the potential to inspire the company's younger fans.
"I can't quite fly yet, that's why I'm almost a superhero," she laughed. "I don't have super-speed either but that depends on how much coffee I've had. The message is all about positivity, self-belief and kindness being a super power more powerful than any feat of strength."
It's a mantra that Nikki clearly lives by. After winning the title, she tweeted: "Go tell that little Scottish girl who dreamed of this moment… the 18 year old girl who joined a small wrestling school in Glasgow, who travelled the world to achieve her dream. Go tell her: You did damn good little Nikki."
There's no "Almost". @NikkiCrossWWE has been a hero long before donning that cape!

Congrats again for winning the Championship, Nikki! Well deserved. 💙💛💙💛💙 pic.twitter.com/xYghYB1idQ

— Rob Downie 🖍️ COMMISSIONS OPEN! (@RobArtDownie) July 21, 2021
Asked what advice she has for anyone wanting to follow in her footsteps, she said: "Buckle up and don't take no for an answer. Try your best, be persistent and strong because you'll get a lot of things thrown at you. You just have to be confident in your own self-belief.
"It's been hard over the years. You can fall down, you will because that's life, but you pick yourself back up. We all have the ability to achieve something great and I want to tell anyone out there who's thinking of going to a training school or dreams of being a wrestler to believe in themselves.
"If this is what you want to do, be prepared because you'll put a lot of hours in and it's life-changing."
It's not where you start .
Always beating the odds .
Always a hero@NikkiCrossWWE #WWERaw #champion #NikkiCross pic.twitter.com/byZmrhB6xN

— Mr David J Wilson 🏴󠁧󠁢󠁳󠁣󠁴󠁿 (@mrdavidjwilson) July 20, 2021
Damn it Drew! I just finished crying!!!!! 😂 🥲

Thank you for laying the blueprint for us 🏴󠁧󠁢󠁳󠁣󠁴󠁿🏴󠁧󠁢󠁳󠁣󠁴󠁿🏴󠁧󠁢󠁳󠁣󠁴󠁿🏴󠁧󠁢󠁳󠁣󠁴󠁿 🇬🇧🇬🇧🇬🇧🇬🇧
💙

Something in the water for sure 🏴󠁧󠁢󠁳󠁣󠁴󠁿 https://t.co/bypnX8hmtL

— Nikki A.S.H , ALMOST SUPER HERO (@NikkiCrossWWE) July 20, 2021
Welcoming back fans
All the hard work was made worthwhile with her triumphs, especially as crowds made a permanent return to WWE shows.
Thousands packed into the Dickies Arena in Fort Worth, Texas for the events and there's one planned for September at Glasgow's SSE Hydro arena featuring the SmackDown roster.
Even though she's a Raw superstar, Nikki hinted that a homecoming might just be on the cards.
"Performing in front of Glasgow over the years was always just an amazing thrill ride," she recalled. "I remember performing at the SECC before I came to WWE and just before I went out the curtain I burst into tears. It was such a feeling and I can't wait for my fellow superstars to feel that energy.
"We've got Bianca Belair as our SmackDown champion, I can't wait for her to perform in Glasgow. And as Monday showed, I'm very happy to give a good surprise, so who knows… All I can tell our Glasgow fans is to get a ticket, enjoy the show and who knows who might show up."
---
WWE Live (rescheduled from April 2020), The SSE Hydro, Glasgow, September 22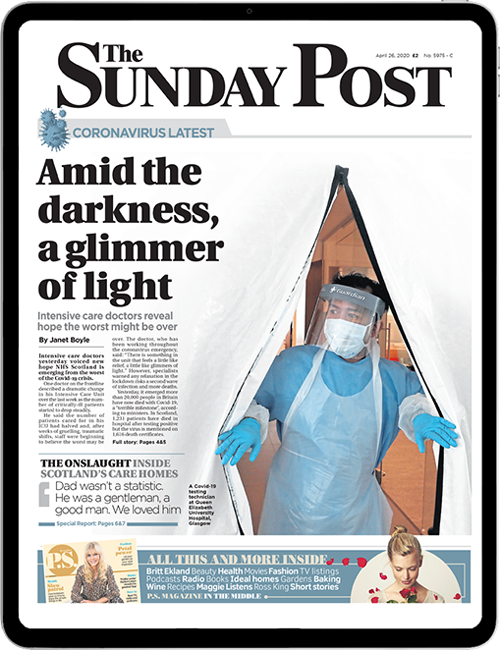 Enjoy the convenience of having The Sunday Post delivered as a digital ePaper straight to your smartphone, tablet or computer.
Subscribe for only £5.49 a month and enjoy all the benefits of the printed paper as a digital replica.
Subscribe