FOR decades wrestling has been dominated by the hulking statures of John Cena, Stone Cold Steve Austin, The Rock and Hulk Hogan.
Now there's a new talent on the block – and "The Man" is part of a modern generation that's leading the way for women to take centre stage.
In recent years, women's wrestling has grown in popularity, drawing bigger crowds, more sponsorship and increased parity with the men's circuit.
At the forefront of this revolution is 32-year-old Becky Lynch – also known as "The Man" – whose storylines, rivalries and skills are fast helping her to become one of the biggest stars of WWE, the world's largest wrestling promotion.
Lynch, real name Rebecca Quin, stands alongside the likes of former UFC Champion Ronda Rousey, Paige and Sasha Banks as the strong women who are changing the face of female fights.
According to Kenny McIntosh, co-host of Inside The Ropes podcast, women's professional wrestling has changed dramatically over the past 20 years, thanks in part to new characters, rebranding and reality shows like E! Entertainment's Total Divas.
He said: "I've been covering wrestling for about seven years now, and I've watched it since the early 90s.
"When I was younger, women were always a manager – or what's called a valet. They were often sexualised, bit-part players and never the focal point.
"They would have matches but no one was watching. So the bar wasn't exactly set very high.
"Now we're seeing different types of female characters and different types of women.
"If you were a dad who loves wrestling, 10 years ago you maybe wouldn't have sat your daughter down with you to watch. There was nothing for her. Now, it's more for everyone. With Becky Lynch and Ronda Rousey in headline programmes, it doesn't feel like they're there because they're women – it's because they have the most interesting story."
This month sees the release of new wrestling film, Fighting with My Family, directed by Stephen Merchant. Inspired by the real-life success of Norwich-born Saraya-Jade Bevis – WWE's Paige – the story is one Kenny hopes we'll see replicated in the future, as the influence from America reaches UK promotions.
"There is definitely a shift happening in women's wrestling", he said.
"In years gone by it would never have been an option for young, Scottish female wrestlers to join WWE.
"But recently they've just introduced a new character to WWE TV called Nikki Cross, and she's from Glasgow.
"Ten years ago the idea that a girl from Glasgow could go from wrestling in the Classic Grand in front of 200 people to performing in front of 10,000 people in New York was impossible – now it isn't.
"And I think that's going to spur a lot of women from Scotland and the UK to start trying to do it themselves."
Outside of WWE, shows like Netflix's GLOW are also pulling in big audience figures. Set in the 80s during the early days of the Gorgeous Ladies of Wrestling, and starring Mad Men's Alison Brie, the second season attracted 1.3million viewers in the first three days of its premiere.
Kenny added: "Wrestling has become something that everyone can watch. Everyone is represented."
---
'I always wanted to wrestle but didn't know if I could. I do now' – Samantha's story
"When I was growing up I loved watching wrestling with my brothers. As we got older, they grew out of it, and I just loved it more and more. I was hooked from day one.
"Wrestling was always something I wanted to do, but I didn't think it would be possible – especially living in Scotland. But when I was 10 I found somewhere to train.
"It took me a while to build up the courage to go. At the time, the majority of wrestling gyms were filled with men so it was a scary thing to do. I was the only girl and it was intimidating to say the least.
"My first few times in the ring I was shy and self-conscious, but now I've been doing it for so long I've come out of my shell and it's made me a lot more confident.
"Things are changing and there are a lot more opportunities for women to get involved in wrestling now, including Fierce Females – Scotland's only all-women promotion.
"It's a great way for us to showcase our skills and talent – most shows will only have one women's match, compared to six or seven for men, so it's amazing for us to have our own platform.
"After all, there shouldn't be any difference between the genders. We are just as good as the guys.
"Being able to train with other women is also really important, and that's why I run a class at Source Wrestling School. I want to help women to feel comfortable and build up their confidence.
"My partner Lewis wrestles, too – he goes by Aspen Faith in the ring – and my son Miles, seven, has all the action figures and loves watching WWE on television.
"So you could say my whole life is wrestling, wrestling, wrestling!
"I think Miles will want to train eventually, but right now he wants to be a farmer like his grandad and uncles.
"They have been so supportive of my wrestling, taking me on 5am airport runs, looking after Miles and helping out whenever they can.
"They haven't actually ever seen me wrestle because of the long hours they do on the farm, but they know how much I love it – even when I turn up with an injury and my dad says, 'Oh so who has battered you now?'
"I've been wrestling for 17 years. I've travelled all over the world for matches. I'm focused on training the next generation of women's wrestlers. There is a big group of young girls coming through.
"I mother them all, taking them under my wing. I even call a couple of them my daughters.
"It's like I've got a little wrestling family."
---
It's a wrestling film but it's not about wrestling. It's about family
Director Stephen Merchant believes his new movie is a wrestling film for people who don't like wrestling.
Produced by Dwayne "The Rock" Johnson, Fighting With My Family follows the story of Saraya-Jade Bevis's journey to become a WWE star, under the stage name Paige.
Based on the 2012 Channel 4 documentary of the same name, the biopic features Florence Pugh, 23, as Paige, and Scots actor Jack Lowden, 28, as her brother Zak, who also tried out for WWE but failed to make the cut.
Merchant, who co-wrote The Office with Ricky Gervais, struggled to initially muster enthusiasm for the story before eventually being won over.
"When Dwayne sent me the documentary, I didn't think I'd be interested in a story about wrestling," says Merchant.
"Until I realised this is not really about wrestling at all, it's about a young woman, her family and their struggles – which are funny, sad, tough, tender and ultimately inspiring.
"And just happen to involve people in spandex throwing each other about."
Johnson, however, said he instantly knew Norwich-born Paige's family dynamic would transfer to the big screen.
He says: "Back in 2012, I was in my hotel room in London and stumbled across a documentary on a local UK channel.
"Not only was I intrigued by this loving and wild family, but I also felt it's the kind of narrative that would make an amazing movie. I relate to Saraya and her wrestling family on such a personal level and it means so much that I can help tell their story."
Having worked together on 2010 family hit, Tooth Fairy, Johnson called on Merchant to write the script.
"I love that it's a true story about a working class girl who, against the odds, climbed to the very top of her unusual profession," says Merchant. "And as with Rocky and boxing, even if you don't like her sport, you'll love her journey."
Playing the sibling who doesn't get to fulfil his dreams, Lowden believes the audience will relate to his character's struggle.
"I play the character who doesn't make, who doesn't get to succeed. It was instantly enjoyable and also a heartbreaking thing to explore," he said at a Sundance Film Festival screening last month.
"I think it's a massively relatable film."
The UK premiere of Fighting with my Family takes place later this month as part of the Glasgow Film Festival.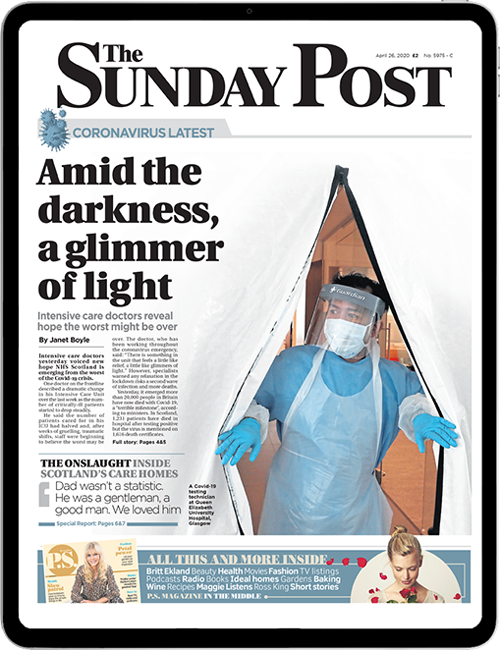 Enjoy the convenience of having The Sunday Post delivered as a digital ePaper straight to your smartphone, tablet or computer.
Subscribe for only £5.49 a month and enjoy all the benefits of the printed paper as a digital replica.
Subscribe