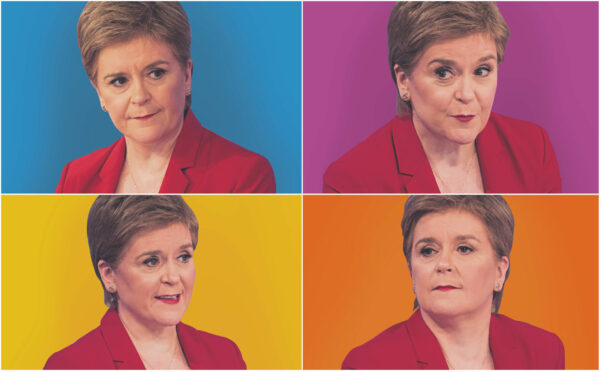 Nicola Sturgeon makes history on Wednesday by becoming Scotland's longest-serving First Minister.
She will have been in office for 2,744 days since being sworn in on November 20, 2014, overtaking her predecessor Alex Salmond.
Her premiership got off to a spectacular start with an appearance in front of 12,000 independence supporters at Glasgow's Hydro arena and SNP membership soaring by 75,000.
More than seven years on, polls still find her to be the most popular political leader in the UK while her party dominated this month's local government elections after 15 years in power. She has also survived a number of controversies and scandals, some of which, she has admitted, threatened her future as leader.
Here experts look at her record in office, how it will be viewed by history and what the future might hold.
There were economic opportunities missed
Mairi Spowage, economist
Productivity in Scotland has failed to increase under Nicola Sturgeon but the country lacks some of the powers to influence day-to-day activity, according to economist Mairi Spowage.
The director of the Fraser of Allander Institute, an influential centre of economic research, said: "Successive governments in Scotland have had ambitions to boost productivity and business investment, research and development.
"It has been difficult to shift the dial in a number of these issues, particularly productivity, where our performance hasn't really moved since 2007 and certainly hasn't improved since 2015.
"When you look at the powers in the Scottish Government's arsenal to tackle some of these issues, many of the levers aren't in their gift.
"They tend to have levers which are more about the long-term drivers of productivity around skills and the sorts of investments that they're trying to make like childcare in early years for the long-term benefit of the economy.
"These tend to be longer-term, slower-moving levers to impact on productivity, whereas they don't have short-term measures on fiscal policy that could potentially influence productivity."
But she said that the Scottish Government could have done more to capitalise on the country's potential for renewable energy development.
According to a Fraser of Allander report last year, renewable energy supports around 23,000 jobs in Scotland with economic output of £5 billion a year.
Spowage said: "There are huge opportunities here in terms of our natural resources to develop renewable energy technologies and generation, but also to develop supply chains to create new high-wage, hi-tech jobs in Scotland, which to some extent will offset the jobs that we might be losing in the oil and gas industry.
"I think many would acknowledge that some of those opportunities might not have been taken in the earlier days of renewable energy generation.
"Some of the parts for wind turbines, for example, were not manufactured in Scotland but perhaps could have been if the supply chain had been developed in the earlier days and there was more support for that.
"There's definitely the case that an opportunity was missed and other countries have overtaken Scotland in some areas."
The Sunday Post View: Should she choose to accept it, the first minister now faces a mission improbable
The big question is still to be asked. Can she convince Scots to say Yes?
Sir John Curtice, polling expert
The best still has to come from Nicola Sturgeon if she wants to leads Scotland to independence, according to Britain's leading psephologist Sir John Curtice.
It might seem remarkable or even extraordinary that the SNP remains the most popular party in Scotland after 15 years in power, now more than half of that time under Sturgeon.
But Curtice said: "Politics in Scotland is not about the effectiveness, or otherwise, of the government in the eyes of voters. It's about the constitutional question.
"The SNP dominate the support of those who support independence, whereas No voters are fragmented between three different political parties. That's the essential reason why the SNP are where they are."
Curtice said Sturgeon was also still personally very popular as a consequence of her leadership during the Covid-19 pandemic, which saw her address the national daily.
He said: "Her ratings were going down gradually, not precipitously, before the pandemic hit but then they went back up again. The same thing happened to Boris initially, but unlike Boris Johnson she held on to a large part of that popularity."
Curtice said the crucial political challenge for Sturgeon is still ahead of her, increasing support for independence and making a second referendum seem less of a political gamble than the one held in 2014.
He said: "There was a period in the midst of the pandemic when support for independence was higher than 50%. But it seemed to be driven by the pandemic and it has not survived the pandemic.
"Support is somewhat higher now than it was eight years ago but it's not dramatically higher. The crucial question is can she convince Scots in the post-Brexit environment that independence would be the better course.
"She might be the longest-serving first minister, but if she's going to achieve what she wants to achieve then the best needs to be yet to come."
Curtice said that Sturgeon was the obvious figure to lead a possible referendum before the next Holyrood election in 2026.
He said: "There may be someone else further down the track, but for the foreseeable future, if anybody is going do it, it is going to be Nicola Sturgeon.
"She has the leadership of the nationalist movement and she is a charismatic figure. The question is who is going to lead it on the other side."
The pandemic was greatest crisis to face devolution so far. She came through it well
Sir Tom Devine, historian
Nicola Sturgeon's biggest achievement to date has been her government's handling of the Covid pandemic, according to Scotland's pre-eminent historian Sir Tom Devine.
Devine, emeritus professor at Edinburgh University, said Sturgeon's other successes have included increasing support for independence and maintaining the SNP's domination of Scottish politics. He said: "That's not a common achievement in western European politics.
"There's also been hardly any evidence of opposition or hostility within the ranks of the SNP to her rule. Again, that's quite unusual for the head of a political party that has been in office for 15 years in a democratic political system."
But the achievement to have the biggest impact on Scotland has been Sturgeon's handling of the Covid-19 pandemic, said Devine.
"The pandemic is undeniably the greatest crisis that devolution has faced. Some people would see the performance of the Scottish Government as a spectacular success, much better than in England. Others would point to some weaknesses in the approach and mistakes made.
"But I think, on average, it would be fair to say that at the very least it was competent and that a government that had never faced such a challenge before came through it relatively well."
Devine said Sturgeon has been helped politically by Boris Johnson as Prime Minister, whom he described as "the best recruiting sergeant the SNP has ever had", and a disastrous Brexit.
He said Sturgeon has three major challenges facing her – the "continuous blight" of poverty, increasing social inequality in Scottish society and education.
"Because of dwindling oil revenues, and oil getting a bad name for itself because of climate change, the Scottish nation is now almost entirely dependent on its brain power. Therefore, education is a vital part of government responsibility.
"If you take higher education, the big research players in Scottish universities look in pretty good fettle, even judged by very rigorous comparative international indicators.
"The situation, however, is not as positive in schools. There are some very good pupils being produced by our schools, but if you look again at the international comparators Scotland has fallen down the list during the last 20 years. The big challenges remain and haven't been solved."
He added: "If there was an independence vote and she was First Minister and won it, breaking up the United Kingdom would be a serious historical legacy. But that's in the future and, as I keep saying, the future is not my period."
Unless there is dramatic change, she may be remembered for promises undelivered
James Mitchell, Professor of Public Policy
Nicola Sturgeon's long leadership is in danger of becoming a lost opportunity, according to political expert James Mitchell.
Sturgeon took over the leadership of a party in better shape than any other in Scottish political history when she succeeded Alex Salmond in 2014, said the professor of public policy at Edinburgh University.
But he said that under her rule there has been a number of failures, from failing to close the attainment gap to the Ferguson Marine ferry fiasco.
Mitchell said: "Nicola Sturgeon inherited the leadership of the SNP in better shape than any previous leader of her party and indeed any leader of any party in Scottish politics since mass enfranchisement.
"Support for independence reached an all-time high in the referendum, party membership surged and was united as never before. The SNP looked like the natural party of government.
"She will be remembered as a formidable debater and campaigner and as the first minister who appointed women to half the posts in her cabinet. She will also be remembered as a champion of trans rights.
"She showed much promise on taking office and had massive public sympathy, even amongst opponents. People wanted her to succeed even if they may not have supported her constitutional ambitions.
"But unless there is a dramatic change, her record in office will not be remembered fondly. She is likely to be remembered as the first minister who promised so much but delivered little.
"A series of avoidable policy failures, over-hyped promises and lack of focus on the everyday concerns of most Scots will undermine any achievements.
"The extraordinary mishandling of commissioning ferries, failures to engage constructively with local government, absence of focus on the economy, especially as Scottish public spending depends on a well-performing economy as never before, and promises to close attainment gaps in education without serious effort to consider how to do this are amongst the areas likely to be remembered in ways the SNP would prefer to forget.
"Critiques of her leadership style will focus on her command-and-control, top-down approach to government, photo-opportunities given priority over serious policy making, a divided independence movement, and lack of strategic thinking.
"Her danger is that her long leadership will be seen as a lost opportunity, squandering her inheritance."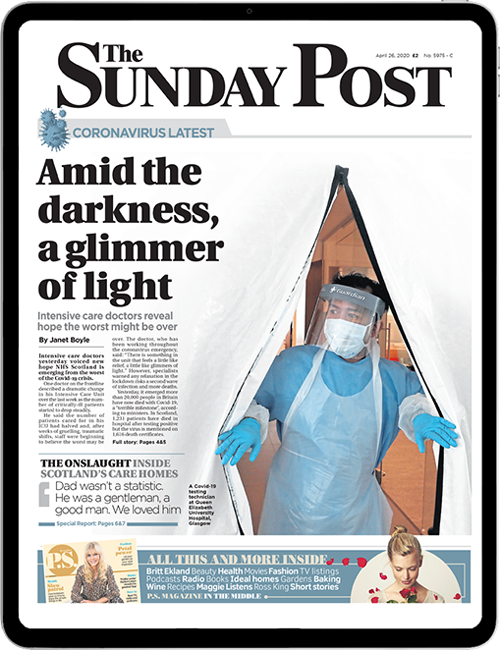 Enjoy the convenience of having The Sunday Post delivered as a digital ePaper straight to your smartphone, tablet or computer.
Subscribe for only £5.49 a month and enjoy all the benefits of the printed paper as a digital replica.
Subscribe