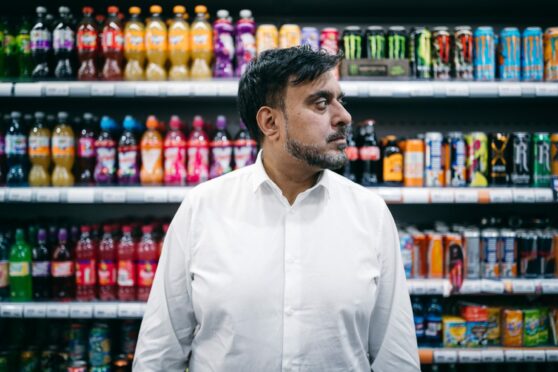 Shoplifting is soaring in Scotland, we can reveal, as experts warn the cost of living crisis is fuelling theft and putting staff in danger.
The number of thefts reported by shops has more than doubled in the last two years with retailers reporting nearly 900 thefts last month compared to less than 400 during the same period in 2020.
The Scottish Grocers' Federation, which represents 5,000 convenience stores, surveyed around 500 stores and found every one had suffered shoplifting on a daily basis.
Dr John Lee, head of policy and public affairs, said: "Shoplifting happens every day in every shop. It is definitely on the rise and it's undoubtedly connected to the cost of living crisis. I could see us getting to the stage where milk is tagged.
"I have heard of shops being forced to put security tags and boxes on items such as meat and even margarine. It is also becoming more extreme and violent and it seems that people are more ready to resort to violence when they are confronted by shop staff."
Stores have reported shoplifters stealing baby food and formula, suggesting a black market for relatively cheap but essential products as the cost of living climbs.
Last week Andy Cooke, chief inspector of constabulary for England and Wales, urged police officers to use discretion when deciding whether to prosecute people who were caught stealing in order to eat.
Retailers Against Crime, which is an anti-crime initiative that represents shop owners and shares information on shoplifters and abuse against shop staff, said relatively cheap items are now being stolen along with the traditionally small but relatively expensive items like razors and ink cartridges.
Stephanie Karté, of Retailers Against Crime, said shoplifters seem more desperate and violent when confronted by shopkeepers or security staff. She said: "Violence and shoplifting is increasing. There is a feeling that the economic climate we are in is fuelling violent crime especially. They are going for things like baby food and baby milk. Baby milk was a big thing for shoplifters for two or three months recently.
"It seems linked to the cost of living, with people having a harder time. It's the way of the world now but it is really worrying.
"There is no stereotypical shoplifter. They could be children, male, female and anywhere from 15 to 50 years old.
"There are little or no consequences for those who persistently commit crime so they continue to target stores on a daily basis."
Retailers Against Crime logged 889 reports of shoplifting last month, compared to 666 in the same time last year and 394 incidents in April 2020. The Protection of Workers Act – which was designed to safeguard retail staff – came into force in Scotland in August last year. By the end of the year, nearly 300 cases of abuse and attacks were reported to Police Scotland.
Usdaw, the union which represents shop workers, said the overstretched justice system was struggling to deal with shoplifting, leaving shopkeepers at the mercy of the thieves. Patrick Laughland, Usdaw's Scotland organiser, said: "During the pandemic and the restrictions during lockdown, there was probably a drop in shoplifting being reported. As restrictions are now easing, shoplifting is coming back. Over the first three or four months of this year, members feel that it's definitely increasing.
"Shoplifters definitely seem to be more emboldened to say, 'what are you going to do about it?' when confronted by our members. It's not just about shoplifting, it's abuse and threatening behaviour. Some members have told me they are hitting panic buttons which are meant to generate a police response but then police don't attend.
"Obviously police are stretched to the limit and they probably consider shoplifting low on their priorities.
"It has an impact on colleagues and members of staff and their mental health as they are going into a shop to work and they are feeling unsafe. Violence and abuse is not an acceptable part of the job and it is truly horrific that shopworkers are having to face it on a daily basis."
He said that shoplifting had to be treated more seriously with a greater emphasis on deterring offenders.
He said: "Retailers try their best but it really boils down to deterrence. If shoplifting is seen as a low-level crime and police can't chase it up and there aren't significant convictions and sentences, then people think they will just do it anyway.
"Scotland has led the way with the Protection of Workers Act but we need to follow through on that and make sure that people are punished for these crimes."
James Lowman, chief executive of the Association of Convenience Stores, said: "Convenience stores have been making significant investments to reduce crime over the past year.
"However, theft and abuse remain a significant issue for retailers and their colleagues. It is essential that the police take these incidents of theft and abuse seriously."
Police Scotland says it will investigate any criminality occurring within a retail premises, including thefts and shoplifting, as well as attacks or threats made towards employees.
Asked whether Police Scotland would follow Cooke's plea over people stealing to eat, Police Scotland assistant chief constable Tim Mairs said officers already could use their discretion.
He said: "A number of options are available to officers dealing with offences and they can use their discretion to determine the best course of action based on the circumstances. In so doing, officers will consider their legal duty to ensure the safety and wellbeing of people, places and communities in Scotland, and the Code of Ethics, which includes our commitment to ensure a human rights-based approach."
"The decision as to whether an individual should be prosecuted or not rests with the Crown Office Procurator Fiscal Service."
Shopkeeper: People are desperate, shops are easy targets
Mohammed Rajak knows better than most the perils of owning a shop but says the surge in theft has been accompanied by a rise in abuse and threats.
He was attacked with a machete as he closed up his Glasgow shop in 1994 but, incredibly, fears he is in even more danger now.
He said: "Shoplifting is definitely getting worse and people are so quick to lash out now. It definitely feels like people are in dire financial straits and their tempers are shorter.
"The level of filth that comes out of people's mouths can be shocking. People are getting desperate and they feel that shopkeepers are an easy target and they view shoplifting as a way to supplement their weekly shop.
"Shoplifters used to go for more high-value stuff or things they could sell down the pub, like batteries for example, but now it's anything – soft drinks, sugar, tea. But even the lower-value stuff starts to add up and impacts the shops and the shopkeepers. The consumer and the retailer are both really in dire straits just now."
Father-of-three Rajak, 51, has lost more than £250,000 worth of goods to theft in his store in the city's east end. He said: "In 10 years, I have easily lost £25,000 a year in stock to shoplifters. That's £250,000. It is astonishing.
"There is a feeling that police are too understaffed. We don't even bother calling 101 now. I just report crimes online so that there is a paper trail and we can try to find out what happened to each case. There have been half a dozen or so crimes reported in the last few months and it's up to me to try to chase it up and see what happened as no one gets back to you."
'One worker was sick with fear and two others were trembling'
As shoplifting rises, researchers from Retailers Against Crime, an anti-crime initiative, spoke to shops workers to examine the risks and threats.
One told them: "One of the more violent incidents we faced was after detaining a shoplifter. Myself and one of our male floor managers escorted him to our holding area. Initially he had been calm but after the police had been called, he began to become increasingly hostile and aggressive.
"He then began to lash out, attacking us by biting and spitting. He assaulted the officers by head-butting one of them.
"It was only after the male was taken from store, I could see the staff who had been present were visibly shaken.
"One of our girls had gone to the toilet and was sick while two of the young male staff members who had assisted me were trembling in shock over what they had witnessed.
"Shortly after the incident, one of the boys left and the other staff member asked to be moved to stockroom duties as they were having issues dealing with the public."
Another retail worker said: "A shoplifter was apprehended trying to leave the store by two members of staff. He refused to let go of the bags and became verbally threatening and attempted to head-butt me, just catching me on the side of the face. He was shouting all sorts of abuse and threatened to kill himself."
One worker said: "A female was detained for shop theft. While waiting for the police she threatened to stab me with her needle, spat on me while suggesting she had Covid-19.
"She attempted to hit me on the head with a bottle and then kneed one of my assistants in the groin area."
Another worker added: "A man, known to the store's staff from previous incidents, was asked to leave.
"He started to be abusive and was escorted from store. He then produced a razor blade and attempted to attack staff."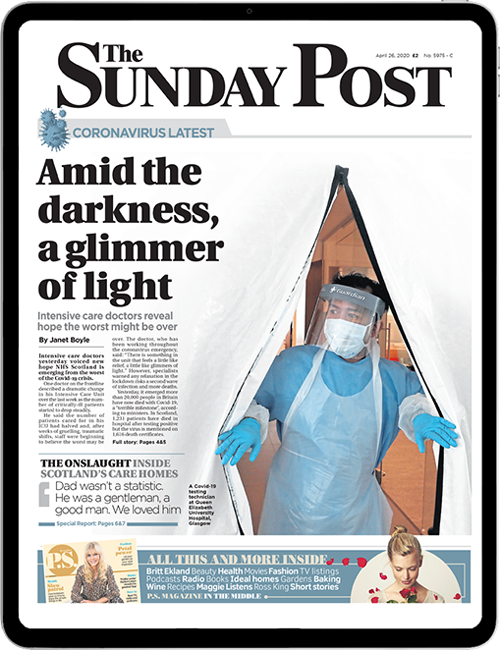 Enjoy the convenience of having The Sunday Post delivered as a digital ePaper straight to your smartphone, tablet or computer.
Subscribe for only £5.49 a month and enjoy all the benefits of the printed paper as a digital replica.
Subscribe