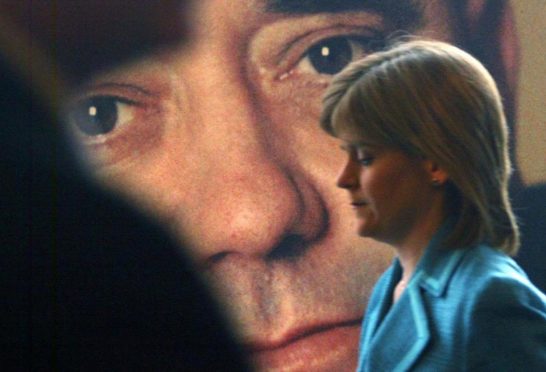 MSPs investigating the Scottish Government's unlawful inquiry into harassment claims against Alex Salmond yesterday made a last-ditch appeal for the release of vital documents.
They called on Nicola Sturgeon to keep her promise to "fully cooperate" with the Holyrood committee of inquiry launched to establish what went wrong before she gives evidence on Wednesday.
In January 2019, the first minister told MSPs: "I will answer any questions to the fullest extent possible, and my government will cooperate fully with all and any inquiries."
However, the committee's work has been hobbled by the protracted and repeated refusal of the government to hand over requested documents and the need to recall a number of witnesses, including senior civil servants, to "clarify" discrepancies in their evidence after new facts emerged.
Yesterday, independent MSP and committee member Andy Wightman said: "The overriding question is why the Scottish Government has not been more forthcoming and timely in its release of information, in particular why it has consistently refused to disclose legal advice.
"A substantial part of this inquiry is into a failed litigation and to fully determine that we need that legal advice. We have been asking for the legal advice for months. It should have been disclosed to the committee long ago. It could still be disclosed to the committee.
"If the Scottish Government was willing to publish this information, it would be able to do so before Wednesday. It knows what the information is and it has it all to hand.
"The committee has taken the view that this information is central to its inquiry and should be published. We would see disclosure of this material as central to her promise to co-operate fully with the inquiry."
Sturgeon, who attacked Salmond's claims and character before he gave evidence, is said to be eager to rebut the claims of her predecessor as first minister after he launched an onslaught against her government. During an explosive six-hours of sworn testimony on Friday, Salmond claimed there was a concerted plan to ensure and encourage his criminal prosecution to conceal the government's abject failure to investigate two complaints against him fairly.
He accused the Scottish Government of concealing documents during his legal case against it while MSPs on the committee described their own frustration at the refusal of the government to hand over documents requested, in particular the independent legal advice relating to Salmond's judicial review. Civil servants have been accused of rejecting the advice for at least two months before conceding the case at the first hearing, costing taxpayers at least £630,000 in legal costs as a judge branded it "unlawful, unfair and tainted by apparent bias".
Wightman, who, it is said, has often had the deciding vote on the committee as it split on party lines, said: "The focus of this inquiry is on the actions of the first minister and her government.
"Therefore, everything that the committee has been looking at – the procedure, how complaints were handled, how the judicial review was handled and any potential breaches of the ministerial code along the way – are all matters that ultimately the first minister is accountable for because they are all things that were done in her name by her government.
"So, in a sense, she has many, many questions to answer. The key ones are the development of a procedure that was then found to be unlawful and the application of that procedure in this particular case. The third one is how they approached the judicial review."
Sturgeon has previously insisted she has "nothing to fear" from releasing legal advice, but the Salmond inquiry has still not seen it just weeks before they are due to publish their findings. Last week, she accused Salmond of peddling baseless conspiracy theories. He gave six hours of evidence on Friday, in which he claimed Sturgeon had breached the ministerial code, an offence usually demanding resignation, while accusing senior members of the government and the SNP of a concerted effort to instigate and bolster a criminal investigation into his conduct after the government's own inquiry into the complaints of two women collapsed.
He claims there was a deliberate attempt to drag out the government's defence against his case, despite legal advice that it was doomed, in the hope he would be charged before it got to court and so conceal its failures. In the event, he was not charged for two weeks after his victory in court.
More than a year later, he was cleared of 13 sexual assault charges at the High Court and believes there was a concerted attempt by people in government and the SNP to encourage his prosecution.
He told MSPs on Friday that he had been given a memory stick in the build up to his criminal trial that contained messages which talk about "pressurising police", "collusion of witnesses" and "construction of evidence because police were felt to be inadequate in finding it themselves".
At the close of his evidence, Salmond said MSPs could use the Scottish Parliament's powers to request key documents from his solicitors Levy & McRae.
The committee is expected to contact them tomorrow.
Conservative MSP and committee member Murdo Fraser said: "Both Nicola Sturgeon and Alex Salmond have come up with directly contradictory explanation of the events.
I think we would want to hear from Nicola Sturgeon what her evidence is that supports her version. The second issue is in relation to the handling of the judicial review by the Scottish Government and whether that was continued beyond the point where it was clear that there was no longer a case that could be properly defended."
Alistair Bonnington, former honorary professor at Glasgow University School of Law, said: "If the Crown Office intervened again to attempt to prevent this information being made public they will look extremely biased in favour of Nicola Sturgeon.
"It would be very hard to say the Crown Office are just acting as independent upholders of the justice system."
Lord Advocate James Wolffe will give evidence to the committee on Tuesday.
On Friday Salmond accused the Scottish Government of withholding documents despite the issue of a search warrant.
Fraser said: "Failure to comply with a search warrant is a criminal offence.
"I think we will want to ask the Lord Advocate what his own view is on these matters is and whether he has any explanation for the conduct of the Scottish Government, if indeed he accepts Salmond's evidence in this respect is correct."
A spokesperson for the first minister said: "Friday was Alex Salmond's chance to provide proof of the conspiracy which has been alleged – and he did not do so.
"Instead, under oath, he explicitly conceded there was no such evidence against the first minister, and also gave testimony which directly undermined some of the central planks of the conspiracy theories.
"The first minister now looks forward to addressing all of the issues Salmond raised – and much more besides – when she finally gets the opportunity to address the committee this week."
---
The evidence
A police investigation into Alex Salmond's claims of a concerted attempt to encourage complaints and "construct" evidence against him is unlikely because he stopped short of alleging criminal wrongdoing, according to a leading criminal lawyer.
The former first minister said he has seen a series of text messages suggesting witnesses and police were put under pressure and attempts were made to engineer evidence during the investigation into claims of sexual harassment against him.
But advocate Niall McCluskey said: "To pressurise someone isn't necessarily a criminal act, to pressurise someone to make a false complaint is clearly criminal.
"Let's say, for example, you thought the police had done a shoddy job in the investigation, and then you went round and made your own inquiries and then went back to the police.
"There's nothing wrong with that at all but if the construction of evidence is the construction of false evidence, that's criminal."
McCluskey also believes claims of an "obstruction of justice" over the failure of the Scottish Government to hand over key information is unlikely to warrant criminal investigation either.
---
The investigation
Scotland's most senior civil servant, Permanent Secretary Leslie Evans, will not resign after Alex Salmond made a series of serious allegations about her professional conduct, according to the government.
Evans was accused by the former first minister on Friday of abject failures before, during and after the government's inquiry into two harassment complaints against him. Her involvement with the complainers and the failure to ensure the inquiry was fairly conducted ensured it would be ruled unlawful, but Salmond claims senior officials at the government and SNP then worked to ensure and encourage his criminal prosecution in the hope it would mean their failures were buried.
Salmond, who claimed during his evidence that Evans had broken the civil service code, said that after a hearing at the Court of Session in January 2019: "I used the normal language and suggested that perhaps the permanent secretary should now consider her position. I did that because I knew that she had claimed ownership of the policy.
"Somebody has to accept responsibility for a calamitous occurrence and defeat. As I said in the earlier session, it was not a botched policy but an unlawful and unfair policy tainted by apparent bias, according to the court ruling."
The Scottish Government said Evans would not resign and that civil servants had acted with integrity and impartiality throughout.
---
The impact of this crisis may not be seen in short-term but is significant
By Andy Maciver, commentator
Managing expectations is always important in politics and yet, despite all of our collective experience, politicians, the media and commentators are always woeful at doing so.
So it proved on Friday at Holyrood's Salmond inquiry. We were ready for a Hollywood blockbuster. Instead, we got a 12-part documentary with the only saving grace being the breaks in between.
There was always a chance of this. Alex Salmond is an experienced performer and retains an effective rhetorical flourish. We got to see that in his opening statement, which he was able to execute on his terms and in his tone. Thereafter, though, the turgid nature of a Holyrood committee meeting took hold, wearing down even the keenest observer by the end of its sixth hour.
Though Salmond's testimony will undoubtedly have been uncomfortable for Nicola Sturgeon and many of those around her, we learned nothing new. Sturgeon's position is no more or less secure today than it was before Salmond sat down at 12.30pm on Friday.
This Wednesday, when Sturgeon appears before the inquiry, will likely leave a similar impression – lots of commentary, lots of media coverage and a Twitter explosion, but ultimately no fundamental change.
And here, we reach the nub of this issue. The political impact of the Salmond inquiry was never, in my view, going to be a short-term one. Because of the interminable weakness of the opposition, the fallout is not going to keep Sturgeon out of Bute House after May's election, and may not even prevent the majority the SNP needs to make a second independence referendum more likely.
However, this is not to downplay its longer-term impact. This is devolution's biggest event – a significant crisis in government and parliament, and in the SNP. The reputational damage to Holyrood can be reversed, in time, but the damage to the SNP and the unity of the independence movement may never be.
So, whilst polls show clearly that the SNP will have another strong election this year, the emerging chasm in the party already places a question mark over its ability to win a fifth term in 2026.
And while more than 20 polls in a row have recorded a Yes lead in the independence race, a fracturing of that already unstable alliance – particularly one which promotes a less positive and conciliatory tone towards our southern neighbours – may bode ill when the second referendum actually arrives.
Andy Maciver is director of Message Matters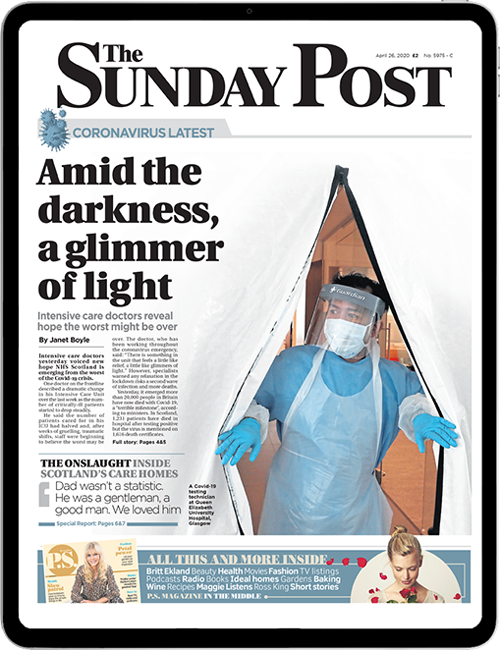 Enjoy the convenience of having The Sunday Post delivered as a digital ePaper straight to your smartphone, tablet or computer.
Subscribe for only £5.49 a month and enjoy all the benefits of the printed paper as a digital replica.
Subscribe