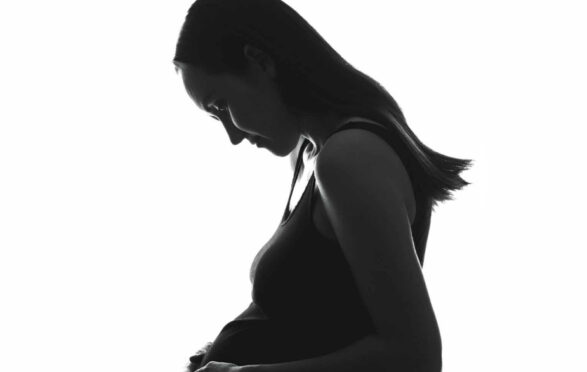 Women who suffer from a common condition in pregnancy should be given lifelong monitoring for heart attacks and strokes in a bid to cut preventable deaths, Scotland's new Women's Health Champion has said.
The thousands of women who become ill from a complication called pre-eclampsia – signalled by high blood pressure – are four times more likely to have a heart attack over the following decade, with a higher-than-average risk for the rest of their lives.
But few of the one in 12 mums-to-be who experience pre-eclampsia are made aware of this.
Speaking in her first interview since her appointment as Women's Health Champion, Professor Anna Glasier called for a more joined-up approach to monitoring and caring for women in the decades after they have suffered pre-eclampsia.
She said: "Women who have pre-eclampsia are at risk later in life and we need more joined-up heart health.
"We need to get people (health professionals) to work together and be more effective as a team."
Tackling heart disease
Glasier's call came just a month after a report by the European Society for Cardiology found hypertension – high blood pressure – in women, poses the deadliest risk to their health. She believes tackling heart disease in women – and the health inequalities associated with it – is one of her greatest challenges.
Ten women die from heart attacks and heart disease in Scotland every day. Research shows women are 50% more likely to be misdiagnosed following a heart attack but they only made up 25% of participants across 31 landmark trials for congestive heart failure between 1987 and 2012.
While women are less likely to ­suffer heart attacks, they are also less likely to survive them, and receive half as many heart treatments.
Research by UK charity Heart Valve Voice shows in Scotland in 2018/19 there were 23.8 heart valve operations per 100,000 women compared with 34.9 in 100,000 in men. Glasier's appointment in January is part of the Scottish Government's Women's Health Plan.
It came after a campaign by The Sunday Post that saw leading charities writing an open letter to the Scottish Government calling for a speedy filling of the role.
Leading charities demand urgent appointment of Women's Health Champion in open letter to Scottish Government
Although announced in the summer of 2021 as a key part of Scotland's new Women's Health Plan, this newspaper subsequently revealed that the recruitment was to take up to three years.
That prompted 17 leading charities to write an open letter to in May calling for greater urgency. Then England appointed its own women's health ambassador just months after announcing the role and, under mounting pressure for action, the First Minister promised in June to fill the post before autumn.
But it wasn't until this January that the Government finally announced Glasier would be taking up the role.
Now she is determined to see action taken. The Health Plan aims to raise awareness around women's health, improve access to health care and reduce inequalities in health outcomes for women and girls.
Healthy life-expectancy in some parts of Scotland has plummeted for women, with it as low as 54 in North Ayrshire.
Areas of concern
In addition to improving women's heart health, Glasier's priorities include specialist menopause services, menstrual health with a focus on endometriosis and polycystic ovarian syndrome.
Glasier also outlined a number of other areas of concern, including gender inequalities in medical research, internet scare stories about the morning after pill and encouraging moves to allow patients to access their own medical records.
More women volunteers need to be involved in medical research and the development of new drugs, she says, in order to address the problem that most of this work is currently carried out on men.
Data collected for medical research is disproportionately collected from men, research has shown.
Employers should let women take part in drug trials, which is vital to address the gaps that make women more likely to die, she says. "Employers should be encouraged to give everyone time off to take part in research to encourage the best evidence," she added.
"The UK is falling behind in clinical trials currently. We need to remind women that they are at a greater risk after menopause. Women are less likely to be investigated or receive preventative treatment."
Narrowing the gap in good ­prevention and survival from heart disease is one of the four main aims of the action plan for women's health.
Glasier was director of Family Planning & Well Woman Services and lead clinician for Sexual Health in Lothian and gained a global reputation for her work in making emergency contraception available to women. She was made an OBE for services to Women's Health in 2005. But now she fears that some women are abandoning oral contraception because of scare stories with no scientific evidence currently appearing on the TikTok social media platform.
She said: "Women are abandoning oral contraception because of something they have read on TikTok and it is misleading information they are getting."
The social media platform has several stories from influencers urging women to abandon the Pill and other contraception for natural methods that are arguably less reliable.
They have been called out by women's groups in the US who describe some of the alternative methods unreliable and unscientific.
"We need to teach children about ­contraception at school and more often," she said.
Being able to control their fertility has been a major step in allowing women to have more control over their lives. Deciding if and when to have a baby is clearly a lifelong passion as she explained how emergency contraception is now available from pharmacists, as well as several weeks of oral contraception. "Remind women of this," she urged.
Of her commitment, she said: "I want to look back and say I did, and I have already made it possible for women to have emergency contraception. It is available from pharmacists."
She advocates people getting access to their medical records to encourage patients to become more involved in their health. She said: "My sister got hospital treatment in the US recently and is able to see her health records, so should we."
The Nuffield Trust health think tank backs the idea, and has said: "There is a clear link between digital health and wider societal and health care goals, wellbeing and prosperity."
Glasier wants to see more discussion over the menopause. The symptoms can range from mild to seriously distressing for many women.
The professor said: "There is a tendency to medicalise the menopause. HRT is useful if you need it at a stressful time of life, but it only delays the menopause and symptoms can return after you come off it.
"I appreciate that some women continue to experience the hot flushes and other symptoms for several years.
"We do need a balanced conversation."
---
---
Glasier: I do more than my four days
Professor Anna Glasier's contract was criticised by leading charities and opposition politicians after it emerged she was to work just four days a month.
Now Professor Glasier has responded to those concerns – saying she works in excess of those contracted hours.
She told the Sunday Post: "I work more days than that and have a very able team who are also committed to address the shortfalls in health for women."
Critics had questioned whether four days a month was sufficient to make a difference.
At the time Age Scotland's dementia head Dr Kainde Manji said: "There is so much that needs to change, and in a short space of time."
And Tory shadow women's health minister Tess White – who revealed the contract details – said: "After all the efforts from campaigners pushing for a Women's Health Champion to be put in place, it's deeply disappointing to learn it's only a four-days-per-month role."
---
---
Dismay after mesh left out of women's health chief's remit
By Janet Boyle & Marion Scott
Mesh campaigners have spoken of their concerns after Scotland's new Women's Health Champion revealed that her new role does not immediately include helping women struggling with the controversial implants.
Earlier this year, it emerged that mesh patients were having to wait for years for a consultation at the new Complex Mesh Surgical Service.
Meanwhile, women who have undergone a mesh-removal operation in the US with pioneering surgeon Dr Dionysios Veronikis have told how they struggled to get appropriate aftercare following their return to Scotland.
Campaigners had hoped Scotland's new Women's Health Champion would bring pressure on the medical establishment to resolve such issues.
But, speaking to the Sunday Post last week, Professor Anna Glasier revealed this was not in her immediate remit.
She said: "The priorities of my role are menstrual health, menopause and heart health and I am aware there is work ongoing elsewhere for women seeking help after having mesh surgery.
"It is not part of my immediate remit."
Elaine Holmes, of Scottish Mesh Survivors, said she was deeply concerned by the Scottish Government's failure to make mesh one of Glasier's priorities, adding: "Scotland's mesh scandal is far from over.
"Women are waiting in agony for literally years to get to see a specialist at the new Complex Mesh Surgical Service – which the government promised would be a first-class service for people injured by medical incompetence.
"Meanwhile, women who have been to America for removal operations return here and don't get so much as a phone call from a doctor. There is no aftercare for people who have had a huge operation. It's a disgrace.
"We needed the Women's Health Champion to have oversight of mesh services, to have the ability to bang heads together, to make things happen.
"And now we learn that mesh isn't in her remit, drawn up by the Scottish Government."
The Scottish Government said: "Professor Anna Glasier is Scotland's independent champion for women's health and her remit encompasses all of the aims of the Women's Health Plan.
"There are many other issues and conditions that are important to women and their health, and Professor Glasier is aware in particular of the range of work under way to help women affected by complications caused by transvaginal mesh.
"The role of the champion does not exist in isolation and Professor Glasier is working with the Scottish Government, the NHS and with partners across Scotland to help drive forward improvement in women's health and in the provision of women's health care."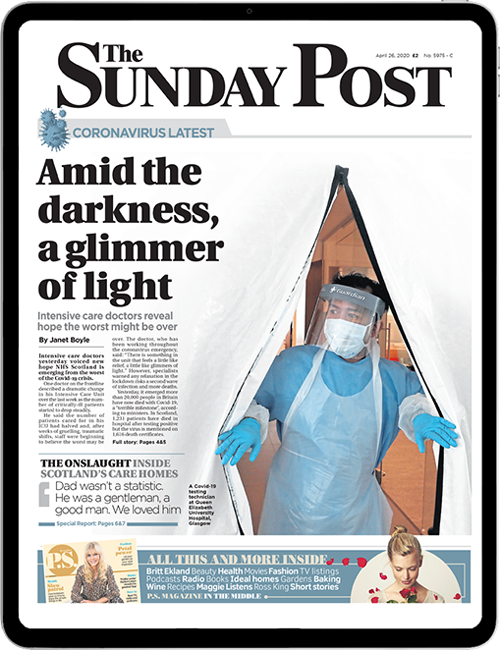 Enjoy the convenience of having The Sunday Post delivered as a digital ePaper straight to your smartphone, tablet or computer.
Subscribe for only £5.49 a month and enjoy all the benefits of the printed paper as a digital replica.
Subscribe