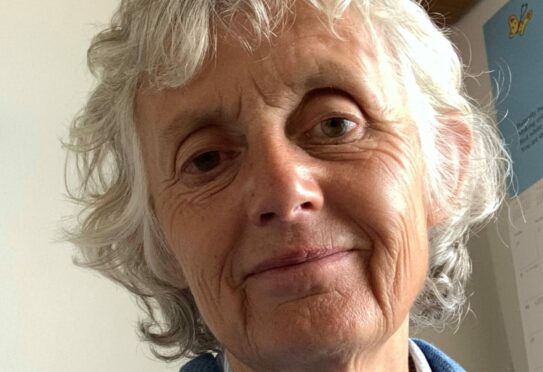 Leading charities have welcomed the appointment of Scotland's new Women's Health Champion but warned there is no time to lose in closing inequalities in care and treatment.
Professor Anna Glasier, an expert in reproductive health, was appointed to the role on Thursday – 18 months after the post was announced by the Scottish Government – and says she will prioritise menopause services, menstrual health, endometriosis, polycystic ovarian syndrome and heart health.
Jane-Claire Judson, chief executive of Chest, Heart & Stroke Scotland, said: "Professor Glasier has long been a progressive voice around women's sexual and reproductive health and has extensive experience as a clinician.
"However, if she is to achieve success within this role, it is essential that she is working closely with women who have lived experience of heart disease, the groups and communities they engage with, and heart health experts to ensure women's voices and needs are at the centre of any planned activity.
"Ischaemic heart disease is the second biggest cause of death in women in Scotland, taking the lives of more women than lung cancer or breast cancer each year."
Chest, Heart & Stroke was one of 17 charities which signed an open letter to the Scottish Government last May as The Sunday Post campaigned for the appointment of a health champion to be made urgently after revealing the role might take three years to fill.
A series of reports detailed how women endured health inequalities across a wide range of conditions and research.
Another supporter of the campaign, heart patient Mary Galbraith from Benbecula, also welcomed the appointment but said there was lost ground to make up. Galbraith, a member of both the Women's Health Plan Implementation Programme Board, and the Lived Experience Stakeholder Group, said: "It is good to have a woman of immense experience driving the implementation plans forward. The plan was formulated in August 2021 and we are behind.
"I am encouraged that she has mentioned heart health as a priority as it is the biggest killer of women and impacts their quality of life, not just death, and I look forward to supporting her drive these plans forward.
"This is a great victory for The Sunday Post which has campaigned tirelessly for months."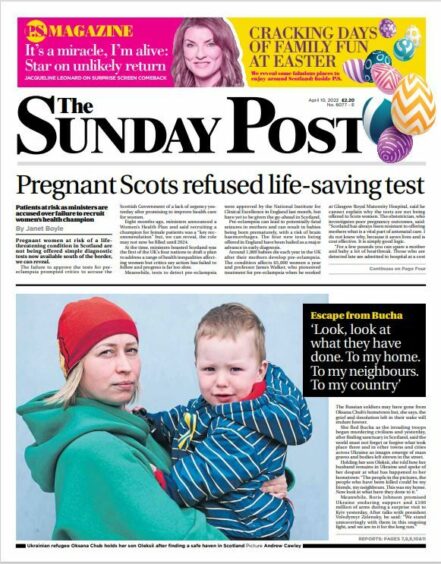 Galbraith had to give up her teaching job at the age of 40, after developing spontaneous coronary artery dissection (SCAD) and microvascular angina. Around 95% of the 459 SCAD patients are women.
"It is vital Professor Glasier explores any links between gynaecological problems and heart problems," said Galbraith.
Campaigning maternal health group Action On Pre-eclampsia (APEC) welcomed Glasier's appointment, urging her to introduce a test for pre-eclampsia in pregnant women.
The high blood pressure disease threatens the lives of mothers and babies and the condition affects around one in 20 mothers.
Marcus Green, APEC chief executive officer, said: "This appointment has taken too long, putting more women at risk but now is the time to celebrate Professor Glasier's arrival, welcome her to the role and ensure that we get this test delivered and can end the postcode lottery.
"Placental Growth Factor (PlGF) tests allow doctors to predict if a baby needs to be delivered due to pre-eclampsia in the late stages of pregnancy."
Public Health Minister Maree Todd said Glasier's appointment was "an important step forward in our work to reduce the unacceptable health inequalities that women continue to face".
She added: "Professor Glasier has a wealth of knowledge and a passion for women's health and will bring huge value to the role."
My mission
After her appointment as Women's Health Champion, Professor Anna Glasier details her priorities
I am particularly keen to take a focused approach to some of the proposals regarding menstrual health and the menopause, since both issues affect more than half the population at some point in their lives.

Action has already been taken, particularly in terms of improving the amount of high-quality and accessible information available to women in Scotland. Menopause is one of the key priorities of the Women's Health Plan. During my time as Women's Health Champion I should particularly like to explore the provision of our specialist menopause services to try to understand any differences in the delivery of services currently provided by different health boards so that we can take a national approach, learning from "what works" in service provision.

It is so positive to see so much is already going on in the field of endometriosis, both in terms of raising awareness of the condition and in its research. This is a condition that can impact all aspects of women's lives and the lives of their families, and I want to support the continuation of this important work to help improve access for women to appropriate support, quicker diagnosis and treatment.

In addition, I would like us to think more about the impact of polycystic ovarian syndrome, a condition that affects many women from the onset of their first period to beyond the menopause and can affect women's health in later life, including the risks of diabetes, cancer and heart disease.

My third priority is heart health, which remains a major cause of death and disability for women. There is also an important overlap with inequalities relating to race and social deprivation.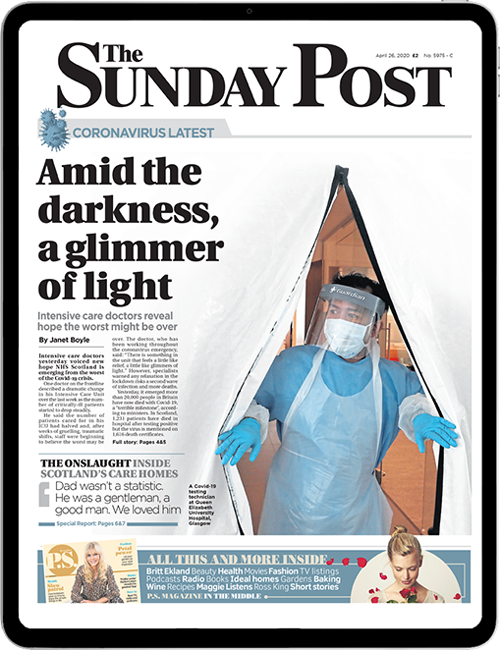 Enjoy the convenience of having The Sunday Post delivered as a digital ePaper straight to your smartphone, tablet or computer.
Subscribe for only £5.49 a month and enjoy all the benefits of the printed paper as a digital replica.
Subscribe