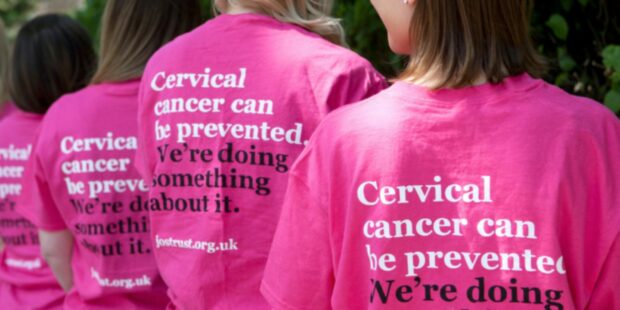 The Scottish Government must urgently appoint a Women's Health Champion, according to leading charities.
In an open letter, they call for an appointment to be made swiftly to address pressing concerns across a range of health issues and inequalities in care and treatment.
The champion's role to bolster and improve health care was announced in the government's Women's Health Plan last year. The appointment of a women's health tsar was a key recommendation, along with the appointment of a women's health lead in each of the country's 14 health authorities. It later emerged, however, the champion may not be appointed for three years while only three boards have so far nominated an official to coordinate improvements to women's treatment and care.
Today, in an open letter to women's health minister Maree Todd, 17 leading charities, including Alzheimer's Scotland, British Menopause Society and Chest, Heart and Stroke Scotland, said women should not be asked to wait any longer.
The letter adds: "If the Scottish Government is, as hoped, to become a world leader in women's health, there is no time to lose. We urge ministers to appoint a Women's Health Champion and health boards to appoint a women's health lead as soon as possible."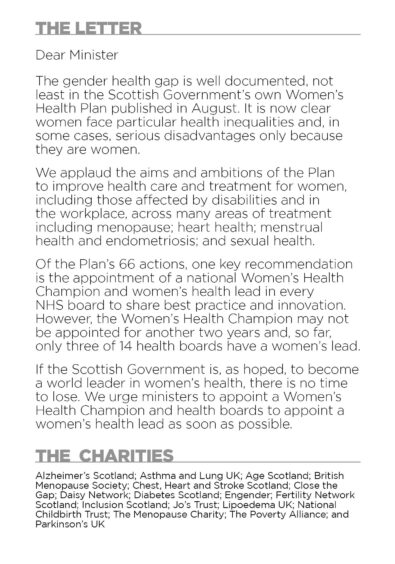 In England, the Department of Health announced in December plans to appoint a Women's Health Ambassador. Despite being several months behind the Scottish Government in its announcement, it has confirmed it will make that appointment this year. Experts say both national and local appointments are needed to tackle a range of issues where women are treated less effectively than men or experience worse health outcomes.
Charities signing the letter work to improve a range of health issues, including heart health; cancer, including Jo's Cervical Cancer Trust, the UK's leading cervical cancer charity; asthma; menopause; pregnancy and childbirth; and others campaigning to ease the impact of poverty on women and improve equality in the workplace.
Campaigners say health inequalities mean, for example, that while men are more likely to have a heart attack, women who do so are twice as likely to die. Meanwhile twice as many women die of asthma as men, and while the number of Scottish men admitted to hospital with the condition is falling, the number of women admitted is rising. Experts have called for research to establish why this is.
'The change is that not only have women had enough, we're now happy to say so': Mariella Frostrup on need for action
We have recently reported how women in Scotland are not being offered a potentially life-saving test for pre-eclampsia which is available in England, and those going through the menopause are not being prescribed the newest, and safest, form of Hormone Replacement Therapy (HRT), an issue the Scottish Government has since promised to address.
The National Childbirth Trust campaigns for safer pregnancies, childbirths and the care of mothers and their babies. Chief Executive Angela McConville said: "We fully support the need for a swift appointment of a Women's Health Champion to raise awareness of the health issues that are unique to women. The champion is needed to drive policy changes in Scotland to improve all aspects of women's health and ensure essential services are working."
And the brides wore HRT: Happy couple Fiona and Leah Stalker on mutual support, shared conditions and women's health
While the risk of developing Parkinson's is twice as high in men than women, women experience a more rapid disease progression and a lower survival rate, and their specific needs are still being partially overlooked.
James Jopling, director of Parkinson's UK Scotland, said: "More than 5,000 women in Scotland have Parkinson's, but research and treatment are still guided by the experiences of men with the condition."
Noting that heart disease kills nearly three times as many women as breast cancer in Scotland, Jane-Claire Judson, chief executive at Chest Heart & Stroke Scotland, said: "Women are also less likely to be prescribed drugs that can help reduce the chance of a second heart attack. We want to help change this."
Cervical cancer charity Jo's Trust said appointing a Women's Health Champion would be a vital step in eliminating the disease. Chief executive Samantha Dixon said: "We cannot afford to keep women waiting."
Chairman of the British Menopause Society Dr Haitham Hamoda said: "It's good that people are starting to talk about these issues but we need a uniform approach, for example, a simple country-wide menopause policy employers can sign up for. We would also like to see a menopause specialist in every health practice. A dedicated women's health champion would move all of this forward."
The need for an urgent appointment was echoed by Jenny Haskey, CEO of the Menopause Charity, who said research showed women from deprived areas struggling with the menopause are 29% less likely to get the treatment they need. She said: "The sooner a Women's Health Champion is appointed in Scotland the sooner women can be assured of better health outcomes."
Fertility Network Scotland chief executive Gwenda Burns said: "Fertility Network Scotland acclaims the aims of the Scottish Government's Women's Health Plan to improve care and treatment in areas including women's reproductive health. However, we urge the urge the Government to accelerate its plans to appoint a Women's Health Champion and a women's health lead in every NHS board'."
Lipoedema, a painful build- up of fat in the legs and arms, affects thousands of women across Scotland but has just one specialist carrying out surgical treatment for the condition, is another women's health issue being under-resourced.
Sharie Fetzer of Lipoedema UK said: "It is totally unacceptable that conditions such as lipoedema, which affects a woman's mobility, are not treated as a priority in today's healthcare systems.
"The introduction of a Women's Healthcare Champion and leaders in every health board could provide a clear way to address the inequality in healthcare for Scottish women with lipoedema, and we hope the Scottish Government takes the action needed as a priority."
Age Scotland says older women face a number of health inequalities, with those from ethnic minority backgrounds particularly affected.
Fiona Cross, director of community services, said: "We appreciate the significant plans for progress highlighted in the Scottish Government's Women's Health Plan, but see no reason why the goals outlined should not progress more urgently.
"Scotland's population is ageing faster than the rest of the UK and, while women have a longer life expectancy than men, they are also expected to live more years in poor health."
Ministers urged to appoint women's health champion as HRT supply crisis exposes gaps in Scotland's menopause treatment options
Research has shown a clear link between poverty and some women's health conditions, with Poverty Alliance director Peter Kelly also backing the appointment of a champion. He said: "The NHS was built on values of compassion and justice – so when people from deprived areas can't get the access to the healthcare they need and deserve, that's an injustice that we must put right together. The injustice is often even greater for women from poorer backgrounds, and often greater again for women from ethnic minority groups who are in poverty.
"We support the setting up of a women's health champion as soon as possible because these kinds of inequalities have no place in a just Scotland. We hope the new champion will make tackling them a priority, and that they will help lead the way in making sure that poverty isn't a barrier to the public services we all rely on."
Close The Gap, which works to make women's participation in the labour market fairer, said it welcomed the Women's Health Plan. But executive director Anna Ritchie Allan said: "Women's health is undermined by structural inequalities such as employment practice that doesn't take account of women's lives, the gender pay gap, and women's higher levels of poverty. Close The Gap supports the call to expedite the appointment of a Women's Health Champion, which is an important step in advancing women's equality."
Dr Pauline Nolan, head of leadership and civic participation at Inclusion Scotland, said: "We know that disabled women face barriers to good quality health care and treatment and experience discrimination, particularly within women's reproductive services."
In response, the Scottish Government said the appointment will be made before 2024, adding: "Scotland is the first country in the UK to publish a Women's Health Plan, in order to reduce inequalities in health outcomes for women, and to improve the information and services they receive.
"The appointment of a Women's Health Champion is an important part of our plans, with a remit to drive change and share best practice and innovation.
"Initial work on scoping the role is under way, however, we are prioritising actions which we know will have an immediate impact on health inequalities and in response to the real-life experiences of women who have given their feedback on what is important to them."
Patients' tsar: No one recruited
Scotland has yet to appoint a Patient Safety Commissioner more than a year after it was promised as an SNP manifesto commitment.
First Minister Nicola Sturgeon announced plans to appoint the commissioner in September 2020, after a campaign by The Sunday Post. The appointment, included in the programme for government 2020/21, was prompted by Baroness Julia Cumberlege's inquiry into how health professionals failed women whose lives had been ruined by mesh implants and other treatments.
The Scottish Government said: "It is important that we listen to the views of patients and members of the public about what they want from a Patient Safety Commissioner, and what that role should look like. That is why we conducted a public consultation to build on what we are being told as we engage with those directly affected. The consultation has now closed and we recently published an analysis of the results. We will take these results into account as we continue to work with patients and experts to develop the scope of the commissioner role."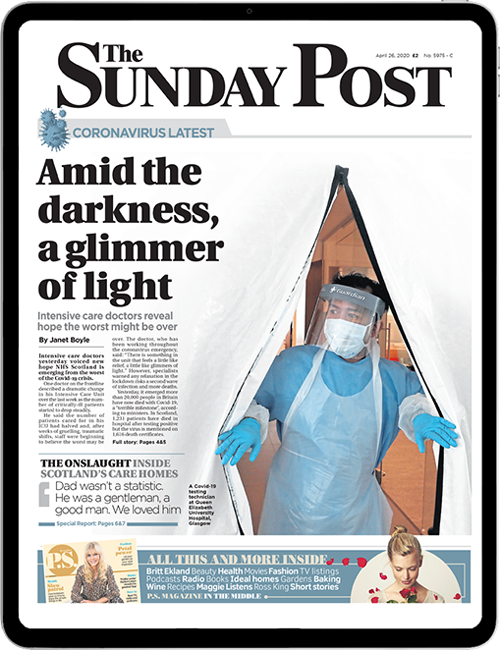 Enjoy the convenience of having The Sunday Post delivered as a digital ePaper straight to your smartphone, tablet or computer.
Subscribe for only £5.49 a month and enjoy all the benefits of the printed paper as a digital replica.
Subscribe