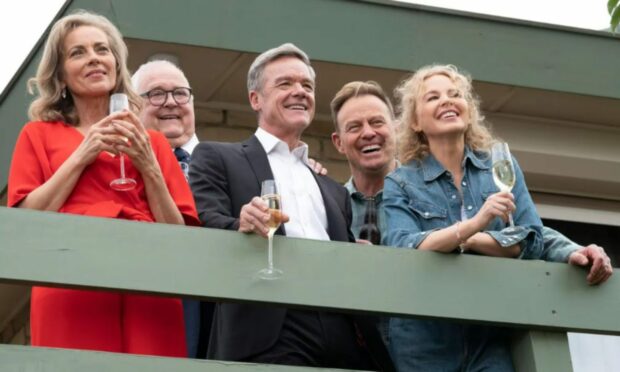 There were only six houses but that was enough to create good Neighbours and almost 40 years of TV murders, kidnappings, affairs, the occasional return from the dead, and even a plane crash.
Pivotal to much of the action that unfolded on Ramsay Street was the dastardly Paul Robinson. For the actor behind the role, however, it will always be Scotland he regards as his second home.
Stefan Dennis played the black-hearted businessman across two stretches of the sunny soap, from 1985 to 1993, and then from 2004 until the present day. As the show airs its final episodes this week, 63-year-old Dennis, who appeared in the first episode, looked back at his 26-year run and explained how thankful he was that Neighbours gave him the opportunity to come to Scotland.
"I call Scotland my second home. It's where my wife and her family come from," explained Dennis, who married fellow actor Gail Easdale in 2000 after they met while starring together in pantomime. I loved coming to Scotland in the '80s when I came to the UK to make appearances. I used to stay in Livingston and we ended up getting married not far from there in Borthwick Castle.
"I spent 12 years in the UK and just before we decided to come back to Australia, I received a call offering me a part on River City. When we realised it meant spending six months in Scotland, we knew it was too good an opportunity to pass up.
"What a great show River City is. I also worked on Dream Team for a year on Sky and both shows filmed on a shoestring but came up with such a great product. When you look at River City and EastEnders, you can't see a difference, but River City probably has only a quarter of the budget."
Dennis was a part of Neighbours at the peak of its popularity, drawing in 20 million viewers every day on the BBC and being broadcast in more than 60 countries.
"It was so exciting for us, it was like being a rock star," he smiled. "We would do appearances at shopping centres and the organisers expected one or two thousand but 10,000 would be there. Very early on we did a competition where we gave away a four-bedroom house in Brisbane. They flew the whole cast up for the weekend and expected a couple of thousand fans to turn up, but more than 50,000 came. I've been privileged enough to meet and work with A-listers, people I never thought I'd even get to wave at, and it's all directly associated to Neighbours."
After his Dr Marcus McKenzie character was killed off in River City, dad-of-three Dennis returned to Australia and soon Neighbours came calling again.
"I wasn't going to do it," he revealed. "I thought people in Australia who hadn't seen the stage and screen work I'd been doing in the UK would think I had hightailed it from there and begged for my job back. I ended up agreeing to do two weeks to mark the 20th anniversary of the show. That turned into three months, which turned into six months, which turned into 18 years!"
Dennis said the cast were aware the show might be nearing the end when it only received a year's contract extension from its UK broadcaster and primary financial backer, Channel 5, but they were only told for definite the day before the news became public. "It was a Sunday morning and our executive producer, Jason Herbison, woke me up. I was half asleep and he must have thought I was heartless because I just said, 'Yeah, yeah, OK'. But then I woke up and said, 'Oh no, Neighbours is finishing'."
Dennis said there was disappointment it hasn't been picked up by another broadcaster since the show remains so well loved. It is regularly Channel 5's most watched programme with around two million viewers a day and ticket sales for a Neighbours Farewell theatre tour in the UK next spring have quickly sold out.
The star has plenty of fond memories to look back on from a storyline point of view. Paul battled a brain tumour and cancer, survived being pushed from the mezzanine of his hotel, and bankruptcy. He married six times, had a conveyor belt of children, and even lost a leg.
"One thing I'm looking forward to is not walking with a limp any more," he laughed. "There's been times I've done stage shows since coming back to Neighbours. One was in Aberdeen, it was the first panto I'd done since Paul lost his leg, and I realised I was walking with a limp on stage. The same happened just before lockdown, when I was doing a Chekhov play, and on the first day I limped across the stage."
He described getting to work with Gail on the show a few years ago as a blast. "My darling wife was his arch nemesis and ended up bringing down Paul's empire. We thought it was hilarious."
After so many years on Neighbours' gruelling schedule, the actor plans to slow down a little. "I'm in an enviable position where I can be a bit choosier but actors never retire," he said. "Gail and I intend to do a bit of renovating and then I'd like to do some travelling. I've wanted to take my bike around Australia and Gail is keen to get on the back, but we also have kids at home. I don't have any set plans."
And, in the event that Neighbours is ever revived, would Dennis return one more time?
"You know what, never say never," he added. "If they called me and said it had been picked up and it was going to be in this or that format, I would decide whether it was time to bow out or maybe I could carry on as Paul for a little while longer."
---
Everybody needs Scots neighbours
From strippers to superintendents, Scots have played a variety of roles in the Australian soap
Elaine Smith
Originally from Ayrshire, Smith was one of the 12 original cast members, playing Daphne Lawrence/Clarke. She was introduced in the first episode as a stripper and three years later became the first regular character to die after a car crash.
Jordan Smith
The Fife-born actor moved with his family to Brisbane in 2003 when he was 13 and was brought in as Andrew Robinson, the estranged son of Paul. He was in the soap from 2009-13 and kept his Scottish accent, after it was written into the plot that the character had spent many years living with his mum in Scotland.
Kaiya Jones
She was one of three teenage characters from the Ramsay clan introduced to Erinsborough in 2009. Playing Sophie Ramsay, Jones stayed on the street for four years, briefly returning for two episodes in 2014. Originally from Glasgow, Jones moved to Australia with her family when she was nine.
Gail Easdale
The wife of Stefan Dennis played corrupt businesswoman Julie Quill, going head to head with Paul and almost ruining him. He had the last laugh when she was jailed. She made a one-off appearance last year from her prison cell.
Paul Ireland
The Ardrossan actor was a fishmonger in his dad's Greenock shop before turning to drama. He appeared in a number of British dramas but he's best known for two guest stints in Neighbours after emigrating in 2009. He played Superintendent Duncan Hayes in 2011 and 2013.
---
I was six when I watched my very first one. I barely missed another
Sunday Post writer Murray Scougall on his love of the Australian soap
The era of Scott and Charlene and 20 million viewers is, for many, peak Neighbours.
But the show's true fans understand that these past few years have been, by far, Erinsborough's best.
Long before the death knell sounded, the producers had written what can only be described as an elongated love letter to the soap. Past characters – both major and minor – returned, while classic storylines were revisited and referenced, and the product seemed at its most confident.
This wasn't just a nostalgia trip, though. The newer characters established themselves through a series of assured, engaging performances – this is surely one of the strongest Neighbours casts in memory – and the show became one of the most inclusive and diverse on TV.
The fictional suburb of Erinsborough, which for so long seemed to exist in its own bubble, slowly opened up and became a part of the bigger world, with on-location shoots around Melbourne and beyond becoming a regular component of the show. There were still plenty of silly, sometimes inexplicable, storylines, of course, but what would a soap be without those?
It's for all of the above reasons and more that the show's premature end is so disappointing to so many. With such a huge, established fan base it seems almost unfathomable that no station or streaming platform took a chance on it.
As a child of the '80s, I barely remember a time without Neighbours. I was in primary two the first time I watched and have hardly missed an episode since, so getting to visit Ramsay Street a few years ago was like a surreal dream.
For its loyal fans, catching up with the likes of Karl, Susan, Paul and Toadie was a part of daily life. Just like the song says, that's when Neighbours become good friends. They will be missed.
---
Neighbours' final episode, Channel 5, Friday, 9pm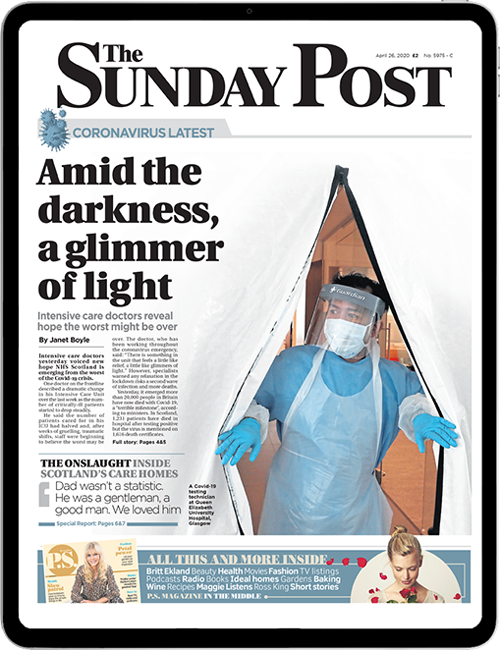 Enjoy the convenience of having The Sunday Post delivered as a digital ePaper straight to your smartphone, tablet or computer.
Subscribe for only £5.49 a month and enjoy all the benefits of the printed paper as a digital replica.
Subscribe