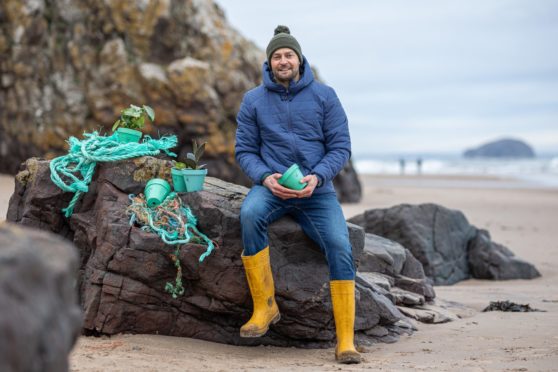 On a sunny day off the coast of Skye, diver Ally Mitchell looked out from the deck of a cargo ship at the seals swimming around in the glistening emerald green water.
It was a sharp reminder, in the middle of a vital salvage mission, of the incredible natural life that is being put at risk from pollution in our oceans.
And it also put the wheels in motion for Ally taking a plunge of a different kind and starting up a business to recycle ocean debris into indoor and garden plant pots.
The 38-year-old had been called to Skye in March 2020 to work on salvaging the cargo ship MV Kaami, which had grounded on rocks in the Minch.
With the crew safely rescued, concerns were growing over the pollution the ship could cause, as it was carrying a load of refuse-derived fuel pellets.
The material was in transit from Ireland to Germany to be incinerated, but the ship hit a reef. The consequences of a spill could have been catastrophic.
"It was quite an amazing project to be involved in," Ally said. "It's the most beautiful part of the world up there.
"We were swimming along the hull just to look at the extent of the damage and then diving inside the hold of the ship. It had 2,000 tonnes of this plastic material and we were in it in our diving suits.
"I'd never seen it so obvious the extent of what plastic pollution could do. There was a young guy on the job and he said to me, and it always stuck with me, 'this isn't right you know Ally'. That started the ball rolling."
The father-of-two, from Glasgow, had already been aware of the amount of plastic pollution filling our oceans, with his 12-year career taking him all around the world.
He's been involved in subsea work across Europe and beyond to Singapore, Ivory Coast and Trinidad.
The experience in Skye added to his shock just months before at hearing about a whale washing up on Luskentyre beach, Harris, with 100kg of fishing net in its stomach.
"Scotland has some amazing marine life and the impact from pollution is real," he said.
"It is estimated that 8 million tonnes of plastic enters our oceans ever year. That is a terrifying amount, causing grave harm to the future of our planet."
As lockdown hit while out on the job, Ally found himself in a hotel room researching how to process and recycle plastic.
It became something of an obsession that has now flourished into Ocean Plastic Pots, a business converting old rope and fishing nets into bright and colourful plant pots.
"I was doing beach clean-ups at night time and ended up filling my pick-up truck with plastic. I collected some of the waste out of the hold of the ship too and took it back home to Glasgow," Ally recalled.
"We started playing with a couple of different rudimentary techniques and started making a pot. The first one looked like a rice cracker then we made this massive plant pot, that I've still got on my shelf, which took about an hour to make.
"I enjoyed the process, so I was collecting plastic off the beach and adding it to the mix of rope and fishing net to make the pots with funky colours through them."
Lockdown was the perfect time to get the project going, with a spike in interest in house plants and gardening with people confined to their own homes and gardens.
Ally took a stall to Leith Market in Edinburgh to see if anyone was interested in buying the pots, and they quickly sold out.
"The idea to make pots came from my kids," he said. "In spring last year, we grew chilli plants, tomato plants and herbs on the windowsill and back garden.
"I noticed all the pots we were picking up were made of polypropylene and at the same time, I was aware within our industry we were throwing away a lot of rope so thought, why not turn it into a plant pot?
"It's a good educational tool for children too, and a reminder everyday of the importance of recycling.
"This is a small part but I really believe we all have a responsibility to reduce the amount of plastic we use on a daily basis."
Ally has now gone from making the pots himself to securing a Scottish manufacturer to make them on a much larger scale, as well as partnering with an innovative recycler of discarded rope and fishing net.
A percentage of the sales from each pot will go to Ghost Fishing UK, a charity of volunteers who specialise in the removal of lost fishing gear and rope.
Established in 2015, the group now has almost 100 divers and support staff to help remove, where possible, potentially lethal hazards to marine life and scuba divers.
Ally said: "I really love the idea of what they do. We're using an end of life material, and we want to give a pound from the sale of each pot to recover lost fishing gear, it's a nice circle to it."
As the business continues to grow, Ally hopes to arrange more beach clean-up missions when the pandemic ends.
He said: "They're really good for mental health, and great to get out and about and feel like you're making a positive contribution. Once you start to pick stuff up is when you see it.
"I've done a bit down at Troon and along the Ayrshire coast, and we're picking up pretty much one piece of small rope or net material for every piece of rigid plastic, which is quite a lot.
"I get the kids involved so they're in amongst it. Some of that material I'm pretty sure we can incorporate into our pots in the future."
VIDEO: Meet the Scots taking the fight against plastic pollution to the high seas in all-female sailing expedition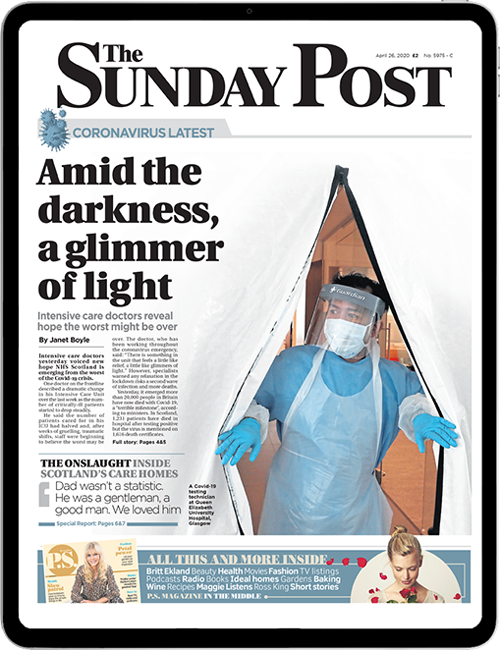 Enjoy the convenience of having The Sunday Post delivered as a digital ePaper straight to your smartphone, tablet or computer.
Subscribe for only £5.49 a month and enjoy all the benefits of the printed paper as a digital replica.
Subscribe