Wildlife series on TV always look so effortlessly filmed and landmark shows from the likes of Sir David Attenborough let us see the world in new ways.
They are so good, in fact, that it is easy to forget all the hard work, blood, sweat and tears that went into capturing rarely-seen animals in their natural habitat.
Behind the scenes, large teams of researchers, photographers, helicopter pilots and others do their thing to ensure it can all be captured on film.
Mike Potts has been fascinated by wildlife and the natural world for well over 60 years and has filmed wildlife across the globe for the BBC Natural History Unit and other big TV companies, working with Sir David among others.
He started in 1978, joining the RSPB's film unit, and since then has often flown alone, with more than 20 cases of film gear, to the furthest reaches of our planet.
In a new book, Mike describes his extraordinary career and the astonishing work that goes into such TV series behind the scenes.
"My interest in the natural world began over 60 years ago when I was a small boy and there was barely a thought given to losing habitats or species," he says.
"I took for granted all the common birds such as turtle doves, skylarks and lapwings that could be found everywhere. Skylarks nested on old slag heaps in the industrial Midlands where my interest in the natural world was forged."
Several decades on, even Mike himself is bowled over by what he has seen and done since.
"What wonderful things I have seen and experienced. Hummingbirds in the tropical forests of Brazil and Ecuador, birds of paradise in the mountains of New Guinea, locust swarms in the Sahara Desert and massive migrations of caribou across the Arctic tundra of Alaska.
"Flying with specialist fixed wing aircraft and helicopter pilots to get us into places where roads did not exist was always exciting, if sometimes nerve-wracking."
Seeking birds of paradise with Sir David Attenborough remains one of his highlights.
"The birds of paradise are a rare family of just 42 species, found mainly on the island of New Guinea," he explains.
"David Attenborough had filmed birds of paradise in black-and-white with cameraman Charles Lagus back in the 1950s, and it had always been a great ambition to return to New Guinea to film them in colour.
"I was thrilled to be chosen as one of the cameramen for this exciting project, along with Richard Kirby, a Bristol-based cameraman."
Phil Hurrell, a specialist on the birds of south-east Asia, was also with him.
"We needed to go to the river to fill up several jerry cans to use as counterweights on Phil's ingenious pulley system, for getting me and the equipment to the tops of enormous trees," recalls Mike.
"The river was deep, clean and inviting, so we stripped to our underpants and plunged into the cool water, much to the amusement of the locals also bathing there. They saw an opportunity to make a quick buck and ask us for 3,000 rupiah, £1, for the privilege."
Swamp forests, malarial mosquitoes and having to be awake in the middle of the night for the best shots are just a few of the things Mike and team had to endure.
To get another cracking Attenborough series at the end of it was all that matters.
Filming great bowerbirds in Townsville, North Queensland, with Sir David was another one which required Mike to get up in the air. This time in a cherry picker above a cemetery.
"The great bowerbird can be quite urban in their choice of bower site," he explains. "At 7am we had a big day ahead of us, doing two sync sound pieces with Sir David. The first, an ambitious crane shot, involved a cherry picker and it needed to be right, so we did several rehearsals before Sir David arrived."
Again, all worth the effort, even if the work going into it and the early rise would never be appreciated by the millions who enjoyed the finished product.
In Svalbard, halfway between Norway and the North Pole, Mike worked with Jason Roberts, and when they got to their remote cabin after hours of travel, they found it had been vandalised.
"Jason was first to the cabin and confirmed the fear that had formed from afar," says Mike. "It was trashed by polar bears, which apparently did the same to other cabins along the coast.
"Ours looked as if a bomb has exploded inside, with shattered glass everywhere."
Filming beluga whales in the Canadian Arctic also provided some wonderful memories for Mike.
"I was there with an old friend and colleague from my RSPB days, David Reed, to film a very special event," says Mike, "a unique gathering of beluga whales which assemble at the inlet to moult their skin in the shallow waters.
"We had a local Inuit guide, Simeone, to help us around camp and provide some security from polar bears, though he only appeared to have an ancient .303 rifle for defence.
"Being white, the beluga is inconspicuous in the sea ice making it difficult for their main predators – orcas and polar bears – to spot them."
Unlike Mike's vandalised shed!
Untangling The Knot: Belugas & Bears, by Mike Potts, is published by Whittles, price £20.95.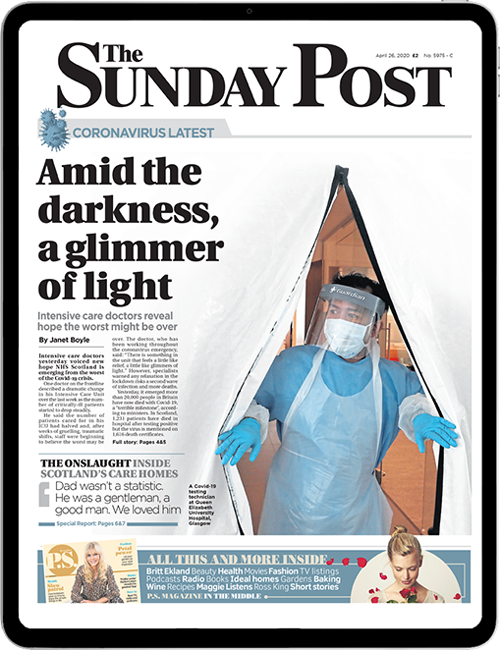 Enjoy the convenience of having The Sunday Post delivered as a digital ePaper straight to your smartphone, tablet or computer.
Subscribe for only £5.49 a month and enjoy all the benefits of the printed paper as a digital replica.
Subscribe