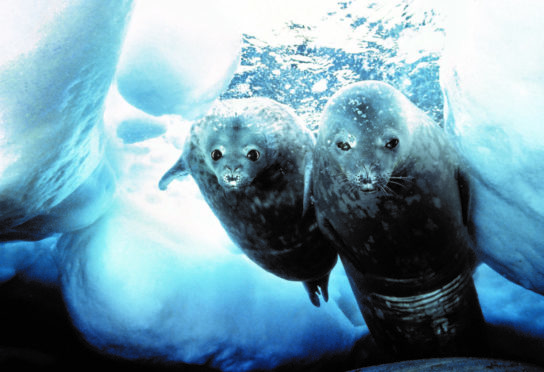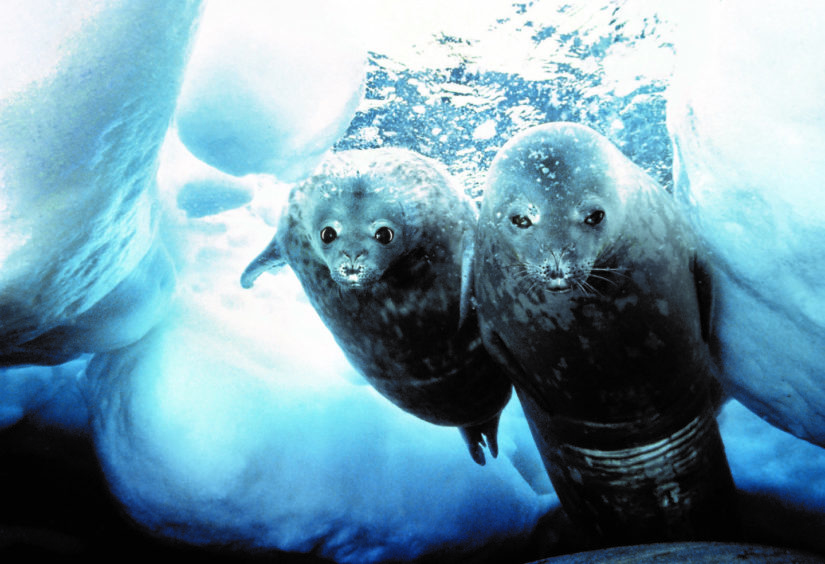 For much of the past four decades, he has brought the natural world to us in all its beauty.
Planet Earth, Blue Planet and Life In The Freezer are just a few of the series for which wildlife filmmaker and cinematographer Doug Allan has won acclaim.
He has picked up Bafta and Emmy awards for the remarkable footage he has shot, often in the most extreme environments and sometimes at great personal risk.
And Allan, who comes from Dunfermline, has just marked the milestone moment that started it all – an encounter with Sir David Attenborough.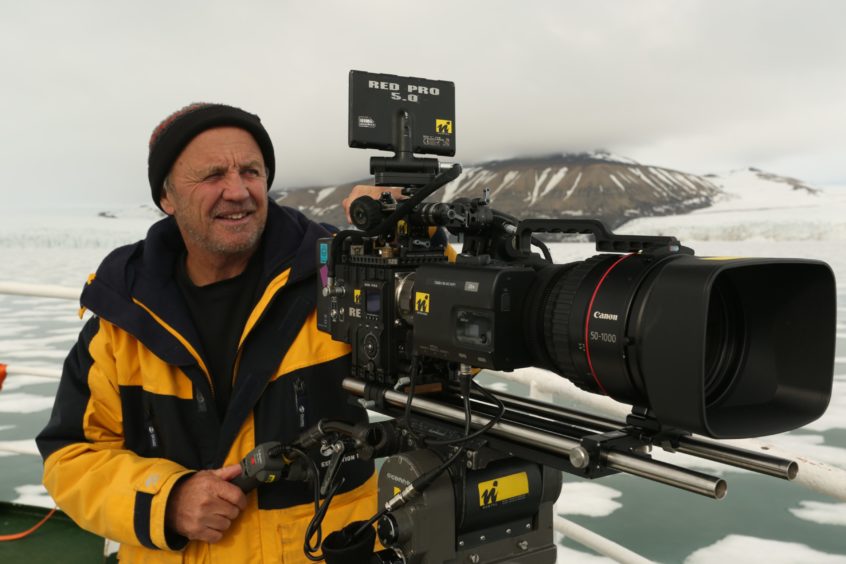 The diver and photographer was working at a British Antarctic Survey base in 1981 when the broadcasting legend visited with a small film crew.
"I hadn't even picked up a movie camera at that time," said Allan, who now lives in Bristol. "But when I looked at what he and the team were doing it made me think that was a side of photography I'd love to experience.
"David appreciated the help I gave the crew and said that if he returned to Antarctica, he'd come to me for advice. He's a wonderfully generous man.
"At any one time in history there are only a handful of people like him alive. When I realised a few weeks ago that it was 40 years since that first meeting, I wrote him a letter thanking him. He replied saying how kind it was of me to remember and he was glad to have been an encouragement."
Allan turned to full-time film-making and has travelled the globe, capturing iconic images. Hairy moments along the way include being grabbed by a walrus and being caught in the open just metres away from a prowling polar bear.
Much of his work has been at the polar regions and it's 45 years since his first visit to the Antarctic, where he's seen it stay dark for 100 days and had temperatures fall to -50C.
"When I first went, we were given an allowance of just 100 words per month which we could send by Telex to stay in touch with home," he said. "Now, just about everyone is connected via email.
"And we had to do more to look after ourselves. In those days we'd go out half-an-hour before lunch to cut blocks of snow to melt to get our water. No base runs like that now.
"The bases themselves are ultra-modern and are often modular, shipped down and put together there. I sometimes wonder if, in 10 years' time, it'll be like living in a Best Western hotel, no matter where you are in the Antarctic."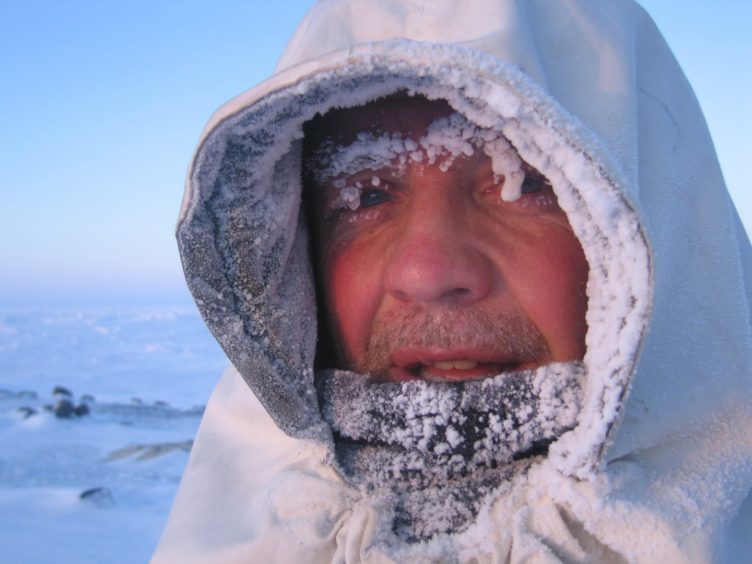 Allan has always been passionate about environmental and conservation matters, and climate change remains a major concern. He is hoping to be a part of COP26, the major UN climate change conference re-scheduled to take place in Glasgow this November.
In the past four decades he has seen the impact of global warming, with sea ice breaking up irregularly and periods of unprecedented high temperatures.
"Climate change is affecting the poles more than almost anywhere else," said Allan, who wrote an illustrated book of his adventurous life, Freeze Frame.
"We are moving in the right direction, but we're not moving fast enough," he added. "If we don't get a handle on climate change then we'll lose the poles as they are right now."
Doug turns 70 this summer but is showing little sign of slowing down and is currently quarantining in a hotel in Kathmandu before working on a feature film being shot in the Himalayas. He said: "I don't want to look back in 10 years' time and regret things I haven't done."
---
Guillemots Diving, Arctic, June 1994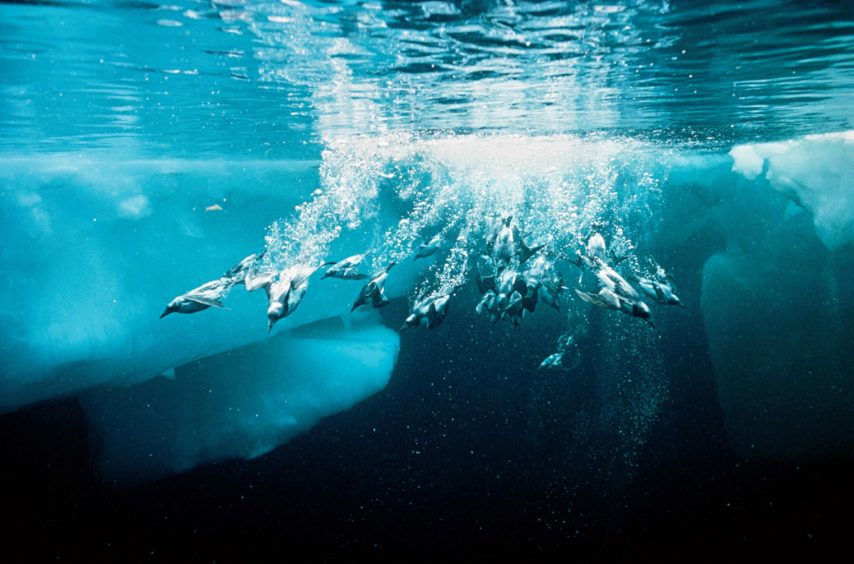 There's only a narrow window of a couple of weeks when the ice opens up and the plankton hasn't turned the water too green. I saw a group of guillemots diving in this crack in the ice and felt I had a chance to get a shot.

They tend to dive as a group and go down about 150 metres to fish before coming back up like rockets with the bubbles streaming behind them.

I slowly worked my way towards them and they made this bomb-burst dive and opened up like the Red Arrows in formation.

Just minutes after I took it, I was grabbed by a walrus.
Beluga Whales, Arctic, June 1994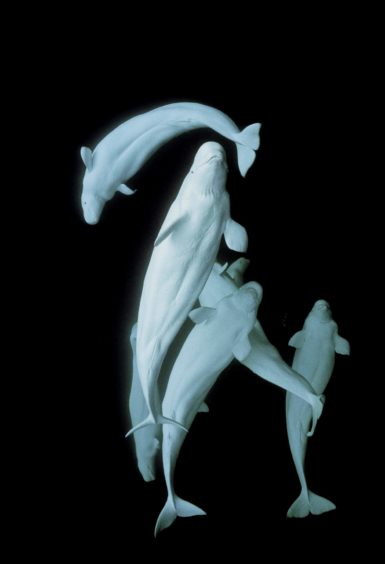 Belugas are unique to the Arctic and they are both curious and very vocal. When you are underwater near a pod you'll hear them way before you see them.

There are all sorts of whistles and squeaks and calls as they communicate with each other and find out about the environment. To get close, it's best to simply lie on top of the water and start singing down your snorkel to attract their attention.

As they can't see upwards very well, when they are underneath you, they roll on their backs to look up. That's when I got this shot and it's the memories of their sounds that fill my head when I look at it.
Iceberg in Sunlight, Antarctic, November 2011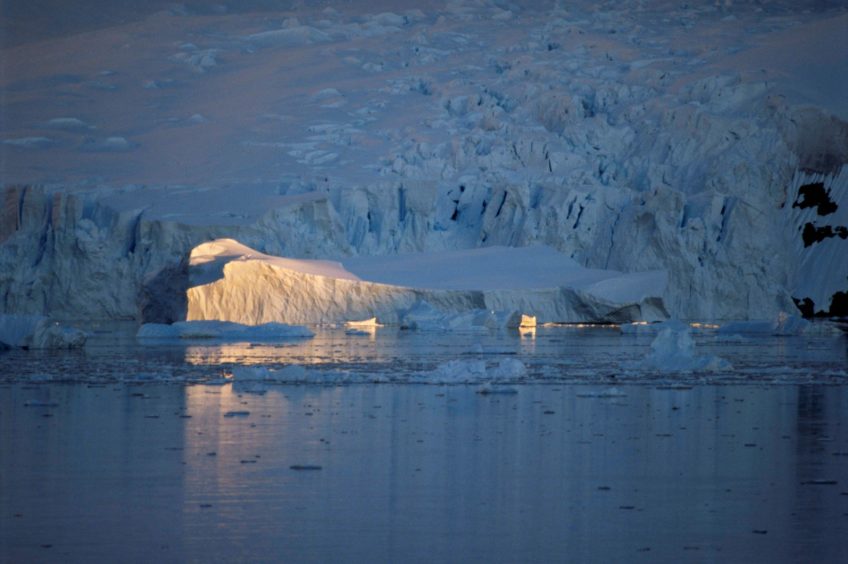 Light makes a photograph and in the Antarctic, where all tones are of white and blue, that's even more important. On this afternoon, as we came down the Gerlache Strait, the colours were very muted.

It's less than a mile wide and icebergs are pushed through by the current. Suddenly, the sun found a hole in the clouds and the iceberg was lit by a single sunbeam while the glacier behind was deep blue.

The ship was moving and so was the iceberg, so seconds before or later and I wouldn't have got that shot. It was literally a moment frozen in time.
Emperor Penguins and Chicks, Antarctic, August 1983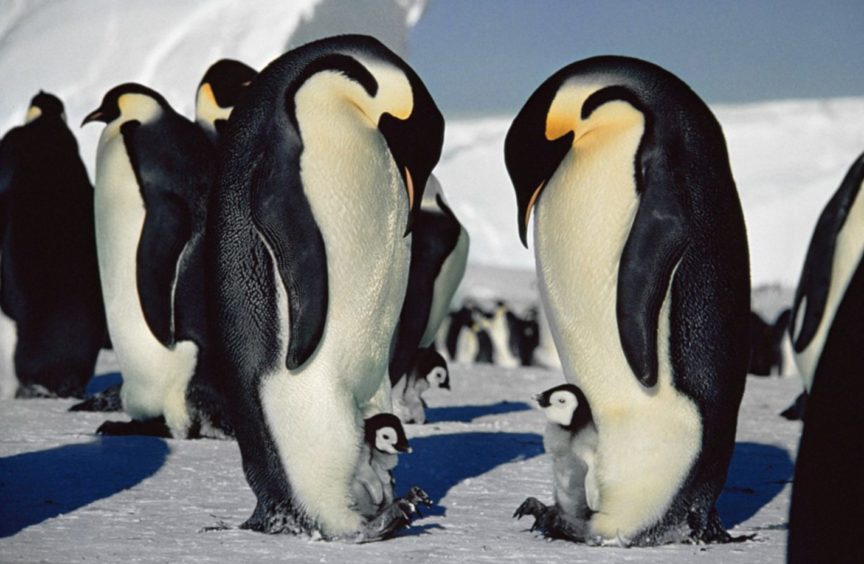 This was when I spent one winter at the British Antarctic Survey base at Halley and the Emperor penguins provided a wonderful bit of companionship.

The eggs begin to hatch in early August and you hear the low calling of the adults and then increasingly the chicks cheeping away. At first, they are tucked into their parents' feathers but on a day like this, when the sun has a bit of strength, they pop out and stand on their parents' feet to keep off the ice.

The penguins shuffle along with the wee chicks balanced on them and it's almost as if they are admiring each other's young.
Polar Bear, Hudson Bay, November 1995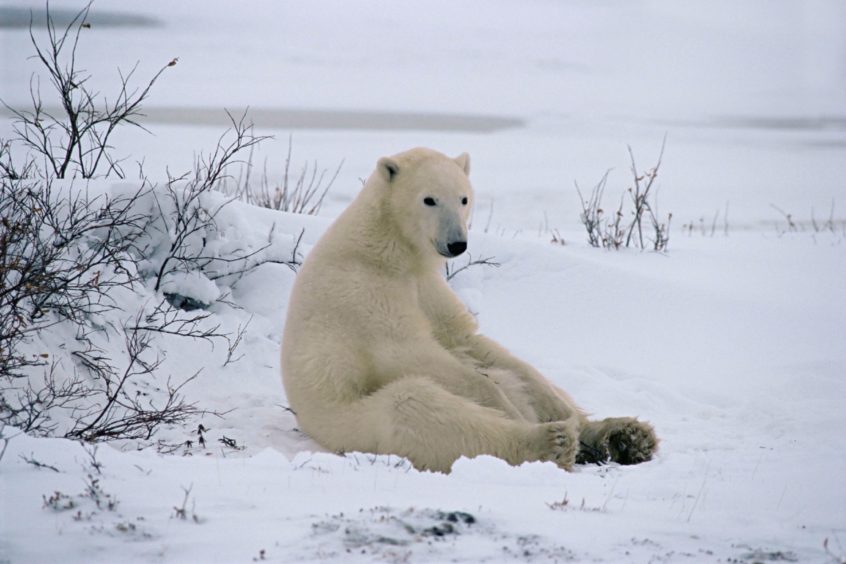 This was one of the first shoots for a two-year BBC film about polar bears. You can tell it's Churchill on Hudson Bay because of the bushes, which you don't see further north, and it's one of the few places where bears come together.

That's where the sea ice begins to form out on the bay and occasionally they adopt very human-like poses. I'd seen them on their backs, but this guy was just sitting there relaxed enough for me to fire off a few shots.

They can be really dangerous, but when you see them like this, they're just like big teddy bears.
Weddell Seal with her Pup Under the Ice, Antarctic, November 2008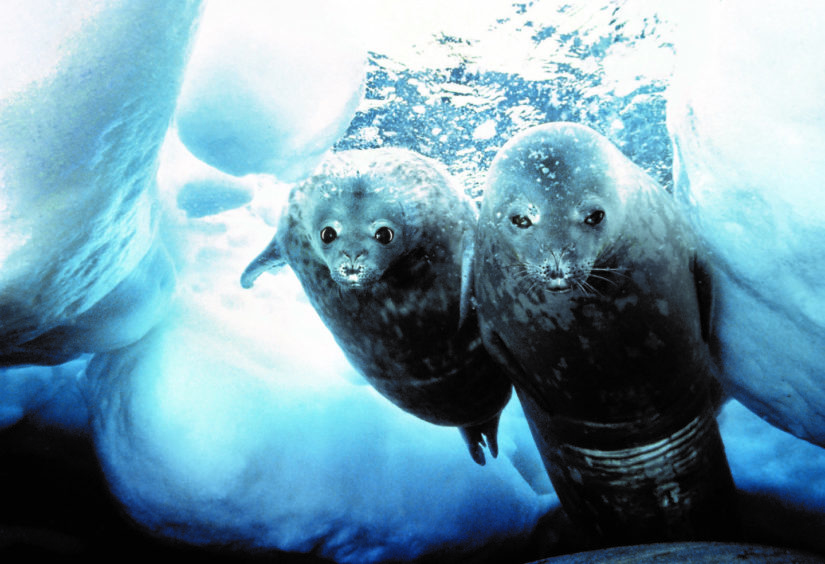 Weddell seals live further south than any other seals as they can maintain breathing holes in the solid ice. They have their pups in September or October and after a few weeks the mums encourage them into the water.

When you find them together under the ice, you see what a close connection they have. In the Arctic, seals are wary because of polar bears but here they are approachable if you take it easy.

These two seemed as curious about me as I was about them and I love the pup's big eyes, wide open and staring at me.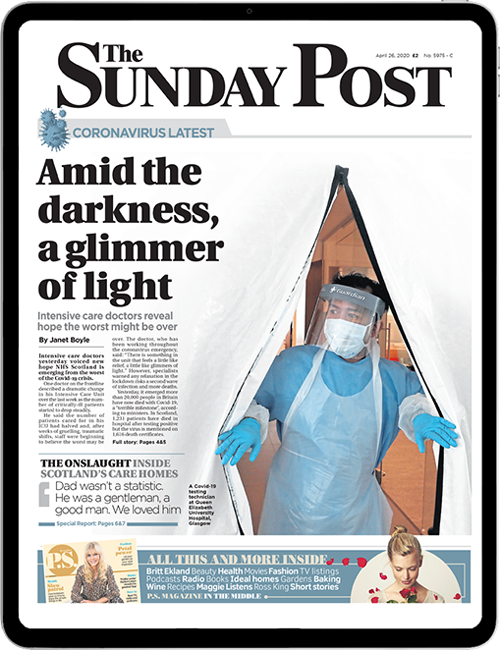 Enjoy the convenience of having The Sunday Post delivered as a digital ePaper straight to your smartphone, tablet or computer.
Subscribe for only £5.49 a month and enjoy all the benefits of the printed paper as a digital replica.
Subscribe