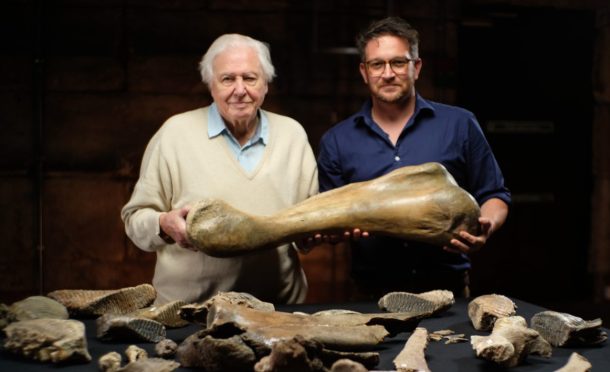 The larger-than-life creatures that roamed prehistoric Earth are often the first sparks for children's curiosity about science and the natural world.
As the world lurches from crisis to crisis amid flurries of misinformation and climate change looming large, young people learning about things like the dinosaurs in a way that encourages and nurtures inquisitive minds is vital for the planet's future.
So believes author and broadcaster Professor Ben Garrod, who hopes to inspire critical thinking that can be applied beyond just learning about the life of a T.rex when he brings his interactive live show, Ultimate Dinosaurs, to Scotland later this month.
Based on the book series of the same name, the evolutionary biologist aims to include the same content he teaches students in his day job at East Anglia University, having realised a gap in providing educational shows that were challenging but accessible to kids.
"I love teaching my undergrads but it shouldn't be the first time they engage with such complex science," he explained.
"Dinosaurs are science celebrities. Everyone knows what a T.rex or diplodocus looks like, and we even give them nicknames like Dippy. These are characters we grow up with.
"It's really fact heavy; the size, the speed, when they lived, so it's like Top Trumps in real life. Adults are typically busy and don't have the room or capacity that kids still have, so I think they can take ownership over that area of learning and it's a way of showing mums, dads, teachers, friends and family how much they know.
"The show is interactive, much more pantomime-based and silly, but I don't dumb it down at all. I'm using the same phrases, concepts and ideas that I hopefully would with them years later if they go to university."
Science literacy is key
Science literacy is one of the key concepts Ben hopes to promote through the show, encouraging children – and the adults taking them along – to think critically about what they hear.
Especially in a world full of complex and often conflicting information, and where science often comes under attack from competing ideologies.
"In the show we look at the evidence," Ben said. "Was there a dinosaur that could spit venom with a massive frill around its neck like we saw in Jurassic Park? No, but why do we think that? Why do we not think that? Let's look at the evidence.
"They can transfer those skills across to the climate crisis, biodiversity loss, even vaccine uptake. We've seen in the last few years that suddenly the public has to get involved with science, whether it's through the pandemic, or hopefully now really addressing climate change. Teaching critical thinking to non-scientists is so invaluable, and it comes at a really important time.
"Being a scientist is very much like being a detective. By piecing things together, you're going to be better informed with a more realistic view of anything you're looking at, whether it's space, vaccines or dinosaurs.
"It's a way to on-board everyone to be able to deal with really complex things at a critical time when there is misinformation and disinformation coming from everyone from keyboard warriors right through to the government.
"I get very frustrated when it happens, but it sets a fire under me, like many academics and broadcasters. If you get one kid who takes the message home, who feels inspired or confident enough to engage with science or feel they have a voice, that's what I really care about.
"I'm buoyed up by so many kids coming to these shows and seeing them empowered."
Working with Attenborough
Entertainment has often been a key driver in promoting learning, particularly in the case of the environment, with a prime example being Sir David Attenborough's Planet Earth series.
Ben has worked alongside the veteran broadcaster a number of times, including excavating the world's largest dinosaur alongside him in Argentina.
"It was lovely to have the opportunity to see how he operates and thinks, how he still gets up in the morning at 97," Ben said of the inspiring experience.
"Looking at him and knowing him as well as I do now, it's that childlike wonder about the world around him, where he's still as enthused by the birds in his garden as he is by the giant dinosaur in Argentina.
"We grow out of that so readily, which is such a shame. It's always amazing to spend time with him and he's a good laugh. You have that two minutes where you go, 'Oh, my God, it's Sir David Attenborough' in a whispered, hallowed tone. Yet, really quickly, he's just one of the crew.
"He's laughing and joking, getting up for a breakfast buffet and grabbing everyone an orange juice. On a project like that where David's not the most important person, that shows all of us we have to pull together.
"If he's not above grabbing his own orange juice, then grabbing everyone else a croissant or helping take luggage to an airport, then we should all chip in, in some way."
When dinosaurs roamed our shores
Ben loves the energy he finds at shows when he comes to Scotland, and the fact that some of the dinosaurs featured in the show once roamed our lands.
"Obviously Skye is the big area of interest, but then even Arthur's Seat in Edinburgh is full of fossils of different species in different periods of time," he said.
"You've got some of the oldest fossil formations anywhere on the planet in Scotland and there's a really rich history of studying palaeontology.
"We always think of the Jurassic Coast in the UK as our highlight, and it is an amazing place, but the whole West of Scotland is easily world class in terms of fossil formations.
"Just close your eyes and imagine this land being underwater and a huge plesiosaur  swimming overhead…"
---
Ultimate Dinosaurs, various theatres across Scotland, October 20-27. Visit bengarrod.co.uk for more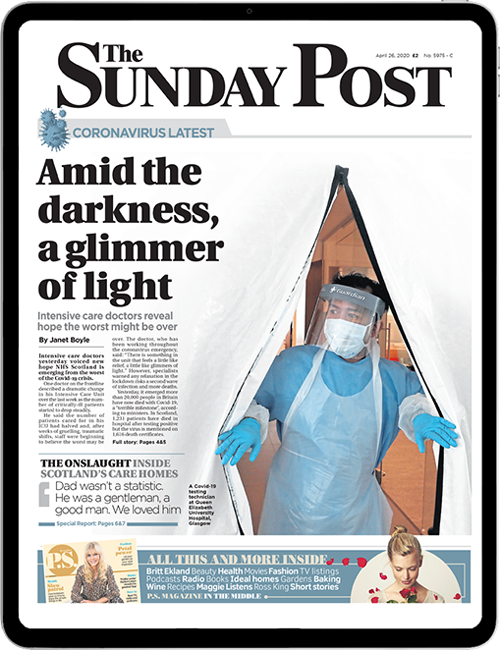 Enjoy the convenience of having The Sunday Post delivered as a digital ePaper straight to your smartphone, tablet or computer.
Subscribe for only £5.49 a month and enjoy all the benefits of the printed paper as a digital replica.
Subscribe