They are less Top Gun: Maverick and more Last Of The Summer Wine.
But the grandads and great-grandads who make up The Ancient Aviators Club are living proof that the sky is still the limit, even in later life.
Comprising builders, farmers, market traders and engineers, the youngest 70 and the oldest 84, they count only one retired commercial pilot among their number.
But between them they have more than a century of flying experience. And they've shared hair-raising thrills – including tornadoes of both the natural and aviation kind – plus one dramatic spill; a crash from 800 feet.
As they prepare to mark the club's fifth anniversary, the banter is flowing at their base on the former Second World War airfield at Longside, near Peterhead in Aberdeenshire.
Founder member and oldest active flyer Peter Bailey, 81, says: "We're all getting on a bit. The standing joke is that to become a member you must have your bus pass and be on three different pills per day."
Grandad Peter, a former military policeman who learned to fly at 70, adds: "My 80th birthday treat was a flight over Victoria Falls along with a trip to Cape Town.
"I've flown from Longside to central France – four times there and three times back. Each trip takes three days with stopovers.
"But on one return flight I was hospitalised in Abbeville for a prostate problem and needed surgery.
"I was catheterised but allowed to fly back to complete treatment at home."
He joked: "The catheter was a bonus. It took the hassle out of having to pee in flight."
Peter admits crossing the English Channel at 4,000ft can be daunting. "On the last trip there was a mini tornado and the plane suffered storm damage while parked up and had to be brought back to Scotland on a trailer.
"My daughter reckons I must be stark, raving mad, but I love it. Flying is freedom, it's exhilarating. I'm elated when I'm up there."
The aviators, who fly either propeller-driven planes or microlights, have all gained a private pilot's licence and are tested every two years to ensure they remain current and safe.
Accidents, though rare, can happen. Retired motor mechanic Alfie Thomson, 81, who has been flying on and off since 1955, stopped three years ago after a crash caused by carburetor icing.
He said: "The engine stopped after the fuel iced up at 800 feet. It was summer and I'd taken off and was over the airfield.
"We tried to glide so far down. It was gravity after that. It happened so quickly.
"That was the only scrape I ever had. Only the aircraft and my pride were hurt."
Clubmate Jim Bolton, 78, can't resist a leg-pull: "The trick is to hit the ground going horizontal, not vertical."
Bob Shewan, 80, a former mason and cancer survivor, who also sports two new knees, has been flying since he was 64.
He says: "I have had bigger scrapes in the building trade than I have ever had flying. It's a safe sport.
"I am not thinking of giving this up. At our age, it's better than sex!"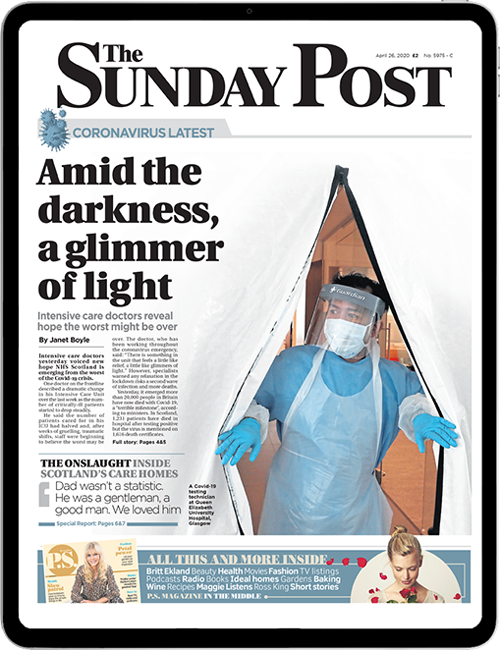 Enjoy the convenience of having The Sunday Post delivered as a digital ePaper straight to your smartphone, tablet or computer.
Subscribe for only £5.49 a month and enjoy all the benefits of the printed paper as a digital replica.
Subscribe