Contestants on Al Murray's new show are bombarded with questions they hope will lead to a nice prize.
Al, who got his big break at the Edinburgh Fringe 25 years ago, was hoping to answer a more basic question – Who am I on TV?
The acclaimed comic is best-known for his Pub Landlord character. But while Al Murray's Great British Pub Quiz has a boozer theme, aptly enough, he's not appearing as his comic creation.
"I've done game show stuff with the Pub Landlord where we've taken the mick but I haven't done it straight," Al told iN10.
"I thought it'd be nice to do something sincere where we're not laughing at the format.
"And I don't appear elsewhere as myself other than on history shows or straight presenting, so it's kind of interesting figuring out who I am on television."
Al's a quiz show aficionado – from University Challenge and Mastermind to The Chase and Pointless.
His new series, which has just started on Quest, pits the UK's most passionate pub quiz teams against each other. Team captains include Hugh Dennis, Kerry Godliman, Ed Byrne, Phil Jupitus, Marcus Brigstocke and Andy Parsons.
"I always think that, as a viewer, a quiz is the closest thing you can have to interactive television," said Al.
"You're like the other contestant and it's as near as you can have to a show you can take part in.
"I love the idea of them. There's quite a difficult quiz I go along to in London and I like to think I'm a pretty useful member of the team – although my friends may disagree."
Having played Pub Landlord for decades, Al says the expectation may well be that the character is a constant factor. But this isn't the case, he says.
"I get recognised for it less than you might think. In this, for example, I've grown my hair and I have a beard, so I look very different and it doesn't haunt me very much at the moment.
"And, from my experience, people realise he's a character, he's not real and you shouldn't take what he's saying seriously.
"Although he's larger than life, he's really not a problem. Well, I don't get people squaring up to me in person – although I do on social media.
"But then social media is full of incredibly heroic people prepared to abuse people – as long as it's not face-to-face."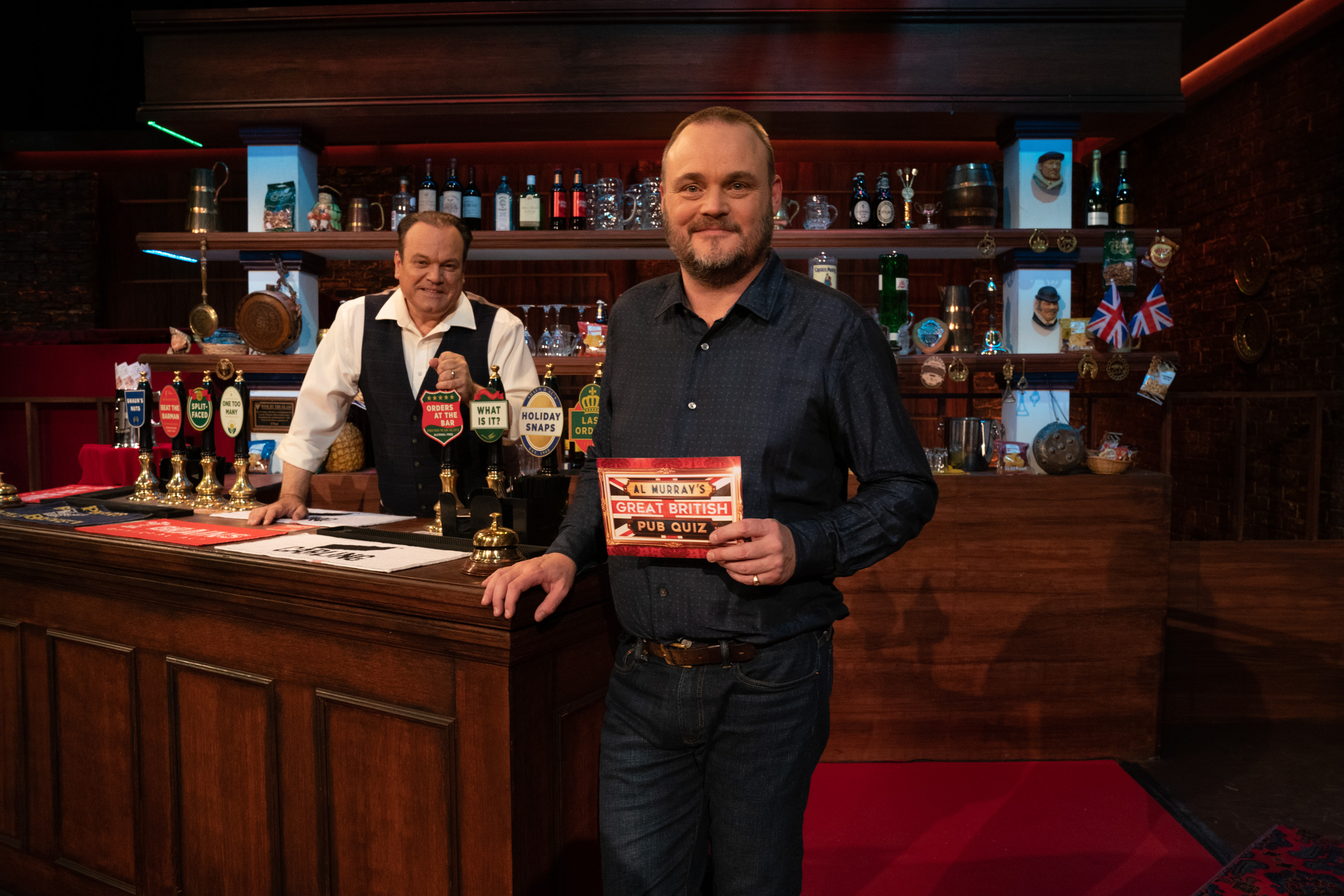 Al has plenty of Scottish connections, having come up with his most famous character in Edinburgh and his eldest daughter Scarlett was born in the capital.
"We'd embarked on having a family without thinking through we'd be on tour when she was due," laughs Al.
"That morning my missus started to feel the baby coming and told me I wasn't going on and we cancelled the show. Ed Byrne took the slot and I was back on stage the next day."
Having first visited as a teenager, Al's passion for Edinburgh is obvious and he extols both its beauty and cultural importance.
"I absolutely love Edinburgh and still come back to the Fringe. It's been such a big part of my life.
"I know that some people from my generation don't like that it's got as big as it has but I believe it's getting bigger, better and more exciting.
"I love young people going for the first time and having it really blow their minds. The romance of it is wonderful."
And if Al needed any other reason to go north of the border he's also in a band based around Edinburgh and Glasgow, T-34, which has a new album out this month.
He's also back for a comedy gig at The Stand in Glasgow at the end of this month, although it's hardly the furthest flung or most exotic location he's played.
"I've done gigs all over the world, including on a beach on Ascension Island," adds Al. "I still love gigging and the only thing that can get you down is the travel.
"My manager always says he knows we're at a venue when the car pulls up next to a skip because stage doors are always next to skips and bags of rubbish!"
Al Murray's Great British Pub Quiz, Quest, Thur, 10pm