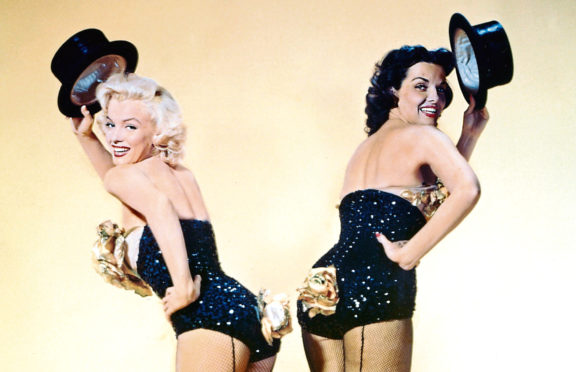 The summer of 1952 saw Jane Russell return to form with the sequel to one of her best-loved movies.
Her 1948 flick The Paleface had done great business, and Son Of Paleface would do likewise, with Russell opposite Bob Hope once more, Roy Rogers and Trigger along for the ride.
Strangely, considering their chemistry and success with the original, it's been said that Hope had wanted Maureen O'Hara for the female lead.
But he got Jane Russell again, after O'Hara declined, and was presumably delighted to do so in the end.
It was a Western comedy about a man who comes home to claim his father's wealth, but the gold is nowhere to be found.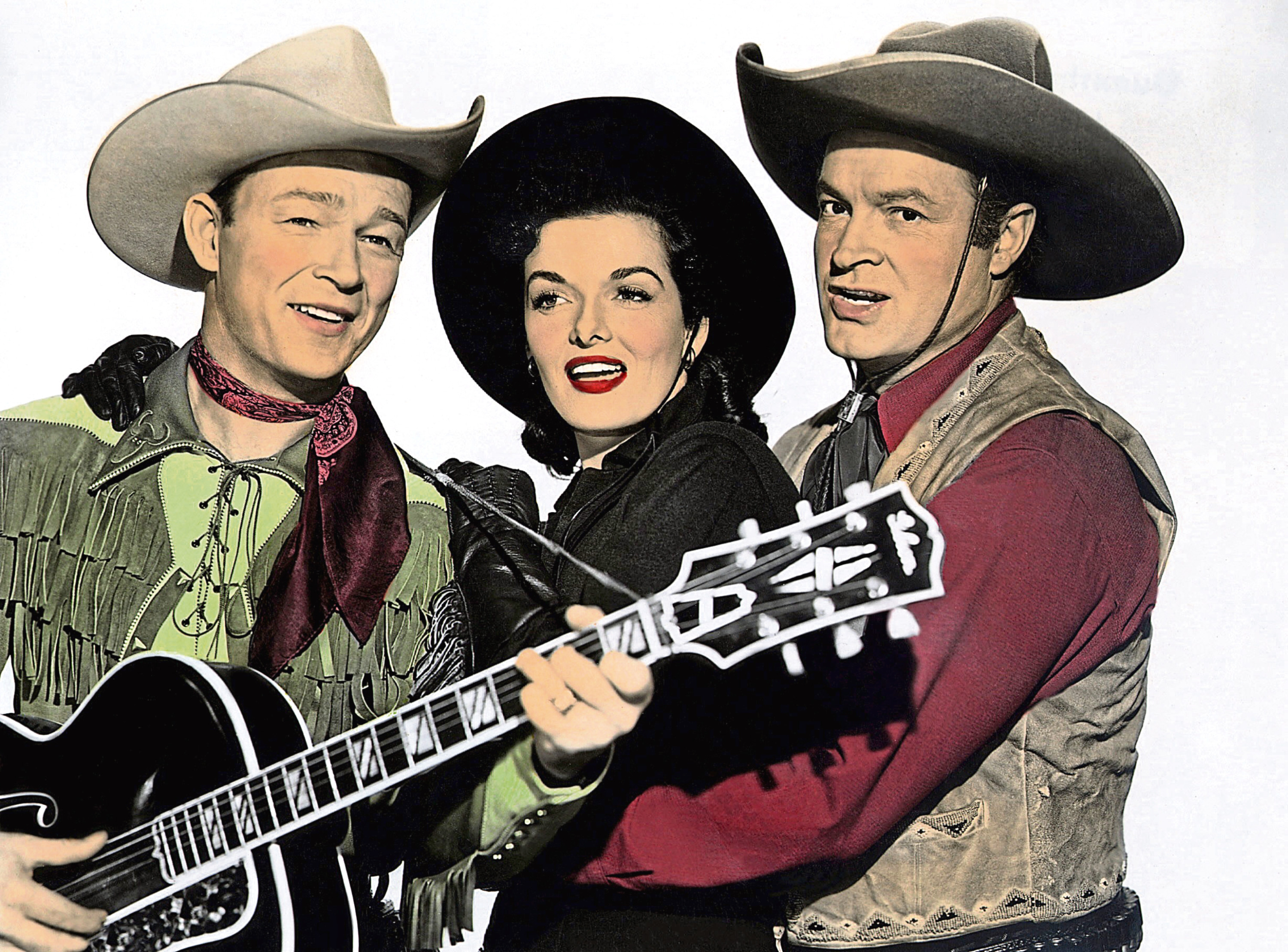 Peter "Junior" Potter, played by Hope, has just graduated from Harvard, but his return to hometown, Sawbuck Pass, is not happy or impressive.
For one thing, his plaid suit looks ridiculous in a small place like this, and the first thing he does is splash mud all over the local folk as he arrives.
He then discovers that almost all of them are claiming his family owes them one kind of debt or other, but his father's gold is missing.
Junior stalls as long as possible, hinting constantly that he is certainly not short of a few bob, or dollars, and during his stay befriends Roy, played by that famous cowboy star, and Mike, a sexy saloon performer played by Jane.
Unknown to him, she is the masked bandit behind a series of midnight raids, and Roy is a government agent, packing a rifle in his guitar case and on her trail.
It didn't just go down a treat Stateside – in the United Kingdom, it was the third-biggest film of the year, in an era when we were all going to the cinema.
All of this success, however, would soon be put firmly in the shade, when compared to Jane Russell's 1953 movie outing with a certain blonde bombshell.
Marilyn Monroe may be the one most think of in Gentlemen Prefer Blondes, but it was Russell's wisecracking and ability to be the perfect sidekick that won over the critics and the more discerning moviegoers.
Based around the 1949 stage musical of the same name, Gentlemen Prefer Blondes was the tale of American showgirls Lorelei Lee and Dorothy Shaw, best pals and magnets for amorous men everywhere.
Lorelei has a very distinct kind of man in mind for her future – a wealthy one, in the belief that the only way for an ordinary girl to get on in life is to marry a rich man.
She's engaged to Gus Edmond, a rather nerdy bloke who worships the ground she walks on and does just what he's told.
Trouble is, he is also controlled by his fabulously wealthy father, and the old man reckons Lorelei is bad for his son, even preventing him from accompanying her to France.
Dorothy, on the other hand, is focused on a man who is good-looking, fit and healthy, not so much wealthy.
Marilyn's pink dress and her version of the song Diamond's Are A Girl's Best Friend would become iconic, but so too would Jane's role as Dorothy.
When they are crossing the Atlantic, Dorothy already has her eye on the all-male Olympic team who are crossing.
For a fellow traveller by the name of Ernie Malone, Lorelei is just perfect and he is soon head over heels in love with her – despite the fact he is actually a private detective, sent by Gus's father to keep an eye on things.
Lorelei, however, is interested in super-rich fellow, already married, called Sir Francis "Piggy" Beekman, played by Charles Coburn.
Although she can see that her flirting irritates his wife, Lady Beekman, Lorelei keeps it up. He is, after all, the owner of a diamond mine.
As Sir Piggy gives Lorelei a squeeze, allegedly to demonstrate how pythons squeeze goats, Malone takes photos for his client, only to be caught red-handed by Dorothy.
The girls manage to get Malone intoxicated and pinch the negatives, and Lorelei then asks Sir Piggy for his wife's tiara as a thank-you present.
It finishes with the girls getting married, to Edmond and Malone, and it went down a storm, one of the highest-grossing films of the year.
For Marilyn, she also had another huge hit that year with How To Marry A Millionaire.
Clearly, 1953 was a year where women and rich men was a very popular topic.
For Jane Russell, it was a huge triumph, one of her biggest moments.
The year was also memorable because Jane and husband Bob Waterfield formed Russ-Field Productions, signing a six-picture deal with United Artists shortly after.
The deal, which would last three years, stated that Jane had to appear in three of the movies, but she was also getting into her music again at this time.
She formed a gospel quarter in 1954, with a trio of religious friends called the Hollywood Christian Group.
The year she made her hit with Marilyn Monroe, she had even tried to convert her, with Marilyn claiming that she in turn had tried to introduce Jane to something altogether different.
"Jane tried to convert me and I tried to introduce her to Freud!" she said.
If the father of psychoanalysis wasn't quite Jane's cup of tea, religion certainly was.
She would make appearances now and then on Praise The Lord, a Christian TV show based in California, and her new music group made their mark on the charts, too, spreading the Word as she hoped.
The gospel group's Do Lord single reached No 27 on the Billboard singles chart, which was no mean feat, shifting two million copies.
There then came The Magic of Believing, a full album on Capitol Records, and late in 1957 Jane would debut as a solo nightclub star at the famous Sands Hotel in Vegas, a place that was often as far from religious faith as you could get.
She said in the liner notes of her solo LP Fine And Dandy, when it was reissued in 2009: "I finally got to make a record the way I wanted to make it."
There's no doubt that her music and her faith were right up there alongside her acting, and Jane Russell was a woman of varied interests, that's for sure.
Even if Freud was not for her!
There was an interesting footnote to Gentlemen Prefer Blondes, with Jane starring in a kind of sequel, Gentlemen Marry Brunettes.
The 1955 film saw her opposite Jeanne Crain, not Marilyn Monroe, also based on a story by Anita Loos, like the first one.
Apparently, the studio felt they could simply repeat the formula, even without the busy Monroe, but though it did OK, it didn't quite hit the sensational heights of Gentlemen Prefer Blondes.
The 1956 film Hot Blood saw her play an alluring gypsy who fakes an arranged marriage, splits the dowry with her new husband, and flees their scheming families.
It was an unexpected episode in her career, and looks fascinating today, with Cornel Wilde a very impressive leading man opposite her.
That same year, she played another formidable woman in The Revolt Of Mamie Stover.
Five years earlier, it had been a much-discussed novel by William Bradford Huie, a story that took a very hard pop at Hollywood and how it operated, selling an incredible three million copies.
The critics, who originally disliked it for watering down the story, later came to admire it, and in particular Jane Russell's performance as the title character.
Ironically, Jane only got the role of Mamie Stover because Marilyn Monroe turned it down, being "on strike" at that time as she fought with Fox over contract details.
It's fair to say Jane made it her own. Stover was a young Mississippi woman who, like so many before and since, went to Tinseltown for acting work, only to be driven into a much seedier underworld, of brothels, decadence and decay.
She later moved to Honolulu, took on the lawmakers about prostitution and eventually became a major war profiteer.
Not your typical tale, for those times or even today, and a role that required a very, very good actress.
"Jane Russell," said one critic, "Perfectly incarnates an unusual female character with her fighter's broad shoulders. She is the female equivalent of the implacable and conquering hero who wants to take the world in her fist."
At long last, they weren't even mentioning her figure, but remarking on the fact that, hey, this Jane Russell can act!
To many fans, this was the movie that was her greatest moment.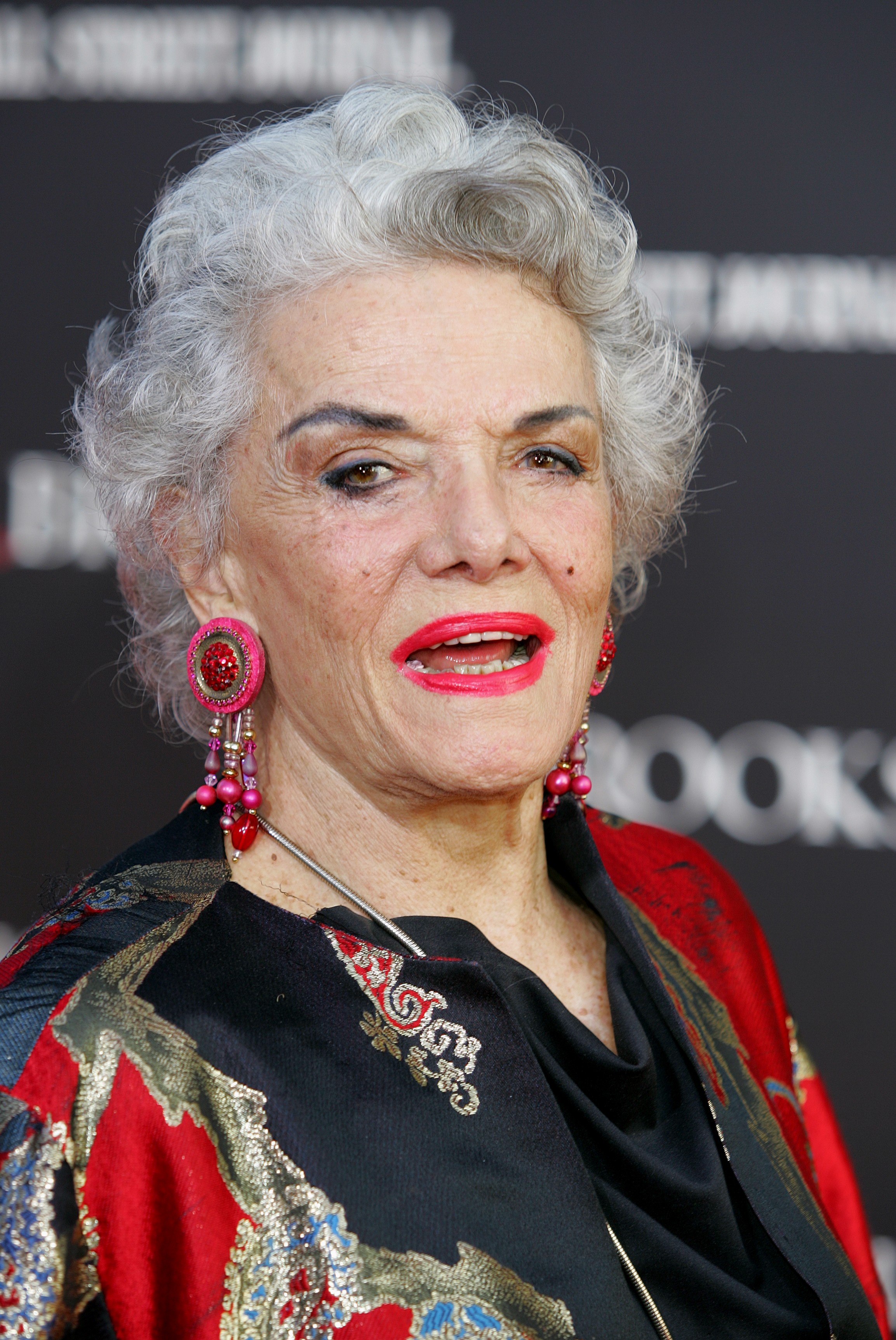 Jane, however, had some dreadful moments, too – not least her divorce from Bob Waterfield after a quarter of a century together. She married again that same year, and it almost instantly ended.
Jane was only the wife of Roger Barrett for a couple of months when he died of a heart attack.
Six years later, she married her third and final husband, John Calvin Peoples, an estate agent. This marriage would also last a quarter of a century, until he too died of a heart attack.
Jane would spend much of her later life doing good work for orphans, talking about her Republican politics and faith, and explaining why acting was a young woman's game and she had been happy to leave it all behind.
For her countless fans, old and new, we'll always have a fine body of work, music and film, to remember her.
She died on February 28 2011 of a respiratory-related illness.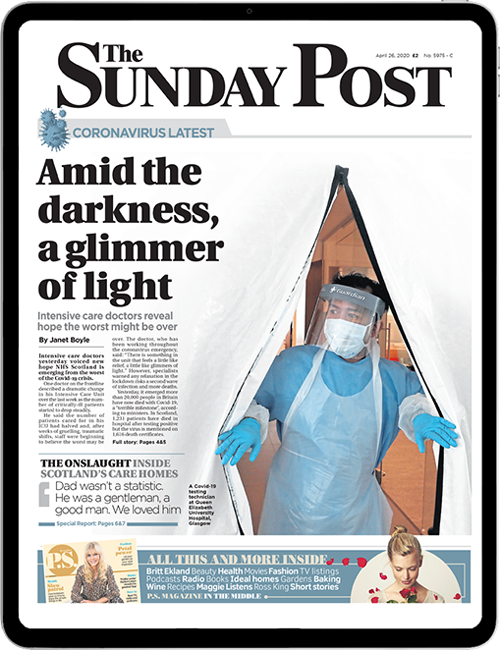 Enjoy the convenience of having The Sunday Post delivered as a digital ePaper straight to your smartphone, tablet or computer.
Subscribe for only £5.49 a month and enjoy all the benefits of the printed paper as a digital replica.
Subscribe