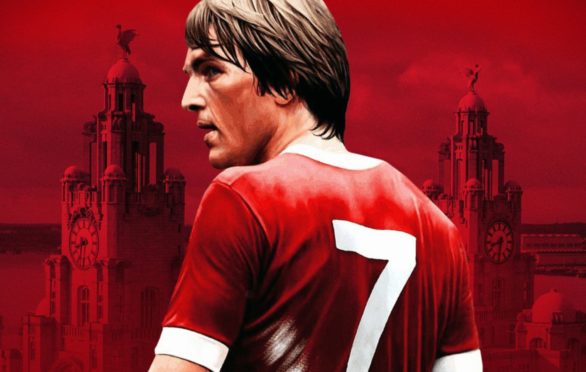 Football legend Kenny Dalglish will turn 70 on Thursday and, as he prepares to celebrate the milestone, we look back on a life of achievement.
King Kenny, a Sunday Post columnist, is loved and respected not only by fans of his clubs but across communities, particularly in Liverpool, where he was tireless in supporting families left bereft by Hillsborough.
Here MURRAY SCOUGALL talks to some of those who know him best.
---
My star: Stewart Sugg, documentary director
As a player, manager and man, Kenny Dalglish has transcended the game of football. So says Stewart Sugg, director of an acclaimed documentary about the Scotland great.
"He is one of the sport's legendary figures and has risen above the game," said Stewart. "Some players you forget, but he's one whose name will always be on people's lips, even in 100 years' time.
"Some players go on to mean something else, and that is the case with Kenny – both with Scotland for the World Cups and beating England, and the people of Liverpool, not just for being part of that great team which meant so much to the city due to how it was being treated by the Thatcher government, but he also took its people through Heysel and Hillsborough.
"He has became part of the fabric of the social history of both Scotland and Liverpool. He took on a city's grief and people see him as a bit of a hero, although he won't want that and feels he did what he had to do."
Part of the film's focus is on the way Dalglish supported the bereaved families of the Hillsborough disaster.
"He probably wouldn't have made it if he didn't trust the guys behind it," added Stewart. "They spent a long time persuading him that he needed this film to be made – he was very reluctant. He did it, slightly begrudgingly at first, but he ended up being glad he did it. He wanted to do it for his kids and grandkids so there was something for them to look back on, maybe for him as well."
Dalglish met his wife Marina while he was a young player at Celtic and they have four children – Kelly, Paul, Lynsey and Lauren.
"He is very much a family man and family is what drives him," said Stewart. "They kept him sane and together in all of those difficult times. Discovering that was a real revelation for me. I think finding out how close the family is, how loving they all are and the sense of humour they share, is what gave me a different outlook on who Kenny is. He has a huge sense of humour, is very compassionate and is quietly a very kind person to the people who count.
"The first time he saw the film was at its premiere with his family. Afterwards, he shook my hand and blew out his cheeks.
"I think he was quite shocked. I don't know what he was expecting, but when you see a section of your life laid out like that, I think it would be quite overwhelming.
"He suddenly saw a new view of what he had been through."
---
My dad: Kelly Cates, daughter and sports presenter
He might have been the boss at work but mum was always a match for him at home
Kenny's eldest daughter, sports broadcaster Kelly Cates, says that while her dad was unparalleled on the field, at home it was mum Marina who called the shots.
"Maybe, through football, people will think he's a certain way or a little grumpy, but when he comes home my mum is more than a match for him," said Kelly. "In a house with a wife and three daughters, he didn't get the chance to throw his weight around without there being a rabble of us taking the mickey out of him.
"Family has always been his priority, making sure we're all right. He was the kind of dad a lot of people will recognise. If I was to talk of a Glasgow dad, people will know what I mean. It was quite old-school in that he would go to work and my mum ran the house."
Kelly and brother Paul were babies when their parents moved from Glasgow to Liverpool, and she remembers going to games at Anfield from a young age.
She said: "When they first moved down, they didn't have a babysitter, so we'd go to the games with them and that's when it all started. I suppose it's quite rare for your kids to turn up at your workplace, but we did it every other week. Football was always part of our lives, not because it was dad's job, but because it was something we were all interested in as a family."
Kelly remembers going to a Rod Stewart concert at Ibrox with her parents when she was young and finding it strange that people in the crowd were shouting out to him, because where she grew up the residents tended to leave him alone.
"No one was bothered about him where we lived, so it wasn't something Paul and I had, but my sisters probably experienced it more when he went to Newcastle and then back up to Celtic."
The pandemic will prevent the entire family coming together on Thursday to celebrate Kenny's 70th, but Kelly says they are all trying to get together virtually – if football doesn't get in the way.
"My brother is in Miami, so we are dealing with different time zones and trying to work out when it's not too late for my sister's boys and my girls, but not when Paul's twins are at school," she added. "We're leaving all the logistics to mum.
"Dad always pretends he doesn't want a fuss around his birthday, but really he does want a song and dance. Now there's a Liverpool match arranged on his birthday, and so I think he's quite excited that when he goes to Anfield everyone there will know it's his birthday. He always pretends he's not bothered but he loves the attention!"
---
---
My rock: Margaret Aspinall, Hillsborough campaigner
He gave our families comfort. A great man
Margaret Aspinall lost her 18-year-old son, James, at Hillsborough. She is the chair of the Hillsborough Family Support Group and has campaigned tirelessly for more than 30 years.
She says Kenny Dalglish has always been there for her, and every bereaved family. "He's a great ambassador and role model, as is his wife, Marina," said Margaret. I've had so many meetings with Kenny and there are no airs and graces, he's still the same guy he always was and he puts you at ease. What you see is what you get, and that's what I like about him.
"I can phone him now if I need something and he'll do anything to help the families, even to this day. When Hillsborough happened in 1989, all of a sudden he wasn't a football manager or player, he became a social worker for the families. It must have been so difficult to have the bereaved families coming in to talk to him, but he gave them all a great deal of comfort and that shows the calibre of the man.
"When he got the freedom of the city of Liverpool we were made up and, when he was knighted, that was the pinnacle of it.
"His personality and sense of humour are great. If you're ever feeling down, talk to Kenny and he'll cheer you up.
"I wish him all the best for his birthday and I hope he has many more years ahead of him. Stay just the way you are, Kenny, and don't change, because you're brilliant."
---
My hero: Phil Scraton, author
Phil Scraton is emeritus professor, School of Law, Queen's University Belfast, author of Hillsborough: The Truth and lead author of the Hillsborough Independent Panel Report.
"Watching him was breathtaking," he said of Liverpool FC's greatest player. "An unforgettable moment, the 1978 European Cup Final at Wembley against Club Brugge. Graeme Souness played a through ball. Kenny, in stride, chipped the goalie. Liverpool became dominant in Europe. But in 1985, following the appalling loss of life at Heysel, the club was banned. Kenny became player-manager, immediately winning the double.
"Tragedy struck again in 1989 when Liverpool fans were unlawfully killed at Hillsborough, the death toll eventually reaching 96. Kenny attended funerals, comforted families and survivors. Witnessing the disaster, suffering personal grief and dealing with the appalling media coverage, took its toll. Kenny and Marina are exceptional. Their selfless charitable work has raised millions."
---
My boss: Gary Gillespie, footballer
He was a fantastic player on the pitch but a man with great empathy. A good egg
Former Scotland defender Gary Gillespie signed for Liverpool in 1983 and stayed at Anfield for eight years, giving him the chance to not only play alongside but be managed by his boyhood idol.
"I grew up supporting Celtic as a boy, so Kenny was one of my heroes," explained Gary. "So to play and then be managed by him was a wonderful treat.
"He was a fantastic player with wonderful vision and awareness, and a great team ethic – it was never about individual glory. He used to be portrayed as a bit dull and dour but he's far from that – he's a laughing, jokey sort of person, in the dressing room and as a manager. He was always up for a laugh and taking the Michael out of people.
"But he had a serious side too and when it came to winning football matches he was driven, totally focused and a born winner. He achieved more or less everything he could in the game."
Gary won several honours in that Liverpool side, but there is one moment in particular that stands out when it comes to Kenny's career. "That first year he was in charge, there were questions being asked if you could be a player-manager of a club that size, but you just need to look at what he achieved.
"For him to score the goal that won the league against Chelsea at Stamford Bridge, then win the FA Cup the following week…winning the double in his first year as manager was special and was probably the moment you realised he's one of those people destined for greatness."
Gary says his off-field achievements add to Kenny's legacy: "For what he did with regards to Hillsborough, he will go down in history as a man who showed great empathy to everybody, and who pulled the club through a difficult time.
"And there's the charity work he does with Marina and his daughter, Lauren, through the Marina Dalglish Appeal.
"He's a good egg."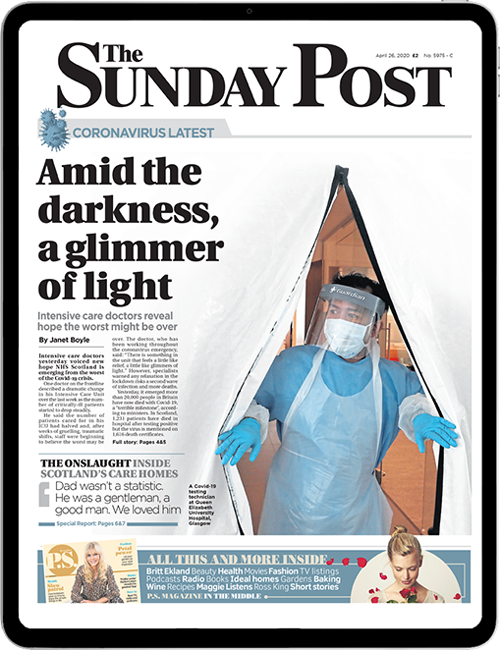 Enjoy the convenience of having The Sunday Post delivered as a digital ePaper straight to your smartphone, tablet or computer.
Subscribe for only £5.49 a month and enjoy all the benefits of the printed paper as a digital replica.
Subscribe