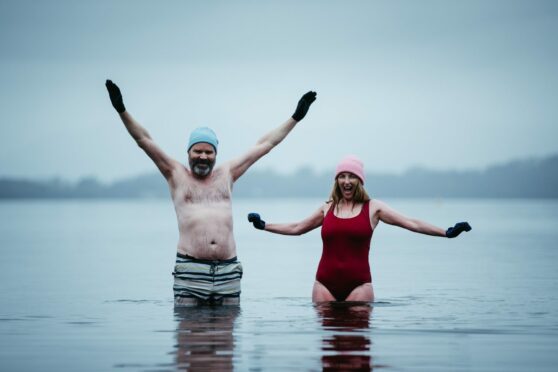 The official Loony Dook might be cancelled this year but hundreds of people will still be braving a dip in Scotland's wild waters today.
Taking a dive into the freezing Firth of Forth in South Queensferry was a Ne'erday tradition for years, but wild swimming is no longer just an annual tradition, with hardy souls around the country swearing by the practice all year round. The number of wild swimmers in Scotland has tripled over the past three years, with 81% of those saying it is beneficial to their wellbeing.
Two converts are Balamory and Scot Squad star Julie Wilson Nimmo and husband Greg Hemphill, of Still Game fame. Since first taking the plunge in 2019, the couple say their lives have been transformed and it has helped them through some tough times.
"When I first read about people doing this, there were a lot of folk saying these people are extroverts and show-offs," said Hemphill. "But nothing could be further from the truth. I feel I'm a very introverted person but I took to this like a duck to water. I don't want to do it to show off to people; I just want to do it for myself."
Wilson Nimmo said: "I think you're right. I think people feel because we choose to be in this profession and be performers that we don't have any worries or stress, and I appreciate that; we have had a lovely life. But we also have had s*** happen to us. Parents who are old, Greg lost his mum and dad in the same year, so all these things – we are coping with grief.
"And I worry all the time. I'm a ball of worry and this has really helped me. I've just turned 50 and it hit me like a bus. It wasn't a vanity thing, but the feeling that I'm running out of time. When I do feel like that now, swimming helps to clear it."
The couple were speaking in a new documentary, Jules' And Greg's Wild Swim, in which they and their dog Bonnie take to the roads in a vintage campervan and visit three wild swimming groups around the country, finding out what it means to the participants.
First is the couple's local group in Luss, near Loch Lomond, which started in 2021. Around 50 people a week come to Soulful Sunday for a yoga session on the beach before going into the water. Members include a woman who used the classes to help her battle breast cancer and another who finds it counteracts the symptoms of Lupus.
They also meet with the Loch Leven Open Water Swimmers group in Glen Etive, south of Fort William, and another in Portobello, near Edinburgh, set up by Mark Miller in 2021 after he saw groups of women swimming at the beach, but no groups of men. He says a supportive community has been built up within the group, whose members include a recovering addict and someone who attempted suicide in the past.
'A swim makes me happy, and that's all Joe wanted for me': Mum Aileen Peter on losing her son and the inspiring ways she's stayed afloat
The only regret Hemphill and Wilson Nimmo have is not starting wild swimming sooner. "I've lived in Scotland for 30 years and I never would have imagined going into the water here, especially in winter," said Hemphill. "The first time I did it, my brain felt like I could do a mathematical equation; I felt fantastic. Then it wore off and I couldn't wait to do it again.
"I'm 52 and I feel like I've gone back to how I felt as a kid. One of the things I've learned in the past wee while is just to appreciate right now. It's so easy not to appreciate the day or the week you are in by trying to predict where you are going to be but I stopped doing that a long time ago."
Wilson Nimmo added: "The only thing that annoys me is I didn't start this journey earlier. I love it so much. Please, just try it because you will love it."
---
Jules' And Greg's Wild Swim, BBC Scotland, today, 10.30pm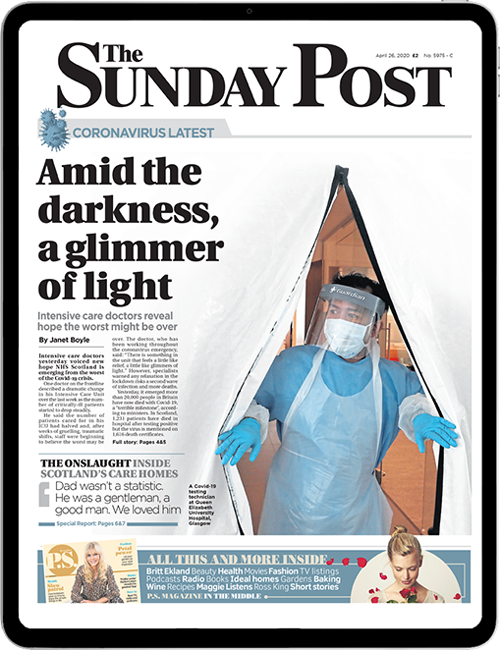 Enjoy the convenience of having The Sunday Post delivered as a digital ePaper straight to your smartphone, tablet or computer.
Subscribe for only £5.49 a month and enjoy all the benefits of the printed paper as a digital replica.
Subscribe