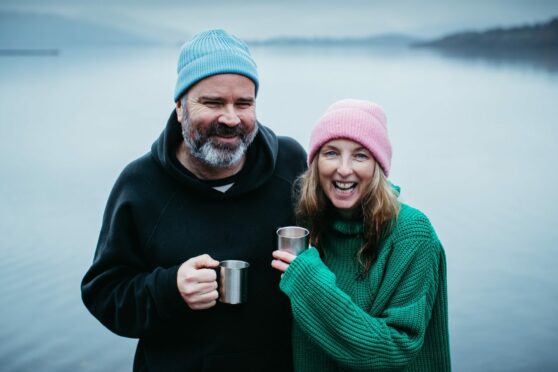 Used to making a splash on our TV screens over the past 25 years, lockdown saw Julie Wilson Nimmo and Greg Hemphill dip their toes – and the rest – into a different kind of exhilarating experience.
The couple are converts to wild swimming, taking to the icy cold waters a couple of times a week in what Hemphill describes as a revelatory experience.
"I love it and became instantly addicted. My mind and body feel like they are on fire when I step in," he said.
"I thoroughly recommend it to everyone – it's good for the skin, for mental health, for cardiovascular. When you step out of the water, your brain is like a magnesium strip that's burning, and you can't wait to do it again."
They first took the plunge after seeing pictures posted on Instagram by Julie's friend, Holby City star Dawn Steele. "She had been doing it for a while and I kept asking her questions about it," Julie said. "I was saying how amazing she looked – and she always did – but I saw the change. She encouraged me to get into the water, and Greg decided to come with me.
"I'm absolutely addicted to it – it's a magical feeling. I'm a woman of a certain age now, hot flushes and all that, but I go in and just forget about everything. Sometimes it's only five minutes, sometimes longer, but it's always worth it. I love it and want to do it forever.
"My favourite part is coming out – you're getting changed outside but you don't care, and it's the best cup of tea out of your flask afterwards."
Greg and Julie might be raising more than a cup of tea when they celebrate their Hogmanay TV takeover – she is part of the Scot Squad special, while he is directing and starring in a new sketch show, Queen Of The New Year, that he devised with Burnistoun and The Scotts star, Robert Florence. The shows are on back-to-back during the countdown to the bells.
"I'm quite a bore when it comes to New Year," Julie smiled. "I'll put on a few sequins but I'll probably still have my joggy bottoms and slippers on, and I'll have some shortbread. Greg will sometimes say he can't watch it if he has a programme on, but I've told him to shut up, this is getting put on! Usually, when I'm on, I'll bolt out the room and come in afterwards and say, 'Was it all right?'"
Greg, who has previously starred in six Chewin' The Fat Hogmanay specials and two Still Game Hogmanay specials, said: "Scot Squad might get bigger viewing figures because it's established and we're a new thing, so she'll tease me about that for years – and quite right, too."
Queen Of The New Year is a sketch show described as covering all the big talking points of the year, but Greg says it's a contemporary programme rather than a topical, satirical show.
As well as himself and Robert Florence, it features Barbara Rafferty, Clive Russell, Gayle Telfer Stevens, Louise McCarthy, John Gordon Sinclair and Juliet Cadzow.
"I was contacted by the BBC and they said, 'If you were going to do this slot, what would you do?' It occurred to me we have so many amazing actors up here and I wanted to create the chance for a big cast to come in and be funny," he explained.
"Everyone has had their butts kicked the last couple of years, so the idea was to come up with a show that was like a collective hug. Bring people together, make them feel good, provide a little optimism for the New Year, and avoid cynicism.
"We put a call out and it was exciting who picked up the phone. I love directing and it was great to work with funny people on the other side of the camera. We had Jane McCarry, who I hadn't seen in a little while, so that was like a mini Still Game reunion and it was a privilege to give her direction.
"Loads of people handed in sketches, so it was old school in that way. We sat round a table and said what have you been up to, what are people laughing at?
"It was good fun to collaborate with Robert, because we all got our big break on the same show – Robert, Iain (Connell), myself and Ford (Kiernan), but Robert and I had never really written together, so this was too good an opportunity to miss."
Julie, who has just finished a Christmas show at The Tron Theatre in Glasgow, will once again star as DC Megan Squire alongside Louise McCarthy in the seventh series of spoof police series Scot Squad, which begins next week, but first comes the Hogmanay special.
She admits the duo had nerves about joining an already established show when they were added to the cast in 2017, but they are now so settled in their roles that they're pitching and writing their own sketches.
"We were really nervous when we first joined – are we going to fit in, will the audience like it? Louise is my dream partner and we have such a laugh, especially this new series, where we pushed to do a lot of undercover detective scenes.
"We have an absolute riot. We'd been coming up with ideas and pitched them to the director. Eight of the 12 sketches we filmed were ours."
Despite being married for more than 20 years and having worked together on Chewin' The Fat and 1995 sketch series, Pulp Video, the couple – who have two sons, Benny, 20, and 16-year-old Chevy – had never written together, but are now working on an unnamed project that both are excited about.
"Julie used to contribute jokes to Chewin' The Fat and she's very funny. I've been encouraging her to do some writing for a long time and she's doing that now, so I'm thrilled for her," Greg said.
"It's been really good fun writing with my wife – we know each other so well."
"Louise and I have been writing and these characters evolved between the three of us – Greg is like the teacher and we're the pupils. We're learning so much and having the best laugh. We really love the idea we've come up with and we think it's really special and funny, so fingers crossed something happens with that. Greg's been totally encouraging and really patient," Julie said.
After the festivities are over, Greg intends to "hibernate" and knuckle down to do some new, more serious, writing.
"I'm starting in January on a ghost story. What form it will take I'm not too sure, but I'm keen to write something more serious and chilling," Greg said. "I'll hibernate until the clocks go forward, with my goony, a dram of whisky, and I might even buy a pipe."
The success of Still Game, which ran for nine seasons and had three sell-out runs at the Hydro, has placed Greg in an enviable position.
"It's a good life. I don't feel any pressure to get something up and running. I'm in the position to pick and choose what I'd like to do, which is nice."
And might we see him working with Ford Kiernan again, after they teamed up to release a Still Game whisky earlier this year?
"It's like The Avengers," he laughed. "We're between the movies right now, doing the individual thing at the minute, but you never know what will happen when the call comes."
While Greg settles down to write, Julie will perform in a theatre show at the Beacon Arts Centre in Greenock next month.
"I love the theatre, so I'm really excited about that," she added. "It's a new piece of writing, which I always enjoy. If things like that keep coming my way, I'll be more than happy. We always make sure to work around our boys. Our 16-year-old has prelims coming up. Greg and I manage it well between us, there's always one of us there – it's a good wee routine we have going."
---
Scot Squad Hogmanay Special, BBC1 Scotland, 10.30pm. Series seven begins Jan 6, BBC Scotland, 10pm, with all episodes available on iPlayer from the 6th.
Queen Of The New Year, Hogmanay, BBC1 Scotland, 11pm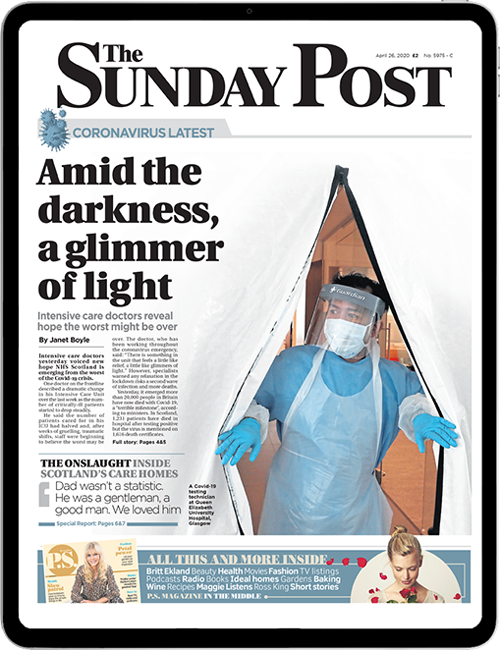 Enjoy the convenience of having The Sunday Post delivered as a digital ePaper straight to your smartphone, tablet or computer.
Subscribe for only £5.49 a month and enjoy all the benefits of the printed paper as a digital replica.
Subscribe