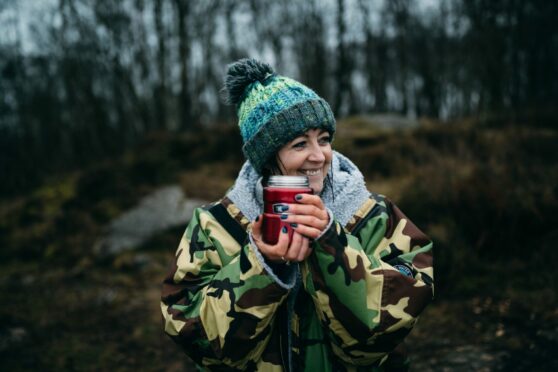 When life deals you a devastating hand, sometimes the best you can do is simply keep your head above water.
And that's exactly what Aileen Peter does almost every single day.
After the trauma of losing her 11-year-old son, Aileen turned to wild swimming to cope with her grief. From the shock of the icy water to the battle against the elements, the extreme sport mirrors the experience she has been through and offers a means of drowning her pain.
"Nothing in the world can prepare you for the loss of a child – and nothing can prepare you for the aftermath of losing a child," Aileen said. "I'm living a life of extreme pain that sometimes feels unbearable. The intensity of pain doesn't change because the intensity of the love I have for him doesn't change.
"It's hard going and takes a tonne of energy, bravery, hope, acknowledgement and joy to get through daily life.
"But I promised my son I would live a full and happy life. And that means finding the joy in pockets of life, even if that pocket is just a few degrees above freezing! I am thankful for every that second I'm alive."
It's been two and a half years since Aileen's son Joe died from cancer, just seven months after a shock diagnosis. While she admits the heartbreak haunts her every day, the resilient 52-year-old says finding a physical channel for her emotions is the key coping mechanism that helps her carry on with her own life.
"I wanted to take my pain and put it out into the universe in a positive way," she said.
"Before he died, Joe asked me to live a happy life. That doesn't mean jazz hands, it's just living the best life you can, taking joy from the smallest things."
Joe was just 10 when he began complaining of a sore arm. Aileen, a visual merchandising manager for Ikea, recalled: "You see things about children having rare diseases and cancers but it just doesn't register as something you will experience. I never thought it would happen to us.
"There were no signs. Joe was a really active kid. He played football twice a week, he trained twice a week. He was very understanding, kind, caring and aware of people's emotions. And he was full of fun.
"We first noticed there was something wrong on Halloween. He was carrying his sweetie bag round the neighbourhood but had to come and drop it at home because he said it was too heavy. This weakness in his arm came sporadically. We couldn't see anything, but then we weren't really looking. Then it became more regular."
Just a week before Christmas in 2018, Joe was sick through the night, prompting concern that something was wrong.
"The doctor told Joe to put his arms out in front of him. One kept falling down. We went for an X-ray, both in our Christmas jumpers, having a laugh. We talked about getting out and getting a takeaway for dinner. But the last doctor we saw wanted to keep him in and send him for an MRI.
"A nurse and consultant took me into a room and said they had found something in the back of Joe's neck and it was really bad. I couldn't quite register."
But when medics showed her the scan images, Aileen began to understand.
"It was like a horror film," she said. "There was a massive tumour from his second vertebrae to the 7th and inside his spinal cord. We were just completely traumatised – but somehow had to stop crying and be a happy parent in front of Joe. I think that's when I first started to find a coping mechanism, that I just had to use for the whole time. You have to take the information, put it away somewhere and go back and be a parent to your kid."
Joe was put on medication to reduce the tumour, but doctors needed to operate to perform a biopsy. He managed home for Christmas.
Weeks later, doctors delivered the bombshell news that the growth was cancerous – and incurable.
"They said there wasn't even a 1% chance of Joe surviving.
"Looking back, I think I found that easier to cope with because I understood what the chances were. If he had even a 1% chance of surviving, I would have clung on to that. To be told there was no chance was easier to process. Of course, as a parent, I was hopeful but we were realistic about the outcome.
"We hadn't told Joe he was going to die. We realised it was the best thing to do. We never lied to him, and he never asked outright. And we tried to make everything as fun as we could. We tried to make everything silly, make jokes and be as normal as we could as a family. It was a very warped way of living, but it worked for us. Joe was a beautiful child. He made it easy. We just wanted to make it easier for everyone to live."
In July, another MRI brought more bad news. The tumour had grown and Aileen and husband Paul, who also have a daughter Pip, 19, learned their son had just days left to live.
"We had to tell Joe, but thankfully the consultant did it for us. Joe asked her if he was going to die and she said 'yes'.
"He said obviously he did want us to think of him, but he wanted us to live happy lives.
"He asked if we could have a big party that weekend and of course, we had one.
"It was a gorgeous sunny day and everyone came. We had balloons and bunting and a cake with Joe's name on it. It was an amazing day. The following day his friends all came round – and we arranged for a petting zoo because Joe said he really wanted to hold a chicken!"
My freezestyle swimming dream: Chronic pain sufferer tells how wild dips ease agony
That night, Aileen, Joe's dad and sister held his hand, kissed him and told him they loved him as he took his last breath. Joe passed away on July 15, 2019, just seven months after diagnosis and a few weeks after his 11th birthday.
"There was nothing anyone could have done, even if they had found the cancer earlier," says Aileen.
"The funeral was a celebration of his life. That's what we wanted it to be and it helped us with it not being a sad affair.
"But that didn't stop the draining tiredness and grief. We were off work for a year.
"After Joe died, I thought it was important to try and see things from as positive a viewpoint as possible.
"It's a bit like having an emergency toolbox. You can put things in there, and reach in for them when you need to.
"For me, it was hillwalking. I would walk to the top of a hill at sunrise and shout Joe's name. It was mind-blowing and such a release.
"Then I discovered wild swimming which really flicked a switch, so I do that every day it's light enough. It just makes me feel really good.
"It slows down my breathing and I find it so calming. Of course, I would much rather Joe was still here but if I can positively live my life, that's what I'm going to do. After all, it's what Joe asked… that we be happy.
"Every day is hard, it's really hard. Especially the run up to Christmas. Joe loved it and so do I. But it's also the week when he went into hospital, when his journey began. It's when I start to remember all the little details. And it's so painful.
"But everyone has been amazing when it comes to support. Pip is fantastic, Paul and I separated just before Joe's anniversary but still understand what each other is going through and my work has been amazing.
"Some days I just cry because I miss my son. But there is always a good friend there to bring me a cup of tea and offer a hug. They are like a big family.
"I feel loved and supported and that makes a big difference. Some people just don't have that. This way the grief doesn't manifest itself.
"We all have to find our way of coping and for me, wild swimming is it. I also take a lot of pictures. I started to take them after Joe's diagnosis so we had plenty of memories. Now I try to take one each day to document a tiny thing that's beautiful, whether it's a sunset or a plant.
"Joe has taught us life is too short. I can't change the way my life is, but I can change how I live it."
---
Follow Aileen on Instagram @ap.picture.my.life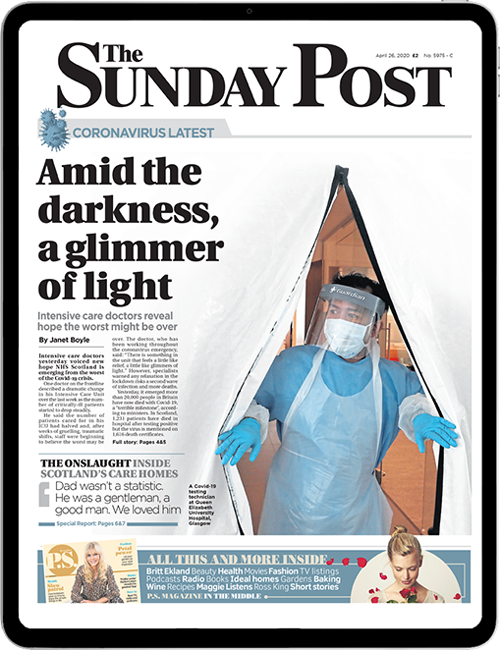 Enjoy the convenience of having The Sunday Post delivered as a digital ePaper straight to your smartphone, tablet or computer.
Subscribe for only £5.49 a month and enjoy all the benefits of the printed paper as a digital replica.
Subscribe