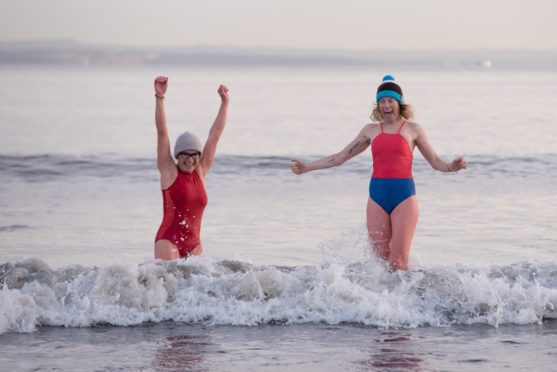 As the first wave of cold water hits you, it's hard to think about anything other than the icy goosebumps prickling your flesh.
Perhaps that's why plunging into Scotland's chilly lochs, rivers and seas has become such a popular all-year pursuit for those hoping to battle a range of physical and mental health issues.
More and more of us are squeezing into swimsuits – topping our outfit with woollen beanies rather than swimming caps – and wading into water that's often freezing, leaving our cares and worries behind on the shore.
In fact, in the past two years, the Outdoor Swimming Society say their membership has reached more than 70,000.
As a member of the society, photographer Anna Deacon admits there's nothing quite like the feeling of icy water biting at your skin as you take the plunge.
"I've always enjoyed swimming outdoors," she explained. "I grew up in England but my family are Scottish, so every summer we would come up to the Highlands, where I would swim in the lochs and rivers.
"When I moved back here three years ago, my cousin convinced me to try wild swimming – and I've not stopped ever since.
"We're so lucky in Scotland that we can swim anywhere. It's such an amazing, unusual freedom."
There are a range of health benefits associated with outdoor swimming, including improved mood, better sleep and a boosted immune system, and a recent study in the British Medical Journal found open-water sessions could even be an effect treatment for depression.
Having enjoyed invigorating swims all around the country Anna, 42, says her outings have even helped to ease painful joints.
She explained: "I have a lot of joint pain and there have been times when I've not be able to work – my hands have been so stiff and sore I couldn't operate a camera or drive a car.
"But I've found the more I swim in cold water, the more my joint pain goes down. I've had days where I've been in absolute agony from sciatica on the way down to the sea, then after my swim I would walk back with absolutely no pain, and that effect lasts a while.
"After athletes compete, they often go for an ice bath, so it's the same concept, really."
Along with her friend, journalist Vicky Allan, Anna has written a book documenting her adventures, providing advice for those hoping to take up the sport, as well as comments from expert naturalists, psychologists and medical doctors.
Exploring the range of benefits provided by swimming, Taking The Plunge is also illustrated with beautiful portraits, originally taken for Anna's popular Instagram page.
She said: "Last year I had a massive burnout after taking on way too much. I went out with my cousin on one of our swims and took my camera. I realised I needed to take a break from my commercial work, instead taking on a personal project that was just for me.
"I started going on more swims with people I didn't know, and often I would ask them if they minded having their portrait taken. Everyone was so up for it.
"I started putting the pictures on Instagram and it grew from there.
"I try to capture a range of different emotions. Sometimes people want or need the solitary quietness of being alone in the water, and other times, it's all about the fun of being in a group, running into the sea, having an absolute ball together. Taking The Plunge will be a bit of a self-help book, with chapters on grief, body confidence, community, depression and mental health, too."
She added: "You buzz all day after you've been out in the water – especially when it's cold. I've actually really been missing my cold swims recently. The weather has been lovely but you really want that bite of cold as you first get in. I've been having cold showers to get my hit!"
Taking The Plunge: The Healing Power of Wild Swimming For Mind, Body And Soul by Anna Deacon & Vicky Allan is published November 7, published by Black & White
---
Liz's story
This month, a show about how wild swimming can help people through grief appears at the Edinburgh Fringe, showcasing the healing power of water, nature and the stillness of the great outdoors.
Written and performed by Liz Richardson, SWIM explores the feeling of drowning in grief, and was inspired by the many outdoor swimmers she met while living in the Peak District.
"I grew up in the Lake District and we would spend whole days swimming in the rivers and lakes. But it wasn't known as wild swimming – we just didn't know any different," she explained.
"Then, many years later after living in London, I moved to the Peak District to start a family and I discovered a community of outdoor swimmers. I started to realise so many people were using open-water swimming to cope and heal.
"I met people who were grieving and turned to the outdoors and nature to aid their bereavement.
"The more conversations I had with people who had lost someone, who were swimming every day, the more I wanted to create the show.
"Talking about grief is totally different in the water than it is on land – everything is equal in the water, there's no judgment and you are just there in the moment."
During August, Liz is also holding weekly group wild swims on Portobello Beach, encouraging other performers to escape the hustle and bustle of the city.
She said: "I couldn't bring a show to the Fringe, which is based on the healing nature of water, without encouraging people to try wild swimming.
"It's amazing to come to Edinburgh for the Festival, but there is a lot of financial, mental and emotional pressure for performers.
"There's a huge body of water right on our doorstep, so it will be great to get people to join together, taking time away from the pressure of everyday life."
SWIM will be performed at Pleasance Beside until August 26. Visit lizjrichardson.com
---
Go on, dive in!
Loch Insh, Highlands
Fed by the River Spey, the muddy-bottomed loch provides the perfect backdrop for an afternoon dip. Whether you take to the vast expanse of open water or paddle by the shore, you won't be disappointed.
Fairy Pools, Isle of Skye
At the foot of the Black Cuillins, these magical pools attract visitors from around the world – but not everyone is brave enough to take a dip in the icy water. You'll also be able to enjoy cascading waterfalls.
Gullane Bents, East Lothian
With panoramic views across the Firth of Forth, the water at Gullane Beach has been given the highest classification by the Marine Conservation Society. Brace yourself for the chill as you squelch down the sand.
Loch Lubnaig, The Loch Lomond & Trossachs National Park
Nestled between Ben Ledi, Ben Vane and Ben Vorlich, this small freshwater loch is surrounded by picturesque wilderness. Take your camping supplies and spend a night under the stars.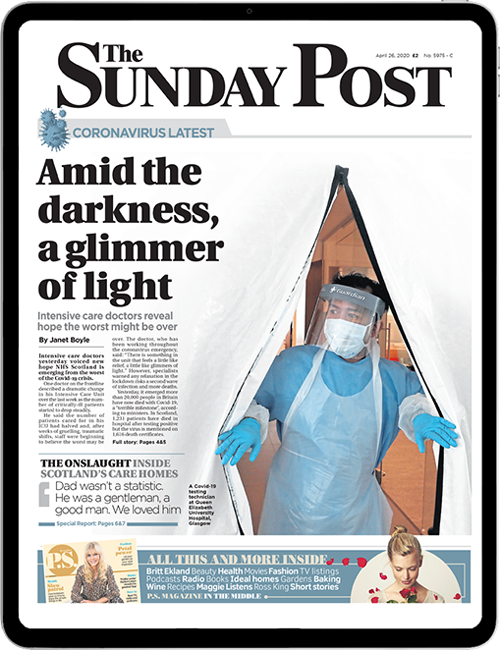 Enjoy the convenience of having The Sunday Post delivered as a digital ePaper straight to your smartphone, tablet or computer.
Subscribe for only £5.49 a month and enjoy all the benefits of the printed paper as a digital replica.
Subscribe