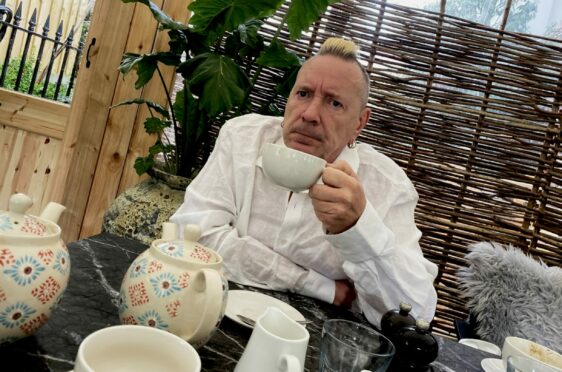 The truth is, you don't really interview John Lydon. It would be more accurate to say that you become his captive audience.
It is 9.30 on Friday morning in California and Lydon, frontman with the band Public Image Ltd (PiL) and, of course, former Sex Pistol Johnny Rotten, is giving me the full John Lydon experience. Comedy voices, face-pulling and proudly contrarian opinions.
In some ways, nothing has changed. Lydon has a new PiL album, End Of World, to promote and to do so he is having a go at everyone with whom he disagrees (and that's most of us), railing against Marxism and both the left and the right and what he calls corporate thinking.
This is the Lydon we all know; the one who thumbed his nose up at the Queen's Silver Jubilee all those years ago and horrified many fans by speaking out in support of Donald Trump more recently. In short, at 67 he remains as proudly, loudly Lydonesque as ever.
"I'm a square peg trying to fit into a round hole," he suggests. "I don't mean to be awful or difficult. It's just what nature made me."
And yet everything has changed, too. On April 6, Lydon's wife, Nora Forster, passed away at the age of 80. The couple had been married for 44 years. Forster was diagnosed with Alzheimer's in 2018 and Lydon had been her full-time carer until her death.
We know Lydon the provocateur so well now, but Lydon the human being? Sometimes it feels like he's buried beneath all the headlines. So the first question I ask him is, in the circumstances, not a casual one. How are you doing? "I'm alright," he says. "I'm very much alive."
Which, in the circumstances, is maybe the best we can ask for. "Yes it is. Life is our greatest gift and it's not to be cast aside regardless of your present situation. It is part of my belief system. And my lovely Nora's of course."
His late wife is an absent presence throughout our conversation. Lydon switches between past and present tense when he talks about her, not wanting to totally consign her to history just yet. You can hear the emotion in his voice when he speaks about Nora, but also the laughter when a memory bubbles up to the surface.
The couple met in 1975. Born in Germany and the daughter of a newspaper publisher, Nora Forster was nearly 14 years older than Lydon. She was also the mother of Ari Up, the singer with punk band The Slits. When Ari Up tragically died in 2010, Lydon and Forster became legal guardians to her three children. There is a lot of love in Lydon's story that sometimes gets overlooked amid the "filth and the fury" to quote an infamous tabloid headline about the Pistols.
What is his own definition of love? "Oh, endless arguments, pointless exchanges of banality and then moments that are so dramatically insightful that the word love seems trivial to describe it as. When you absolutely become the same person, those wonderful magnetic moments of plus and minus. Lovely.
"And we can't all be the same and I often work best when we are polar opposites. It's just how me and Nora work. 'What are you doing that for?' 'I'm not telling you.' We had that way with each other."
Caring for someone when they are ill, I suggest, is perhaps the ultimate expression of love. "Yeah, it probably is," he replies. "But for me it's automatic and instinctual and I don't even think about it." He pauses infinitesimally. "Now I can. Now that period is ended."
The new PiL album is a noisy, angry, sometimes wrongheaded, often thrilling thing. Over more than 40 years and the inevitable changing rota of members, the band has always sounded like no one else. "Isn't it odd that I've been the consistent member? Heaven help us if we give me credit for anything," Lydon says, cackling.
And PiL can still surprise. The highlight of the album is Hawaii, a love song for Nora. Earlier this year, Lydon and the band performed it in a televised competition to choose the Irish entry for this year's Eurovision. PiL didn't win the public vote but Lydon considers that it was a positive experience.
"Oh yes, it ended up that way. I mean it was lovely that they invited us on, really lovely. Friends of friends had heard we had written this song that was affiliated to Nora and invited us on the show and then it blew into whatever it did when we got there.
"But doing it live on TV and knowing there were millions watching was a terrifying and exhausting and frightening experience in itself. But also because the lyrics meant so much. And I knew she could die at any point when I went on to do that song, so I sang it crying the whole way through. Tears rolling. And I didn't know if that came off right until I took the tape back home, played it to Nora and she loved it.
"She picked the pink tartan suit that I had on. She recognised it. We visit some of these home shopping networks from time to time just for a laugh. 'Would you wear that?' 'Oh, I would wear that.' That kind of repartee.
"And she didn't know I'd bought it secretly. Heaven! Then she was respected. Her view was counted.
"And through all of this she's never forgotten me," he adds. "In the middle of the night she'd wake up frightened, she'd look over and she would touch me … 'Oh Johnny.' So I was her safety barrier. That's its reward right there. And I will never forget her." A breath and then Lydon the performer reappears for a moment. "The album isn't just about that," he reminds me. "That's just one area. She gave me the ability to be able to dive into all of the subject matters that I find interesting in life."
The album is now out and he's about to go on tour with the band. Lydon is showing no signs of letting up. Maybe with good reason. When I lost my wife almost four years ago, I tell him, work was a solace. Is that what it's been to him? He starts talking about the upcoming tour for a moment. "I imagine it's going to be hard, but I've got humour and I'm intelligent enough to know that if I cease working this would really, really annoy Nora. She would be very angry at me for the self-indulgent pity zone you can so easily fall into." He kind of did, he admits. "I mean, I had two months of solid alcohol," he adds, referring to the time just after Nora's death. "I didn't know how to cope with anything. I'm sensible enough to look at myself and go, 'well, that has to stop'.
Will singing Hawaii on tour be difficult? "No. You see she has passed. The biggest fear was I had to be in Ireland and she would die while I wasn't there. That was a living nightmare."
Lydon has lived his life in the public eye for decades now, since the early days of The Sex Pistols when he and the rest of the band quickly became the target of the British tabloids. What must have it been like to be in the eye of that media storm back then? "A big surprise for a shy little thing like myself," he says.
But he was always able to cope, he says.
"Others weren't quite so lucky," he points out, referring to his friend John Simon Richie, aka Sid Vicious, who would die of an overdose after being accused of murdering his girlfriend, Nancy Spungen.
"Sid couldn't handle it at all and he had the dilemma of his mother being a heroin addict and so that was a slippery route he was on anyway, poor thing.
"Many people who resort to drugs are covering up the fear and the shock and horror and the hatred that is thrown at you. It all happened instantaneously. And, to be quite honest, [there were] no adults around to protect us from that."
That was then. All these years later, Lydon has carved out an idiosyncratic, unique and, yes, at times, disputative career in music. Soon he will be back in Scotland, one of his favourite places, to perform. "I love the people. I love your friendliness. I love the open wit. It's a magnificent gift. And being a bit of an old Celt myself I can relate to it."
It's almost time to go. It's good to see him in good form, I say before I do. "Listen, I am lighthearted during the day, but at night when I'm alone that's quite horrible at times, quite awful. But you have to deal with it. It ain't going to change and it's not of my free will. I didn't make this decision. It's a natural process." There is John Lydon in a nutshell, a man cloaked in pain and defiance. He wears it as well as he can.
---
PiL plays Beach Ballroom, Aberdeen, on September 19 and 02 Academy, Edinburgh, on September 21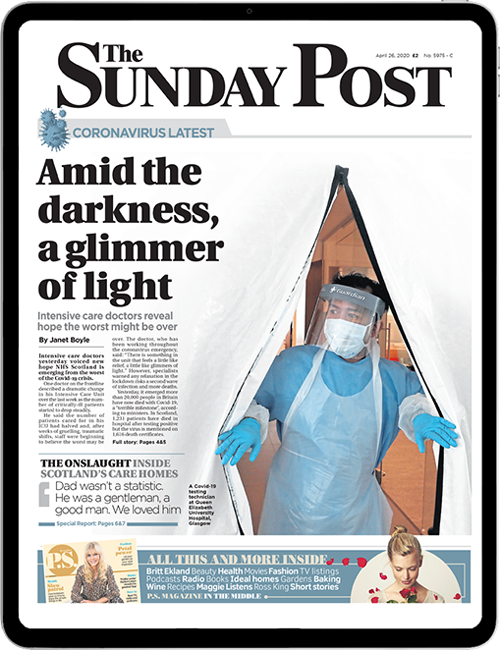 Enjoy the convenience of having The Sunday Post delivered as a digital ePaper straight to your smartphone, tablet or computer.
Subscribe for only £5.49 a month and enjoy all the benefits of the printed paper as a digital replica.
Subscribe