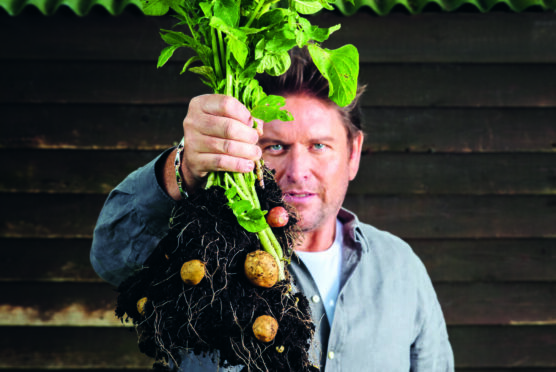 When describing potatoes, one of the world's most ubiquitous and affordable vegetables, we often use the word humble.
James Martin prefers to say unique, special, flavoursome and, ultimately, classic.
In fact, it was the taste of hot, buttery potatoes, freshly picked from his grandad's garden, that first sparked the acclaimed chef's passion for food.
"There's defining moments in anybody's life in terms of what they go on and pursue as a career, and mine was when I was quite a young kid," explained the TV chef, who hosts a Saturday-morning show on ITV.
"My family were farmers but my grandad and my uncle had allotments – my uncle was more of a greenhouse guy, tomatoes, cucumbers and lettuces, while my grandad was roses and potatoes and turf.
"I remember him digging potatoes with me when I was a kid, taking them into the house, scrubbing them clean, and then putting them in a pan to boil. They were served with just butter and a little bit of curly parsley. Just delicious. That was certainly one of the catalysts that set me on the road to my career."
Aptly, Martin's latest cookbook centres around the spud, offering more than 100 recipes for everything from simple sides like crispy roasties and the perfect chips to more complex dishes such as pommes Parisienne with pork chops and potato pie with sardines.
Ultimately, he says, the collection of recipes is a celebration of a versatile ingredient that we often take for granted.
He said: "Potatoes can produce an amazing meal as a main ingredient. Take potatoes thinly sliced with onions and water, and you've got pomme boulangère. Or you could have dauphinoise, which is with cream, milk and a bit of garlic.
"Then you also have the classic tartiflette, with cooked onions and sliced potatoes, layered up with robuchon cheese, then baked in the oven for 45 minutes to an hour. Even the humble baked potato, which can be bought for 60p or 80p, is a whole meal with cheese and beans on the top."
On my plate: TV cook James Martin on his churning love for butter
However, his favourite way to serve is also one of the most simple: "Really good mashed potato is the ultimate comfort food with butter, cream and a nice bit of salt and pepper.
"Whether it's topped with cheese and put under the grill, served with little bit of sausages and gravy or glammed up in a restaurant with calves liver, onions and crispy sage, mash is just amazing."
Although we tend to think of potatoes as dishes – baked, roasted, mashed and fried – Martin says it's important to consider the variety, too, as different types have their own specific taste, texture and use. For example, Marabel potatoes, one of his favourites, are best for baking in the oven while Kind Edwards are the best for crispy Christmas roasties.
"Don't just go in the supermarket and buy randomly – spend a second looking at the bag," he explained. "On the bag, not only will it say, for example, baking potatoes, it will also tell you what variety they are, too."
How to make the perfect roast potatoes
With Christmas just around the corner, here are James Martin's tips for making the perfect roast potatoes.
"Put them on a tray with the fat and freeze them before cooking – and never roast them in the same oven as your turkey or meat," says the author and ITV presenter, explaining how to prep a festive feast the entire family will love.
"You need to take the meat out, let the temperature of the oven rise back up, then put the roast potatoes in. If you try to put them all in together, there's so much steam generated by the turkey, the oven doesn't heat up to the required 200 degrees to get the potatoes nice and brown.
"The meat needs to rest for at least an hour before you carve it anyway, otherwise it will just drop to bits, so take it out and cover with tin foil."
As for the best spuds to buy? Always shop around, but Martin says: "King Edward potatoes are the best at this time of year for roasties because they have a crispy outside and soft inside."
BBQ pork ribs with slaw and jacket potatoes
Serves six. This is one of the first ideas I had when I got involved with SpudULike – slow-cooked ribs with a nice slaw, served with beautifully cooked, fluffy, jacket potatoes. Marabel are the best baking potatoes you will find. At SpudULike we prick them with a fork and cook them for one hour 20 minutes – no oil, no salt, just beautiful crispy skin and a creamy, buttery texture.
You'll need:
4 baking potatoes
2 x pork rib rack
1 onion
1 carrot
A few black peppercorns
1 bay leaf
1 teaspoon smoked paprika
1 teaspoon chilli powder
2 tablespoons salt
2 tablespoons caster sugar
For the slaw
1 carrot, peeled and julienned
½ mooli, julienned
¼ red cabbage, thinly sliced
1 red onion, sliced
1 small bunch of coriander, chopped
Mayo, to bind
Sea salt and freshly ground black pepper
For the sauce
250ml tomato ketchup
25ml white vinegar
100g soft brown sugar
1 garlic clove, minced
80ml dark soy sauce
100ml maple syrup
To serve
Butter
Crème fraîche
Chives
Crispy onions
Method:
Preheat the oven to 180°C (160°C fan)/350°F/gas 4.
Prick the potatoes all over with a fork, pop on to a baking tray and bake for 50 minutes. Increase the temperature to 200°C (180°C fan)/400°F/gas 6 and bake for a further 30 minutes.
Place the ribs, onion, carrot, peppercorns, bay, leaf, spices, salt and sugar in a large pan and add enough water to cover. Bring to the boil, then simmer for an hour, until tender. Remove the ribs from the saucepan and place on to a baking tray to cool.
Place all the sauce ingredients in a small pan, bring to the boil, then simmer gently for five minutes until thickened. Use to brush liberally over the ribs, then place in the oven and roast for 15-20 minutes, glazing with more sauce halfway through.
Meanwhile, make the slaw. Mix together the carrot, mooli, cabbage, onion and coriander in a bowl, adding enough mayo to combine, then season.
To serve, split the potatoes, top with butter and slaw, then top with the ribs. Dollop on crème fraîche and sprinkle over chives and crispy onions.
---
Potato: Baked, Mashed, Roast, Fried: Over 100 Recipes Celebrating Potatoes, Quadrille, £23, is available now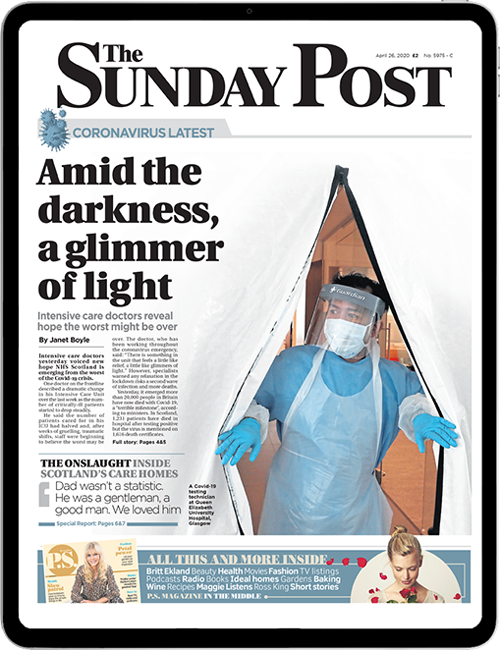 Enjoy the convenience of having The Sunday Post delivered as a digital ePaper straight to your smartphone, tablet or computer.
Subscribe for only £5.49 a month and enjoy all the benefits of the printed paper as a digital replica.
Subscribe