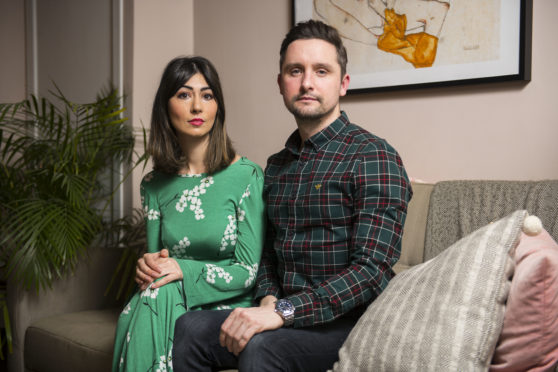 When a holidaying couple saw a drunk man being huckled from a departure lounge bar before their flight to Spain they suspected they might be in for a bumpy ride.
It turned out that Natasha Radmehr and her boyfriend Jamie Flynn were not wrong.
Their Ryanair journey from Prestwick to Malaga on Valentine's Day made headlines when it was diverted to Madrid after a fight broke out as a drunk man started pestering a hen party on board.
Passengers said they witnessed a "full fist fight" as two men started trading blows in the aisle – causing "absolute chaos".
When the aeroplane landed in Madrid the disruptive passenger was met by Spanish police.
As a result of the disruption the flight arrived in Malaga after 1am, almost three hours late and, with no public transport, passengers had to pay for taxis to their final destinations.
"We had booked a rental car from Malaga Airport but the office shut at midnight, so we had no other option than to get a cab to our apartment at Mijas which cost €40," said Natasha, 32, from Glasgow.
"A lot of people were in the same boat and one man had a three-hour journey in a taxi ahead of him which must have cost a small fortune."
The couple had little option but to cancel their car hire because it would have cost another €40 to return to the airport the next day, while using up a big chunk of time earmarked for sightseeing. "It meant that we abandoned our plans to do some touring and it caused us a lot of inconvenience," she added.
Natasha, a magazine editor, and Jamie had paid £189 for return flights. However, when they asked Ryanair for compensation the airline declined, stating that the events were "outwith their control."
"I was furious at that response because it was clear that some people had been drinking too much at Prestwick and a man was taken away by police before the flight," said Natasha.
"An announcement was then made that no drink would be served on the plane but after we took off alcohol was freely available which I'm sure didn't help with the trouble that happened later.
"We were also angry at Ryanair because when the plane was diverted to Madrid and the drunk man was removed, just before we took off again one of his friends announced that he wanted off the plane too.
"There was another half-hour delay while his baggage was located. I'm pretty sure Ryanair had some control over that situation."
When Raw Deal contacted the Irish airline, it reiterated that it would not pay any compensation to passengers as "this diversion and subsequent delay was beyond Ryanair's control."
Ryanair said: "The safety and comfort of our customers, crew and aircraft is our number one priority."
Natasha and Jamie now intend to take their complaint to the Civil Aviation Authority.