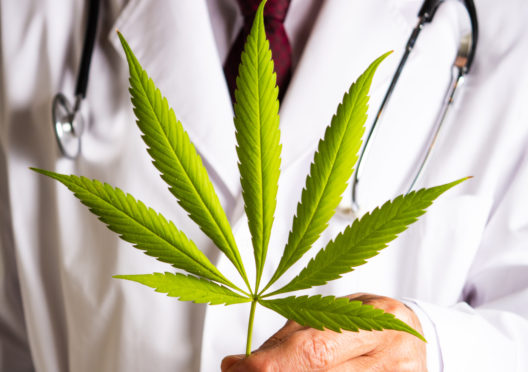 From lavender and cedarwood to chamomile and aloe vera, aromatherapists have long hailed the healing power of plants.
But in recent years a new – and somewhat controversial – all-natural plant extract has grown in prominence, finding its way into everything from face creams to dietary supplements.
Promising calmed nerves, better digestion, improved skin, pain relief and even a better night's sleep, Cannabidiol (CBD) is derived from a chemical compound found in the hemp plant, which is a variety of cannabis. According to some reports, sales of the extract have doubled over the past two years in the UK.
What's more, it's estimated the UK market for CBD-infused products could be worth almost £1bn annually by 2025.
With potent anti-inflammatory properties, CBD has taken over the wellness world, and it's popularity looks set to continue, especially after the announcement last year that specialist doctors will be allowed to legally prescribe higher strength cannabis-derived medicinal products for certain conditions, such as epilepsy.
But if you don't know much about the extract, which can be bought in low doses over-the-counter in health food shops, it can be a little intimidating.
Leah Vanderveldt, author of The CBD Kitchen, admits people have lots of questions about CBD and its uses, the first of which is usually, "Will it get me high?"
She said: "The answer is a definite no, it doesn't. THC is the main chemical compound that gets you high or stoned.
"CBD will contain some trace amounts of THC, which actually help the CBD work more effectively in the body, but the amounts are so small that they have no psychoactive effect.
"I started using CBD because I was looking for an anti-inflammatory supplement to ease period cramps rather than relying on taking over-the-counter painkillers every month.
"I liked the sound of something that could help with both pain and possibly anxiety, so I decided to give it try."
Available to buy as an extract which can be added to food and drinks, as well as within the ingredients of beauty products and supplements, there are an estimated 250,000 regular CBD users in the UK.
Leah, like many other fans of CBD, says continuous use can help alleviate various health complaints, including pain, inflammation and anxiety. And there have been some limited trials to back up the claimed benefits.
For example, a recent study, published in the European Journal Of Pain, found that applying a topical gel containing CBD to rats with arthritis for four days resulted in a significant drop in inflammation and signs of pain, without additional side effects.
Earlier this year, another article, published in The Permanente Journal, found CBD may prove beneficial for anxiety-related disorders.
Their study of 103 adults showed 79% of patients with anxiety and poor sleep experience reduced anxiety within the first month of receiving CBD capsules, and their symptoms remained decreased throughout the study.
Topical hemp seed oil, which is applied to the skin rather than ingested, has also been found to calm inflamed and irritated skin, easing acne and dry, itchy skin, as it is rich in omega-6 and omega-3 fatty acids.
"CBD can be subtle," Leah explained. "With something like pain reduction, I think it has a cumulative effect but you do really notice it, whereas for something like anxiety, the effects can be a bit gentler.
"Results can be as simple as realising you just feel better or are aware of an absence of symptoms, like the feeling of a knot in your stomach." She added: "As CBD pops up in more places and products, a lot of people are curious about it but a little intimidated.
"My book is partly an introduction for the beginner who just needs some friendly, practical advice from someone who's experienced the benefits first-hand, as well as for people who are already taking CBD but may be looking for new ways of incorporating it into their routine."
---
FAQ
What is CBD?
Cannabidiol (CBD) is one of more than 100 different cannabinoid compounds found in the cannabis or hemp plant. Alongside THC (Tetrahydrocannabinol), it is the most commonly derived extract from the leaves and flowers. However, unlike THC, CBD does not have psychoactive properties, so it will not make you "high".
Is it legal?
Readily available from high street shops and online, CBD is legal when sold as a food supplement. To be legally sold in the UK, cannabis oil cannot contain more than 0.2% THC and the THC must not be easily separated.
Will CBD make me high?
As CBD does not contain the psychoactive cannabinoid compound THC, it will not make you high.
What can CBD be used for?
Some CBD products boast medicinal properties, such as relieving pain, inflammation, anxiety and tiredness. While there is some evidence of the benefits of CBD, the NHS says more research and clinical trials are needed to verify the claims. If you have any concerns, speak to your GP.
Where can I buy CBD?
High street health food stores, such as Holland & Barrett, have a range of products in different strengths. You must be over 18 to buy them.
---
The CBD Kitchen: Over 50 Plant-Based Recipes For Tonics, Easy Meals, Treats & Skincare Made With The Goodness Extracted From Hemp is out now, Ryland Peters & Small, £12.99