It was an outpouring, an exceptional press conference at the start of what has already become an exceptional World Cup in Qatar.
In an hour-long tirade, Fifa president Gianni Infantino accused Western countries of moral hypocrisy before the tournament kicks off today.
The staging of the tournament in Qatar has been the subject of relentless concern since the decision was taken in 2010 as critics question the human rights records of the tiny country where thousands of migrant workers reportedly died building the stadia and infrastructure.
However, in an astonishing, sustained outburst, Infantino said the historical crimes of Western countries meant they should be apologising not Qatar. He rejected concerns over issues, including LGBT rights, saying he understood how minorities can be subjected to hatred because, when he was a boy, he was bullied because of his red hair and freckles.
He said: "Today I have strong feelings. Today I feel Qatari, I feel Arab, I feel African, I feel gay, I feel disabled, I feel a migrant worker.
"We have been taught many lessons from Europeans and the Western world. I am European. For what we have been doing for 3,000 years around the world, we should be apologising for the next 3,000 years before giving moral lessons.
"If Europe really care about the destiny of these people, they can create legal channels – like Qatar did – where a number of these workers can come to Europe to work. Give them some future, some hope.
"I have difficulties understanding the criticism. We have to invest in helping these people, in education and to give them a better future and more hope. We should all educate ourselves, many things are not perfect but reform and change takes time.
"This one-sided moral lesson is just hypocrisy. I wonder why no-one recognises the progress made here since 2016."
More than 6,500 migrant workers from India, Pakistan, Nepal, Bangladesh and Sri Lanka are estimated to have died in Qatar since it won the World Cup bid.
The number is based on figures provided by the countries' embassies in Qatar but the International Labour Organisation (ILO) says this is an underestimate.
Infantino added: "It is not easy to take the critics of a decision that was made 12 years ago. Qatar is ready, it will be the best World Cup ever.
"Of course I am not Qatari, Arab, African, gay, disabled or a migrant worker. But I feel like them because I know what it means to be discriminated and bullied as a foreigner in a foreign country.
"As a child I was bullied because I had red hair and freckles. I was bullied for that."
He also addressed concerns over alcohol consumption after Fifa changed its policy on Friday and announced no alcohol would be served at any of the eight World Cup stadiums.
Infantino said: "If this is the biggest issue we have for the World Cup then I will resign immediately and go to the beach to relax.
"There will be many fan zones where you can buy alcohol in Qatar and fans can simultaneously drink alcohol. I think if for three hours a day you cannot drink a beer, you will survive.
"Especially because the same rules apply in France, Spain, Portugal and Scotland. Here it has become a big thing because it is a Muslim country? I don't know why."
Steve Cockburn, Amnesty International's Head of Economic and Social Justice, was incensed by Infantino's comments.
He said: "In brushing aside legitimate human rights criticisms, Gianni Infantino is dismissing the enormous price paid by migrant workers to make his flagship tournament possible – as well as Fifa's responsibility for it.
"If Fifa is to salvage anything from this tournament, it must announce that it will invest a significant part of the $6 billion the organisation will make from this tournament and make sure this fund is used to compensate workers and their families directly."
The Trades Union Congress (TUC) warned the UK Government to "pull its weight" and put pressure on the Gulf state over workers' rights abuses. The organisation said evidence from more than 20 workers and research revealed exploitation remains in Qatar even as the World Cup kicks off.
General secretary Frances O'Grady said: "Employers in Qatar are out of control. They are flagrantly breaking the law and exploiting workers and the Qatari government is turning a blind eye.
She added: "The World Cup saw billions poured into Qatar but that money has lined the pockets of greedy bosses – not the workers who built the infrastructure.
"There is no good reason for a trade deal with the Gulf States when human rights, women's and LGBT rights and labour rights abuses are so widespread. Ministers should do the right thing and walk away from negotiations until fundamental rights are respected."
Jim Murphy on why his belief in football as the beautiful game died in the migrant work camps of Qatar
The news comes after migrant workers employed as security guards at the centre of the tournament revealed they were paid as little as 35 pence an hour.
The men, stationed across Al Bidda Park, next to the Fifa Fan Festival in Doha, said they worked 12-hour shifts and claimed they usually get just one day off a month.
Meanwhile, French President Emmanuel Macron confirmed he will go to Qatar if France reach the semi-finals as Didier Deschamps' side attempt to defend the trophy they won in 2018.
He said the host nation's human rights record and the environment were "questions you have to ask yourself when you award the event".
Last month, Paris city officials said they will not broadcast World Cup matches on giant screens in public fan zones.
Scottish FA chief executive Ian Maxwell is expected to travel to Qatar for today's opening ceremony but yesterday the governing body declined to comment on the trip.
Big switch off feared as pubs say fans don't seem interested
Pubs and restaurants across Scotland are braced for a low-key World Cup as football fans turn their back on the Qatar tournament, according to a licensed trade chief.
Paul Waterson, of the Scottish Licensed Trade Association (SLTA), said few, if any, venues were holding World Cup parties and special events.
The combination of Scotland failing to qualify, deep concerns over Qatar's human rights record and the tournament kicking off so late in the year led to the event being a washout north of the border, he said.
Waterson said: "Things will definitely be more muted. The run up to the tournament has been very quiet and once it kicks off it will be very low key here.
"There are concerns over the political and human rights problems in Qatar, the fact that Scotland won't be there and also it is being held really late in the year.
"People are now starting to think about Christmas nights out rather than the World Cup. All of that will contribute to it being very quiet."
Around 3,000 to 4,000 England fans are expected to travel to Qatar for the group stages with numbers set to increase if Gareth Southgate's side reach the knockout stages. Some 2,000 to 3,000 Wales fans are also expected to fly out to the tournament.
At home, some English pubs and bars are refusing to show any matches in protest against Qatar's human rights record. John Sizzle, 54, co-owner of London-based bar The Glory, said: "It's disappointing that human rights haven't been considered when putting on an event as big as this one.
"Of course we will listen to our customers and if there is demand for it and it's a celebration then we will put it on but, based on what I've seen so far, there won't be interest.'
Nicola Moxham, of the Mustard Pot in Leeds, said: 'We always show the big football matches, we always show the World Cup. I started to look into it a bit more and realised it is distressing for a lot of people. So we've had a U-turn and we're no longer showing it."
Hundreds of Wales fans are travelling to Tenerife to enjoy the tournament after being priced out of a World Cup trip to Qatar.
Bethany Evans suggested the idea on Twitter after realising the cost of going to Doha. The 25-year-old's tweet has gained 2,500 comments and the Facebook page she set up has more than 2,000 members.
Bethany flies out to Tenerife today while hundreds of other fans are expected to arrive on Wednesday.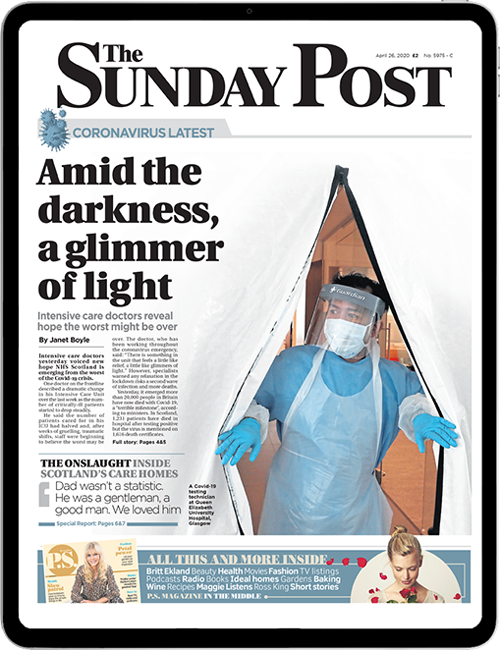 Enjoy the convenience of having The Sunday Post delivered as a digital ePaper straight to your smartphone, tablet or computer.
Subscribe for only £5.49 a month and enjoy all the benefits of the printed paper as a digital replica.
Subscribe