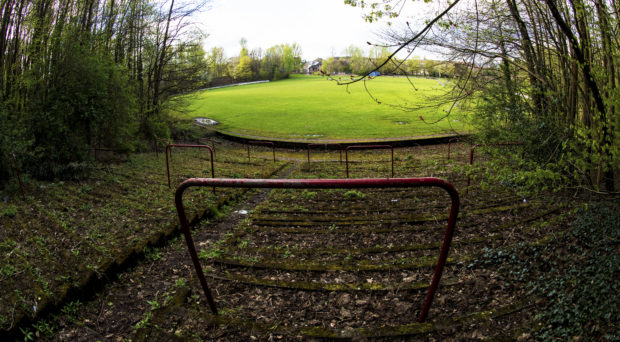 It is almost exactly 53 years since senior football was last played at Cathkin Park.
Third Lanark drew 3-3 with Queen of the South on April 25, 1967.
Just a few weeks later, the famous old club's 95-year spell in the Scottish League was over.
Mismanagement and corruption led to the "Hi-Hi" being wound-up, six years after they had finished third in Scotland's top flight.
A football pitch and remnants of the terracing remain as part of a municipal park on the south side of Glasgow – a reminder of the glory days and an inspiration for those trying to revive the club.
Former captain Alan Mackay grew up as a Thirds supporter and remains passionate about their past, present and future.
He said: "I took my grandson to see Cathkin Park just a couple of months ago.
"I still pop in to see the ground when I'm in Glasgow.
"There's a slightly strange atmosphere when I go back there. It's a little eerie to stand on the terracing and think back to the games I played in.
"Cathkin is a place that's in my heart forever. There are a lot fond memories, but also a feeling of tragedy because of the way the club was run into the ground."
Alan didn't play in Thirds' last home match as his disquiet at how events were unfolding resulted in him being banished from the club.
He recalled: "I was captain, but the chairman, Bill Hiddleston, banned me for the last three games.
"I don't know why. There was no explanation. The manager, Bobby Shearer, didn't know why either.
"That nearly broke my heart.
"We now live in a world of transparency and openness. Directors have to account for their actions.
"But in 1967, we finished the season, then heard from the Scottish League that Thirds had gone.
"I was speechless. It was such a tragedy."
An attempt by Hiddleston – the club's unscrupulous major shareholder – to sell the ground for property development was always destined to fail.
Glasgow City Council stated the site must be used for recreational purposes.
There is now a Third Lanark amateur football team but, rather bizarrely, they are unable to play at the old ground.
Alan Mackay said: "I was involved with a committee to try to get the ground back for the club. It would be an absolute joy if Third Lanark could play at Cathkin Park again, but I think it's going to be difficult."
Third Lanark fan, and the club's fundraising director, Pat McGeady, has spent years working to take Thirds back to their old home.
He said: "I will never give up on Cathkin. To watch Third Lanark run out on the pitch again would fulfil my lifetime ambition."
Record attendance: – 45,455 v Rangers, 1954.
---
Shawfield
Team: Clyde
Record attendance: 52,000 v Rangers, 1908.
Final match: Clyde 4, Alloa Athletic 2, April 28, 1986
Clyde were kicked out by the Greyhound Racing Association in 1986. The GRA were unable to sell the ground for redevelopment, and the venue was acquired by a consortium that continues to use it for the dogs.
After ground-sharing at Firhill and Douglas Park, Clyde moved to their current home – Broadwood in Cumbernauld – in 1994.
---
Douglas Park
Team: Hamilton Accies
Record attendance: 28,690 v Hearts, 1937
Final match: Hamilton 2, Dumbarton 1, May 14, 1994
The turnstiles were sold to Falkirk and part of the main stand was bought by Auchinleck Talbot when Accies moved out.
A supermarket sits on the site of the old ground, with Hamilton's current home sitting almost next door.
---
Kilbowie
Team: Clydebank
Record attendance: 14,900 v Hibs, 1965
Final match: Clydebank 1, Hamilton 3, April 27, 1996
Davie Cooper's sale to Rangers for £100,000 in 1977 funded a new stand, and bench seating made it the first all-seater stadium in Britain. The Bankies ceased to be a senior club in 2002 and Kilbowie is now a retail park.
---
Bayview
Team: East Fife
Record attendance: 22,515 v Raith Rovers, 1950
Final match: East Fife 2, Livingston 3, October 31, 1998
Bayview was expanded during a golden era between 1938 and 1955, when the Fifers won the League Cup three times and the Scottish Cup once.
The ground was sold to developers and New Bayview was built.
---
Brockville
Team: Falkirk
Record attendance: 23,100 v Celtic, 1953
Final match: Falkirk 2, Inverness CT 3, May 10, 2003
Having changed very little for decades, Brockville was demolished in 2003 and a Morrisons supermarket built on the site.
The Bairns shared with Stenhousemuir for a season before moving to their present home, the Falkirk Stadium, on the outskirts of the town.
---
Broomfield
Team: Airdrie
Record attendance: 24,000 v Hearts, 1952
Final match: Airdrie 1, Dunfermline 0, May 7, 1994
Best remembered for the distinctive pavilion that was constructed 15 years after the ground was originally built in 1892.
A supermarket now sits on the site, which was sold in 1994.
The Diamonds moved to the Excelsior Stadium in 1998.
---
Muirton Park
Team: St Johnstone,
Record attendance: 29,272 v Dundee, 1951
Final match: St Johnstone 0, Ayr United 1, April 29, 1989
Asda purchased Muirton and a neighbouring ice rink to build a new superstore.
Saints moved to the western edge of Perth and built McDiarmid Park, named after a farmer who had donated 16 acres of land on which the current stadium is built.
---
Love Street
Team: St Mirren
Record attendance: 47,438 v Celtic, 1949
Final match: St Mirren 0, Motherwell 0, January 3, 2009
The ground was sold to a supermarket chain for redevelopment. Planning difficulties saw that plan shelved and a housing estate now sits on the site of the former stadium.
Some world greats, such as Johan Cruyff and Ruud Gullit, trod on its turf.
---
Boghead
Team: Dumbarton
Record attendance: 18,001 v Raith Rovers, 1957
Final match: Dumbarton 2, East Fife 1, May 6, 2000
Boghead was the oldest Scottish ground in continuous use when it closed.
It is also known further afield as home of fictional team Kilnockie FC in Robert Duvall's film, A Shot At Glory.
The Sons' old ground is now a housing estate.
---
Annfield
Team: Stirling Albion
Record attendance: 26,400 v Celtic, 1958
Final match: Stirling Albion 2 Clydebank 0, May 2, 1992
Annfield hosted the first game in Scotland on a synthetic surface in 1987.
Stirling Council had taken ownership and replaced it with Forthbank Stadium, the former site becoming a housing development.
---
Firs Park
Team: East Stirling
Record attendance: 12,000 v Partick Thistle. 1921
Final match: East Stirling 3, Montrose 1, April 26, 2008
The cost of meeting ground regulations saw the club leave after 88 years.
The Shire had spent a year away during a brief merger with Clydebank in 1964.
They currently ground-share with Falkirk, with their old home abandoned.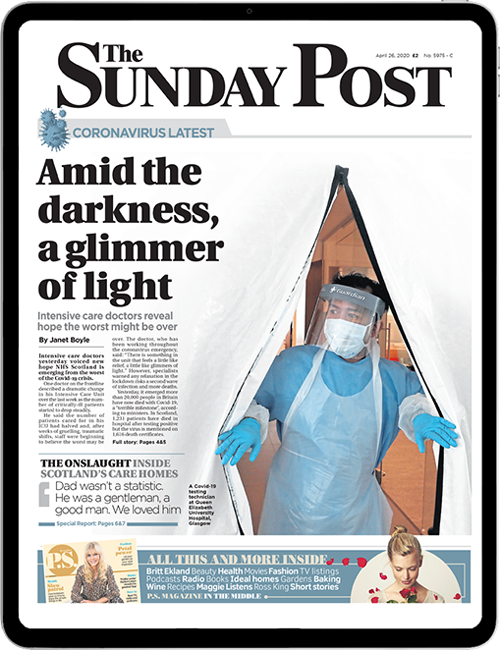 Enjoy the convenience of having The Sunday Post delivered as a digital ePaper straight to your smartphone, tablet or computer.
Subscribe for only £5.49 a month and enjoy all the benefits of the printed paper as a digital replica.
Subscribe