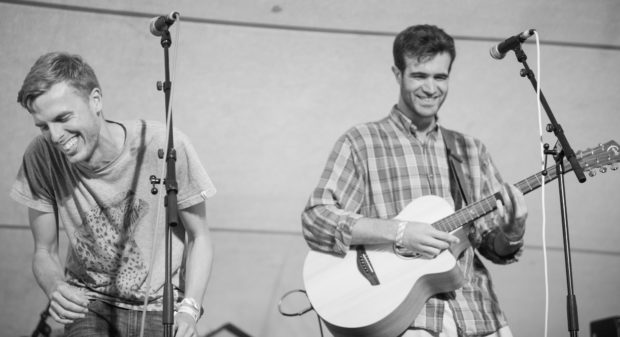 Fusing their skills in comedy, rap and jazz, Harry and Chris are returning to the Edinburgh Fringe this summer.
Perennial favourites of The Sunday Post, the duo take to the Underbelly White Belly with latest show This One's For The Aliens.
With life on Mars looking likely one day, expect crisp wordplay and catchy melodies as Harry and Chris take on the mammoth challenge of spinning planet earth to the rest of the universe.
Having sold-out three Edinburgh shows, the duo of poetry champion Harry and jazz musician Chris have also appeared on The Russell Howard Hour, and are currently competing on US comedy competition show Bring The Funny in front of star judges Kenan Thompson, Chrissy Teigen and Jeff Foxworthy.
Here, they answer our Fringe Q&A…
---
How are you feeling ahead of your return to the Edinburgh Fringe?
SO excited! Mainly because we hoped we'd get to speak to The Sunday Post again, so we're slightly worried we might have peaked too soon. Every year has built on the previous one, so we're hoping we can continue that trend.
Last year we tried to save the world through comedy-rap-jazz and we're all still here, so this year we've set our sights even higher and we're taking on the universe.
---
What prep work have you been going through before heading for the festival?
Other than prepping the greatest intergalactic-themed comedy-rap-jazz the world has ever seen, Harry introduced Chris to hot yoga, one of the most uncomfortable experiences he'd ever had, and Chris had a baby! I think that counts as prep work too, as the baby has been quite inspirational for new material.
As a disclaimer, we're filling out this Q and A together so we're speaking in third person to not confuse things, but also we're hoping to get famous enough to speak about ourselves in third person anyway.
---
How is your quest to bring Comedy-Rap-Jazz to the world going?
It's going objectively well, because four years ago the genre didn't exist, so we're going to claim a lot of the credit for making it a thing. Our quest/calling to bring comedy-rap-jazz to the world has also benefited from some fantastic publications (wink wink) kindly reviewing our shows, and incredible journalists whose names rhyme with Boss Brae championing our act.
---
What's the story behind your new show?
As space-travel and therefore space-tourism become increasingly likely, we wanted to get ahead of the curve and represent some of our favourite things about Earth to anyone out there who was willing to listen (Humans included, because we're all aliens in a way, and also it would really hamper ticket sales if we didn't let humans in too.)
Currently this list includes the relationship between a wasp and a fig, the Eurovision song contest, and the fact that we've all been in a womb. Other suggestions are welcome.
---
If moving to Mars becomes an option, what would be the thing you'd definitely take with you, and what would you happily leave behind on Earth?
I think we'd definitely bring our wives, though we resent you calling them 'things'. Other than loved ones, maybe some series of Robot Wars on VHS, some hubba bubba, the cast of 'Lord of the Rings' and Chris' blue peter badge.
Harry would like to add in a VHS player for the VHS, and we'd like to think that's the kind of collective thinking that helps us work so well together on stage or off.
---
You're real life best friends, but how would you cope if you were both trapped, like Matt Damon, on the red planet?
The biggest tension in our friendship thus far was Chris finding out Harry had turned vegetarian, so I think having a diet of purely potatoes would be good for us, or it would drive Chris to go out hunting for space squirrels, which feels equally exciting.
You're both performing solo shows as well at the Fringe, how much of a challenge is that going to be?
We're currently feeling great about it, because having done precisely 0/24 days we are still full of energy, and by the time that changes it will be way too late to back out.
Harry started off doing solo shows and this is his first one for 4 years, and it's Chris' first ever so there's definitely some nervous excitement, but mainly we're relieved to have three times as many things to recommend to people who like comedy, rap and/or jazz. (11:40am, 2pm and then 6:40pm – you're welcome.)
---
What do you enjoy most about taking a show to Edinburgh?
So much – playing songs to new crowds every day, catching up with family and friends who've made the trip up, seeing returning fans/friends who've seen us every year, late nights playing pool, keeping each other going through the tricky days and enjoying every unexpected opportunity and experience.
Also the lemon and ginger steamer at Black Medicine. Also keeping up with excellent publications like The Sunday Post (wink wink).
---
If you had to pick one item that's essential for surviving a month at the Fringe, what would that be?
Berocca, or any supermarket-own-brand vitamin c tablets. It starts off by replacing the fruit that ends up lacking from your diet but can pretty much just become a meal replacement altogether.
That and a Ticket to see Harry and Chris: This one's for the Aliens at Underbelly Cowgate at 18:40 every day of the Fringe, and we can hand deliver you some in person.
---
The Edinburgh Fringe can throw up some surprises – what is the strangest moment you can remember from the festival?
We have to shout out one show we saw called 'A Young Man Dressed as a Gorilla Dressed as an Old Man Sits Rocking in a Rocking Chair for 56 Minutes and Then Leaves' which was a real highlight, the title basically says it all.
---
Harry & Chris bring their show This One's For The Aliens to the Underbelly White Belly as part of the Edinburgh Festival Fringe from 1st – 24th August at 6.40pm ahead of nationwide tour. More info and tickets available at harryandchris.com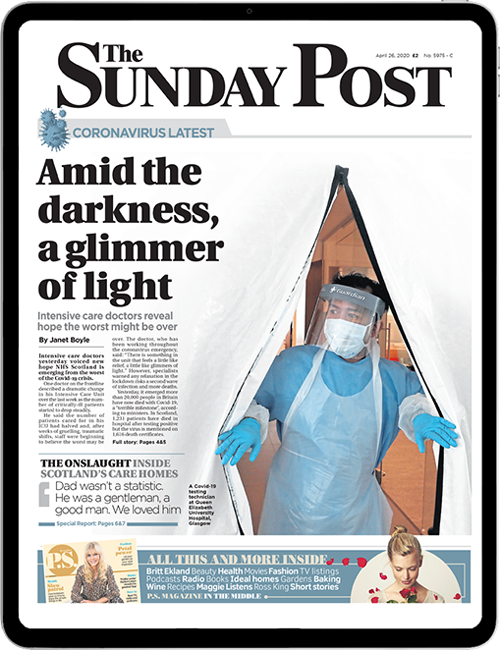 Enjoy the convenience of having The Sunday Post delivered as a digital ePaper straight to your smartphone, tablet or computer.
Subscribe for only £5.49 a month and enjoy all the benefits of the printed paper as a digital replica.
Subscribe