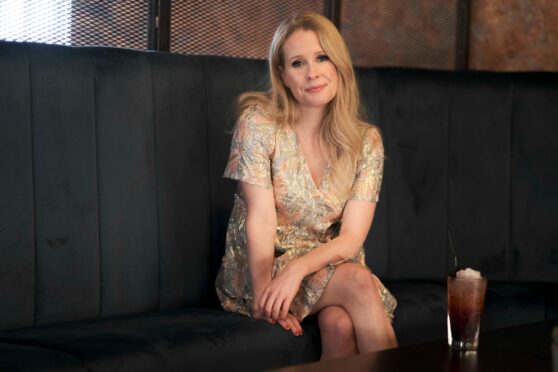 Having attempted to fit herself into her own suitcase during a break in filming Taskmaster, the assessment of Lucy Beaumont as "consistently unpredictable" seems fairly fitting.
The stand-up, writer and actor, who is one of the contestants on the current series of the Channel 4 panel game show, largely agrees with the words used by the show's co-host, Alex Horne, in a recent interview.
"You don't really know sometimes that you're odd until you see it in writing," she laughs as P.S. catches up with her during a short break in her UK stand-up tour.
"I had nothing to do in the dressing room so I decided to see if I could get in my suitcase. I'd not tried for a while. I used to be able to get in really small spaces, a bit of a party trick.
"Because my hair was a mess they asked what I'd been doing and I had to explain… I didn't think anything of it until he did an interview and said that it was mental. But if you're in the dressing room on your own, what else are you going to do?"
Letting the cameras in
Lucy, 40, is chatting to P.S. from her home in Yorkshire, which she shares with husband and fellow comedian Jon Richardson and their daughter, Elsie.
Of course, it's a setting many are familiar with thanks to the couple's mockumentary series Meet The Richardsons, which airs on Dave.
Since 2019, they've invited the cameras into their lives to create the hilarious sitcom in which they play versions of themselves – mostly bickering.
"It's been great but I see comments on social media and people don't seem to realise it's not real," she said.
"I don't henpeck – we wouldn't have lasted this long if I was as mean to him in real life.
"You don't want to see a smug couple in love, in a nice house, with a stable career and a lovely little child. Who wants to see that?
"I wasn't doing it if we were going to be like that. We'll show the other side where we're just at each other constantly. It's a more truthful portrayal.
"The world we've got around us is slightly bizarre but I think people still feel like they recognise themselves in it, which is good."
One of the top Googled questions about the show is "are Jon and Lucy really married?" and it's not just the viewers that can often get a little muddled as to where the lines between fiction and reality lie for the couple, who, yes, are really married and have been since 2015.
"I'll say something in a script to Jon and sometimes think I've said it in real life, and vice versa," Lucy admits.
"Really early doors we went to judge a competition. In the script I tell him we're doing it but when it came around to shooting it, he didn't know anything about it.
"We had this big argument. And then I looked and I was like, oh God, I told him on a script… I told fictional Jon. That's happened a lot."
While fictional, viewers do get to see a lot. Asked if she's worried they've given too much away, Lucy says: "We've sacrificed our privacy for a show on Dave and I wouldn't advise anyone to do that. But we've had a lot of fun whilst we're doing it.
"On stage, Jon was naturally someone who wants to tell the truth about his life, so I think it felt like a natural progression to do a show.
"I think it's ok because it'll run its course. It'll probably be nice to look back on in the future – it's like keeping a really public photo album."
Mum's influence
Another character we meet in the show is Lucy's mum, Gill Adams.
In a prolific career as a playwright, she's proved to be an inspiration to her daughter, being a working-class single mum from Hull in an industry plagued with sexism while juggling financial pressures, autism and ADHD – which weren't diagnosed until lockdown.
"She is a bit of a hero really," Lucy says. "She's taught me everything I know. She's naturally creative and sees the world in a different way.
"She's been a writer all my life and struggled to really earn a living. She'd do well then something would set her back.
"She had sexism for being a young northern single mother, and now as an older woman, there's the ageism that goes with that, but she's never stopped.
"If you ask Jon who's the funniest person he knows, he'll say my mum. There's no way I couldn't have gone into some sort of creative industry with a mum like that."
Lucy is now a familiar face on our TV screens, and her mum was a special guest in the audience as she recently filmed for the upcoming series of Live At The Apollo.
But her comedy career hasn't always been plain sailing, encountering the same misogyny her mum experienced.
She's suffered from nerves and knocked confidence, with the sexism continually sticking in her head while on stage.
"It's hard to believe now but I can't tell you the amount of times the compere would say 'sorry, we've got a woman on next but can you try to be nice?'
"You'd go on and women on the front row would be embarrassed before you even opened your mouth. Then someone would shout something about your appearance.
"I used to get to the gig and take off my makeup, put on a hoodie and scrape my hair back. It was so important for me that no-one was thinking I was trying to show off."
It was a struggle to get gigs, and it still remains tough for women to make the breakthrough. Lucy's first was in a competition, So You Think You Are Funny, in 2011, in which she went on to be a finalist. She then won the 2012 BBC New Comedy Award, despite hardly having any shows under her belt.
"It used to bother me that people didn't understand how hard it had been for me because I couldn't get gigs to get that good," she said.
"TV got better for a while and it's going back downhill again. They've stopped seeing women as needing to be equal to men on what, apart from Sara Pascoe's and Mel Giedroyc's, are all male panel shows that you're slotted into.
"There's no reason why every single show shouldn't have the same amount of women comics on. Women comics do better when they're on shows with other women.
"There's some really brilliant, interesting female comics breaking through. I think for such a long time we were all told that women aren't funny, which maybe seems mad to people now, but it's still in my head – you've always got to prove yourself."
These issues, alongside starting a family, took Lucy more towards writing than performing. As well as her work on Meet the Richardsons, she wrote and starred in BBC Radio 4 sitcom To Hull and Back and teamed up with Anne-Marie O'Connor and Caroline Moran for Channel 4's Hullraisers.
But on the stage is where she feels she truly belongs, and she considers it a great honour to take her show, The Trouble and Strife, around the UK and give people much needed laughs.
"Everyone needs a little bit of comedic relief. There was a staff night out from a children's hospice that came backstage to get pictures and they'd been in hysterics. I just thought, what are they going back to the next day?
"Stand-up is a great job to have. I've been a teacher, I've worked in behavioural units, in nightclubs, all sorts of jobs where you come home and you're just frazzled. But this is different. It's a joy, really."
Scottish shows
Lucy can't wait to get back in front of a Scottish crowd – even if she thought one of her previous audiences had fallen asleep.
"I did a show in Perth years ago and I did a matinee with a comedy play and no-one laughed! The average age was about 80.
"It was a Hull Truck play called Ladies Day and we wondered what had gone on. The manager afterwards said no, that's them really loving it, you brought the house down!
"I'm expecting good things from Aberdeen. I've heard it's a great one to go to."
Her other Scottish stop, Edinburgh, is obviously a place all comedians are very familiar with.
"When I think of Edinburgh I think of comedy. I did the So You Think You're Funny competition there and then four different Fringes. Scottish audiences are just brilliant, the energy in the room is great. Once you get them on side!"
Lucy sums up her show, The Trouble and Strife, in one word: madness.
"It's two hours of jokes, but it is mad, because my life is. I'm just being honest about where I'm from and what's been going on. I'm quite old fashioned, I like proper gags.
"I think people are surprised if they've not seen my stand-up before, I like a one liner. It's just being very honest and candid about the bizarre life I'm living, really."
Taskmaster
Lucy has recently won a new legion of fans in the current run of Taskmaster.
Famed for showing new sides to some of our favourite entertainers, it's also almost universally praised for being a positive experience.
"It's so joyful," Lucy says. "I think everyone should do it. Alex and Greg just live and breathe it. I don't know how they come up with the tasks.
"I'm not allowed to say much about the last task of the series but we were so invested in it. It was like being hypnotised in that moment. It's like when you're a kid and play with your mates. There's something really cathartic about that.
"I was on a bit of a low when we finished filming. I felt really down for a couple of days, because I really missed them all."
---
Lucy Beaumont – The Trouble and Strife, Queen's Hall Theatre, Edinburgh, November 15, and Music Hall, Aberdeen, November 16. Visit lucybeaumont.co.uk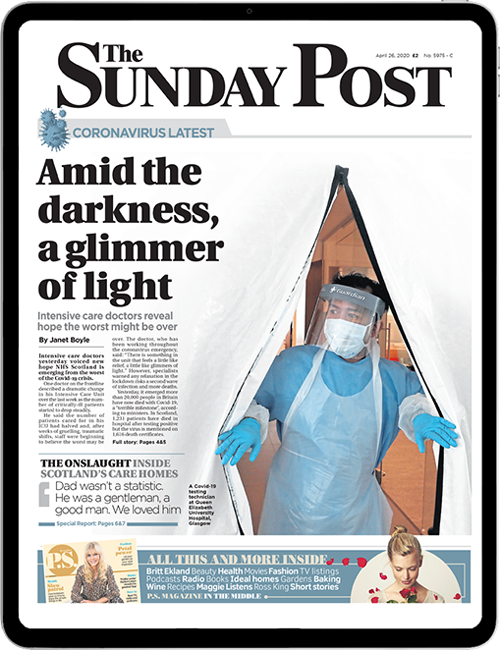 Enjoy the convenience of having The Sunday Post delivered as a digital ePaper straight to your smartphone, tablet or computer.
Subscribe for only £5.49 a month and enjoy all the benefits of the printed paper as a digital replica.
Subscribe