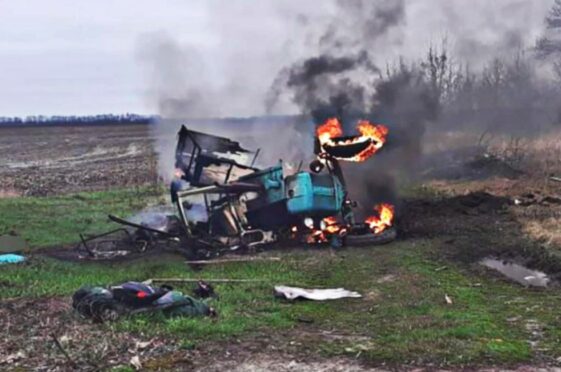 Ukrainian farmers are being killed by landmines while ploughing fields after retreating Russian troops left a deadly legacy of buried explosives.
Kyiv officials have accused the Kremlin of deliberately laying mines in farmland in a concerted attempt to intimidate farmers and hit the country's harvest.
Ukraine is known as Europe's breadbasket because it is one of the Continent's most important wheat producers, but the next harvest could be slashed by 40% due to Russian theft of grain and the loss of arable land to war. Experts predict world food prices climbing by up 20% as the Kremlin is accused of weaponising food production.
Ukraine is determined to continue agricultural production as much as it can but farmers are being forced to risk their lives as they plough their fields.
Many have been laid with deadly TM-62 anti-tank mines by Russian soldiers retreating or trying to defend their positions.
One tractor driver was killed after driving over a mine in the Chernihiv region, while others have been injured in similar incidents.
Despite the dangers, many continue to plough Ukraine's fields.
Simon Conway, head of programme development at Scottish-based landmines clearing charity The Halo Trust, said one driver whose tractor hit a mine last week was quickly back at work.
He said: "The driver was blown out the vehicle but escaped with a few cuts and bruises. He's already back at work."
According to Ukraine's Ministry of Agriculture last month, 30% of the country's farmland is occupied by Russian troops or unsafe. Dmytro Los, head of the board of the Ukrainian Business and Trade Association, told The Sunday Post: "Russia is playing a very cruel game by laying mines in fields where people are returning to work and farmers are using their tractors.
"Russia is trying to destabilise production and create panic by shelling our food storage facilities, stealing our grain and blocking our ports.
"Ukraine has always been able to feed itself. It has never imported anything. We feed ourselves and half of the world.
"European countries are already feeling the impact with rising prices, but they are financially secure and will be able to buy food from other suppliers.
"But in North Africa and in the Middle East, in countries like Yemen and Jordan, there will be a food crisis.
"What's happening in Ukraine is not one military force waging war on another military force. It's the cruellest way to have an influence on the world food security issue."
Naval mines are also a danger, with Ukraine accusing Russia of using them as part of a blockade of its ports in the Black Sea.
Ukraine, the world's fourth-biggest exporter of grain, is unable to ship out 22 million tons currently sitting in silos.
Dr Hilary Ingham, a senior lecturer in economics at Lancaster University, said: "Ukraine is often referred to as the breadbasket of Europe and the country has a vast amount of arable land given over to crop production. The invasion has itself hampered the crops as large numbers of Ukrainians have left their original employment to join the military. This will be problematic for harvests.
"Exports are another big problem. Six crops – corn, sunflower seed, wheat, rape seed, barley and sunflower meal – generate over a billion dollars of export revenues making them key to economic success.
"The major port in the Ukraine is Odesa and this is where much of Ukraine's crop production would leave the country, especially as Odesa has very good rail links to the rest of the country.
"However, as early as May Odessa was subjected to airstrikes as Putin knows that the Ukrainian economy is highly dependent on its export revenues from its key crops.
"World food prices are rising both directly and indirectly. Wheat produces human foodstuffs, but sunflower seed and rapeseed feed chickens so if poultry feed costs increase the price of chickens will rise with commentators suggesting chicken will become more expensive than beef."
Ingham said Russia is targeting agricultural land because it generates vast export revenues for the country.
"And leaving behind landmines threatens Ukraine's agricultural output even when the conflict ends as the land will need to be cleared. This poses an additional economic burden for the country.
"Also, some of Russia's strikes lack logic. Sometimes they appear to strike places just because they can. Many of the troops are young, poorly trained and have little, or no, understanding of the overall strategy."
Last month US Secretary of State Antony Blinken accused Russia of weaponising food and holding grain for millions of people around the world hostage "to break the spirit of the Ukrainian people".
Oleksandra Matviichuk, head of the Centre of Civil Liberties in Ukraine, said: "People are paying with their lives to work in fields providing food for others. Everyone is becoming a target of Russia's cruelty as they try to break Ukraine's resistance. Whether you're a farmer, a doctor or an engineer, you can be a target."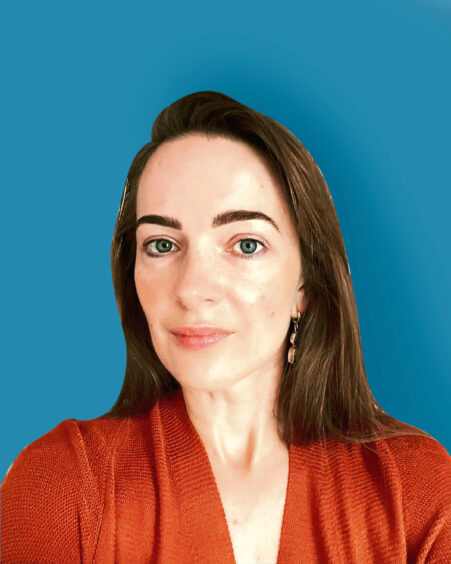 She added: "It will take years to de-mine Ukraine when the war is over. It will not be an easy task.
"But first we have to repel Putin's troops from Ukraine. Russian forces are many times better equipped than Ukrainian forces. But despite all this, Ukraine has shown that people power is stronger than the so-called second most powerful army in the world.
"I am still confident that we will win and that we are right to defend our democratic choice, our country, our values, our people."
Mine clearance charity rushes to remove buried explosives before farmers return to land
When Vladimir Putin launched his attack on Ukraine in February, humanitarian workers were still clearing landmines laid during the Russian invasion eight years ago.
The clear-up was taking place on the 310-mile "line of contact" between Ukrainian forces and Russia-backed rebels in the Donbas region in the east of the country.
Simon Conway, head of programme development at the Halo Trust, a Scots-based international mine-clearing charity, said: "We had to close all that down at the end of February and move all our equipment and personnel west.
"Most of our staff in Ukraine are from the areas that are being fought over at the moment, and we've relocated them to Kyiv. But one day they want to get back to where they're from and clear their own land.
"Understandably some of them are concerned about their families, but they're back at work and they're getting on with the task. I've been really impressed by their courage and their determination to clear their country of mines."
But Conway, also an award-winning novelist and former British Army officer, warned that it would be a painstaking task. He said: "We'll be finding stuff for years to come, and of course it's not over yet. We simply don't know what's going to happen in the east and the way that that conflict is firming up suggests there will be significant mine laying going on there.
"So I think it's going to be a huge task. But if we are going to free up agricultural land, we need to clear it."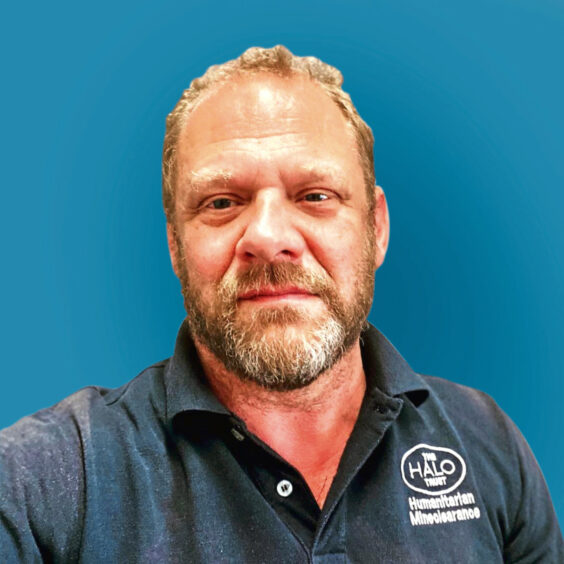 Conway last week photographed a tractor destroyed by a TM-62 anti-tank mine while ploughing a field close to abandoned Russian positions. He said: "Two days ago, while it was being lifted out of the field by a crane and flatbed truck, there was already another tractor ready to plough the field.
"There's so much pressure on land use here that we are having to rush to try and identify where the mines are, map them and then try and persuade the farmers not to cultivate the fields while we get in there and clear the mines.
"We had to warn the driver and the agricultural company that he worked for that he needed to be careful because there was probably more anti-tank mines there. It's pretty rare just one mine is left."
Conway has worked for the Halo Trust in war zones such as Afghanistan, Cambodia, Kosovo and Sri Lanka. Based in Dumfries and Galloway, it removes landmines and explosive devices around the world.
It became famous when Princess Diana walked through a minefield being cleared by Halo in Angola in 1997.
Russia has been using anti-personnel mines in Ukraine. They are banned under the 1997 Mine Ban Treaty which was signed by 163 countries, including Ukraine, but not Russia.
Conway said: "It was only really pariah governments were using anti-personnel mines. Russia using them sends a worrying message out to the rest of the world as we'd seen a gradual movement away from them."
Anti-vehicle mines are not banned but have been condemned by the United Nations.
Conway said: "They're pretty indiscriminate because they're blowing up tractors, lorries and civilian mini buses.
"We just don't know how many there are in Ukraine yet, but we're going to need a lot of support in order to clear them all and ensure that this land can get back into production."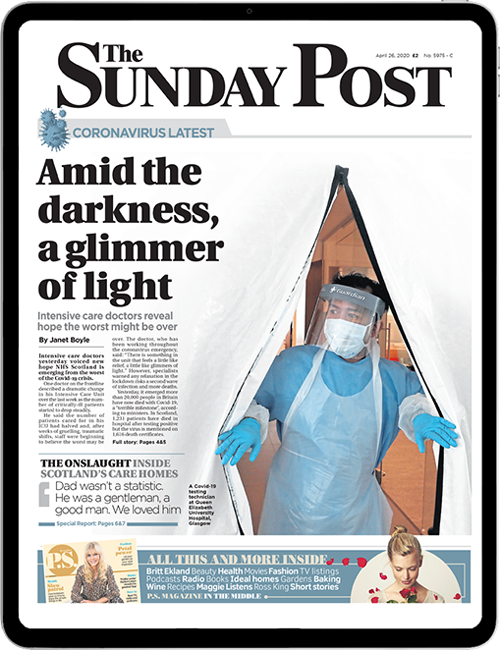 Enjoy the convenience of having The Sunday Post delivered as a digital ePaper straight to your smartphone, tablet or computer.
Subscribe for only £5.49 a month and enjoy all the benefits of the printed paper as a digital replica.
Subscribe