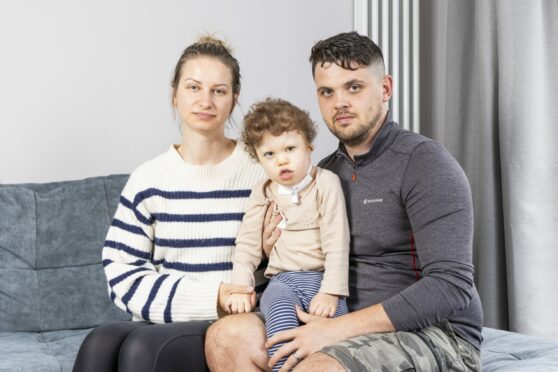 The Scottish and UK governments must urgently do more to help families caring for very sick children deal with soaring energy bills, doctors, charities and campaigners say.
In an open letter to the two ­governments, the charities and campaigners joined The Sunday Post to launch our Cost of Caring campaign calling for immediate measures to mitigate the cost of energy for vulnerable families.
Their call comes amid growing concern that families who care for a terminally or seriously ill or disabled child are facing crippling energy bills due to the need to continuously heat their homes and power ­lifesaving equipment, often 24 hours a day.
Some families are cutting back on essentials or being pushed into four-figure debt as they struggle to pay.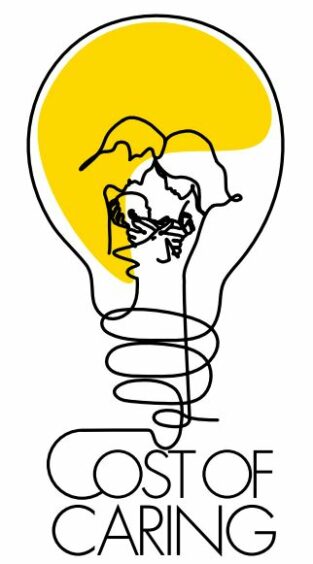 Now the Royal College of Physicians of Edinburgh, children's hospice charity CHAS and campaign group the Poverty Alliance have called for urgent ­government intervention.
They want vital assistance, ­including a social tariff, to be introduced for families, most of whom have gas and electricity bills twice the UK annual average, which stands at £2,500.
The pressure to pay high energy bills impacts on families of children with life-limiting disabilities.
One parent often gives up work to care for the child at home and they fear turning down heating in case it impacts on their poorly child's health.
Life-saving medical equipment needs to be on often or at least frequently to power ventilators, hoists, suction devices and other devices.
The Royal College of Physicians of Edinburgh (RCPE) has welcomed the campaign and urged Scottish and UK governments to support these under-pressure parents.
Professor Andrew Elder, ­president of RCPE, said: "We are very concerned some families – who often already experience many other pressures caring for vulnerable children – are feeling anxious and distressed as they face increasing electricity and gas bills at a time of high energy costs and other cost of living challenges."
Mum of disabled girl helped by Kate Winslet still waits for official support
In the call for action, Elder added: "We welcome this campaign and would urge both the UK and Scottish governments to look at this matter urgently and to work together constructively with the energy companies to see what extra support can be provided, including whether there is the scope for a social tariff to be introduced for families in these circumstances."
The children's hospice CHAS said it welcomed the charities and RCPE coming together to support ­vulnerable families.
CHAS chief executive Rami Okasha said: "We hear again and again at CHAS that parents are facing worry and stress over their bills at a time when they should be making ­memories with their children.
"We urge the Scottish Government to take action in its Budget in December to ensure children with a life-shortening condition are able to stay warm, safe and comfortable in their homes this winter, without their families incurring debt to make that happen."
The Poverty Alliance is ­supporting the campaign and calls on energy regulator Ofgem to help families by setting up a social tariff.
The charity's acting director, David Reilly, said: "It's completely unjust that so many households in Scotland are struggling with their energy bill. We know that disabled people and those with long-term conditions face significantly higher living costs.
"Parents simply shouldn't be left struggling to keep their heads above water – they are already doing so much by giving constant care, love, and support to their children. The UK Government, Ofgem and the big energy companies should act with compassion now and create a social tariff that will lower the costs of energy bills for those who need it most."
Energy Minister Gillian Martin said: "The Scottish Government is continuing to do everything we can within our limited powers to support as many people as possible. We trebled our Fuel Insecurity Fund to £30 million this year, and the bulk of this is set to be distributed throughout autumn and winter so that those who are most at risk of self-rationing or self-disconnecting get tangible help when they need it most.
"The Scottish Government could do so much more with the powers of independence, but only the UK Government currently has the levers with which to fully address this unacceptable situation. First, by providing meaningful, targeted support to those who will need it most – including the introduction of a social tariff. Second, by finally making the necessary energy market reforms to permanently break the link between the price of electricity and the cost of gas."
The UK Government said: "This winter additional support is available to those most in need through our Warm Home discount, expected to support up to three million households, and millions of vulnerable households will also receive up to £900 in further cost-of-living payments this year. We spent nearly £40 billion to cover around half a typical household's energy bill last winter and we continue to keep all options under review, including those who need it the most."
Ofgem said: "We have been working with the government to consider a range of options to support consumers, particularly the most vulnerable, including options such as the introduction of a social tariff. Any decision on this is ultimately for ministers."
Electrical equipment saves his life. There's nowhere to reduce energy use to cut bills
Troy Nisbet's parents, Max and Kasia, know well the challenges of paying for energy bills which are twice the cost of most other people's.
The tot, aged two, from Bo'ness, was born with major heart complications that needed an immediate keyhole operation as a newborn baby and further open-heart surgery months later to keep him alive.
Compounding his cardiac problems are deafness and restricted sight, as well as an inability to swallow and a tracheostomy.
He is fed through a tube into his stomach.
This array of life-saving medical equipment is powered by his family's electricity, which costs twice the national average.
His big sister, Thea, is a willing helper, assisting her mum and dad and the complex care NHS team's carers support Troy's medical needs 24 hours a day.
"We are one of the many families throughout the country on constant watch and care for children with life-limiting illnesses," said Max, 36.
"Families like us need a social tariff or collaboration from the government and energy companies to help us survive and thrive.
"When you have a child with considerable medical needs, life is full-on as you care for your child without the worry over bills.
"We are telling our story to raise awareness of what families endure and seek ways to alleviate bills.
"As we all face another winter we ask when will we see a social tariff?"
He adds that turning off the heating on Troy and his health carers or his family would be cruel.
"There is also electrical equipment which saves Troy's life daily so there's nowhere to cut energy use, nowhere for families under serious emotional pressure to hide from huge bills.
"Parents like us also need to use the washing machine more often as is required by our children's personal needs."
Their dilemma reflects thousands of parents as they care for a poorly child at home while trying to give their other children love and attention.
"We cope, but the pressures are immense. Kasia is a wonderful mother, and we are a strong couple who try our best to give both of our children our attention."
The letter
The continuing very high cost of domestic energy impacts everyone but few more so than the families of children with terminal or life-limiting illnesses.
These parents and carers are unable to turn down, or switch off, the heating or limit energy use while striving to give a good level of care to their vulnerable children.
They are also unable to switch off, or down, necessary ventilators, hoists, beds or other medical equipment vital to keeping their children alive. Consequently, these families undoubtedly pay higher energy bills and are doubly compromised by often having one parent or carer unable to work to supplement the family income because of the full-time care their child needs.
They include a number of average-earning parents struggling to perform the extraordinary duties of caring for our most vulnerable children.
Few would argue that they should also be additionally burdened emotionally with high energy bills and accumulated debt, as a number of these families now are.
We are calling on the UK and Scottish governments to take immediate measures to mitigate the cost of energy for families in this situation, including the introduction of a social tariff for energy bills.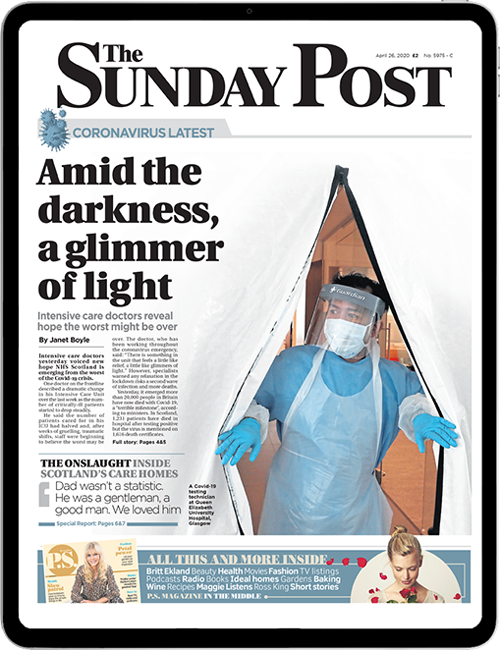 Enjoy the convenience of having The Sunday Post delivered as a digital ePaper straight to your smartphone, tablet or computer.
Subscribe for only £5.49 a month and enjoy all the benefits of the printed paper as a digital replica.
Subscribe