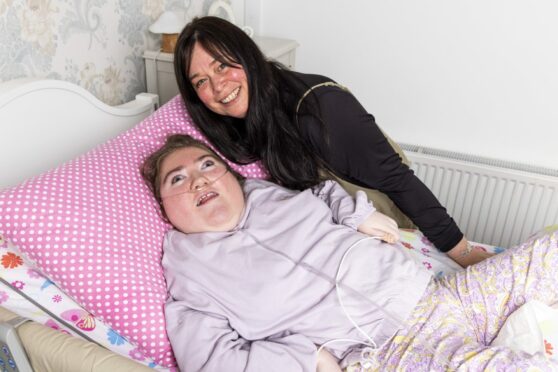 The mum of a disabled daughter who was helped to pay her crippling energy bills by Kate Winslet says the Scottish and UK Governments are continuing to ignore families' pleas for assistance.
Carolynne Hunter was helped out by Winslet after the Oscar-winning actress heard about her story last November.
Her daughter Freya, 13, has severe cerebral palsy and relies on receiving oxygen from an electric-powered life support system to help her cope with chronic breathing problems.
At the time both the Scottish and UK Governments promised more support for families with disabled relatives struggling with energy costs.
But Carolynne, from Tillicoultry, says that, since then, they have done nothing.
She fears that vulnerable families will be left out in the cold again this winter comes amid warnings that energy bills are set to soar higher than last year.
Households face higher bills
Last week the Resolution Foundation, which works to improve standards of living for low and middle-income families, warned a third of households will see higher bills this winter, despite a fall in the energy price cap, due to rising standing charges and the end of the £400 discount.
Carolynne said: "As this winter approaches, families like mine are still waiting on the government promises to keep our homes warm and the vital electric-driven life-support treatment working for our seriously disabled children.
"Kate Winslet responded to my story to pay the cost of heating our home for our seriously disabled daughter Freya. But my mission is to help all parents of disabled children and I have lobbied UK and Scottish Governments tirelessly to help make this happen.
"Wonderful promises were made of support but as winter approaches, it all seems to have been forgotten and we still feel abandoned."
She adds that she spent time at round-table meetings in the Scottish and UK Governments as a guest speaker and advocate for the families of disabled children.
"I spoke to the UK Government in May and families like mine are still waiting on help. Promises were made by Nicola Sturgeon at First Minister's Questions to ask health boards to help our families after my case was brought up last October."
Families say they are desperate for news on this. The Hunter family's huge bills were also raised in the Westminster Parliament by Labour MP Vicky Foxcroft.
Tom Pursglove, minister of State for Department of Work and Pensions, replied by saying the government was considering a social tariff (discounted bill).
Carolynne says parents are still waiting on a social tariff bill reduction for disadvantaged families. "We have been let down by both Scottish and UK governments and winter is approaching.
"John Lamont, Conservative MP, said he would go to his colleagues with all the details from me and hospices to support families like mine. The Scottish Government has done nothing to prompt health boards to support families with the cost of medical equipment."
Hidden extra costs
Having a chronically ill child costs families an average of £975 a month in hidden extra costs, says Scope, the equalities for disabled people charity. Carolynne said: "No caring parent would cut back on the use of electricity to run medical equipment for a child already coping with considerable challenges.
"Nor are they going to switch off the heating for the child or their nurses. Nor can we expect experienced nurses involved in their home care to work in chilly houses. So I pay £6,060 a year in energy bills and work tirelessly to hold down two jobs to do so."
The average UK household energy bill is £2,492.
She added: "It is the exhausting ordeal for families like ours and we need to be thrown a lifeline. It would be an act of humanity."
Big energy companies continue to rake in billions in profits as bills soar. British Gas has reported its highest ever first-half profits of almost £1bn in July after the energy watchdog let it claw back more money from household bills.
The impact of high bills on the parents and other children in the family is considerable. Contact, the charity for the families of disabled children, reveals that almost a third of parent carers have gone without heating (30%) and food for themselves (37%).
"Half have gone without toys, presents and computer equipment (for homework) for their children," the charity says.
Families of disabled children often have to sacrifice one salary as nearly two thirds say that one parent gives up work to give full-time care. It's an average loss of £21,270 from their family income.
Energy Minister Gillian Martin said: "The Scottish Government has done, and continues to do, everything within our power to support the many thousands of households who continue to struggle with their energy bills. This includes tripling our Fuel Insecurity Fund to £30 million this year, in order to support even more people facing unprecedented energy costs.
"Our Child Winter Heating Payment provides families of severely disabled children and young people with financial support, while Scotland's Child Disability Payment helps cover the extra costs of caring for a disabled or terminally ill child or young person.
"Child Disability Payment has paid out almost £300m to families with disabled children, and as of June this year, it is estimated that 67,000 children and young people were receiving this disability benefit.
"The UK Government has continually failed to take the necessary steps to support people now and make the necessary changes – which only it can take – to ensure households and businesses never experience an energy crisis like this again. This includes providing meaningful, targeted support to those who need it most – including the introduction of a social tariff."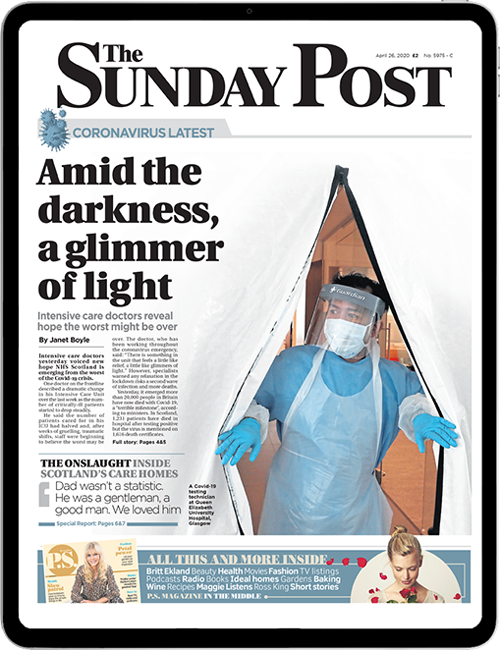 Enjoy the convenience of having The Sunday Post delivered as a digital ePaper straight to your smartphone, tablet or computer.
Subscribe for only £5.49 a month and enjoy all the benefits of the printed paper as a digital replica.
Subscribe